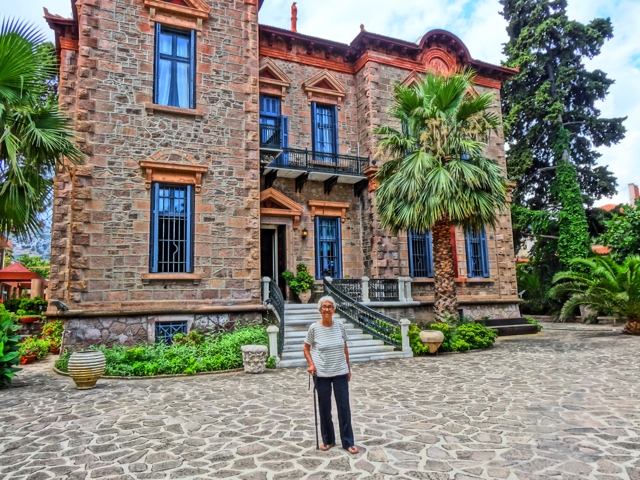 There are hotels of every class and size and houses and rooms to rent as well, on the island of Lesvos. Prices are generally much cheaper then on the more popular Cyclades islands, in fact many are a bargain in comparison to more popular islands like Mykonos and Santorini. There is booking information at the bottom of the page. In most cases you are better off booking with the agencies because besides giving you the same rates as the hotel, they can also handle your arrangements for flights, ferries, car rentals and excursions and they can also book your hotels in Athens. But I have included links to Booking.com and you can get rates and book instantly. The Hotels that are Matt's Pick are the ones I have stayed at and loved and am pretty sure you will too. You can also use my Create-an-itinerary form and get assistance with your hotels and transportation which I recommend if Lesvos is not the only island you are visiting. You can also contact me if you need assistance or advice. By the way I have a brand new Hotels of Greece: Lesvos page which may make finding the best hotels on the islands a little easier since I have done the work of finding them.
Note: If you are planning to go to Lesvos in August book your hotels in advance. Ask about special rates during the birdwatching season in the spring. Lesvos is the primary stop for birds on the migration route between Europe and Africa not to mention the beautiful wildflowers that are in bloom too. There are more hotels on Booking.com's Lesvos page which donates to keep my websites going. Also see Matt's Hotels of Greece Lesvos Page
Hotels in Molyvos
Molyvos is the tourist capital of Lesvos, though if you are used to the Greek tourism of other islands you might not consider it touristic at all. The town is full of shops, cafes, bars and great restaurants and there are several beaches within easy walking distance and more by bicycle and car. For more about Molyvos see my Molyvos page
Matt's Pick!: The Hotel Seahorse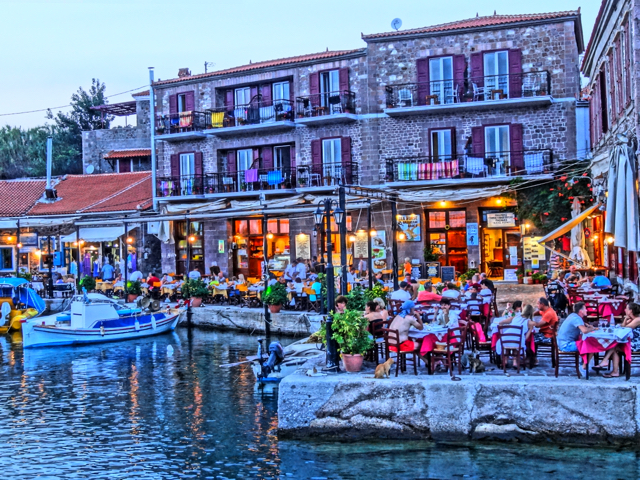 The Sea Horse Hotel is right in the harbor of Molyvos, overlooking the cafes and fishing boats. All rooms have a balcony overlooking the sea. It has a bar, lounge with tv and the breakfast room is actually one of the best cafes in the harbor and serves many styles of eggs, pastries and has excellent coffees and espresso for getting the day started. It's a class C (2-star) but like many of the lower category hotels on Lesvos that are family run, feels like a higher category. The Seahorse has 27 beds which means if you want to stay here you should book quickly. There is airconditioning in each room. Inexpensive and centrally located the hotel is of very good quality. Newly renovated, all rooms have refrigerator, TV, air conditioning, personal phone,hair dryer and all balcony doors have double glass windows. It also has its own travel agency and arrangements can be made there for trips around the island on the excursion boat Mercury Express. They also have free wireless and a new taverna-restaurant right downstairs in the port. For more info and easy booking use this Contact Form to book directly with the hotel.
Matt's Pick!: The Grand View Houses of Molyvos: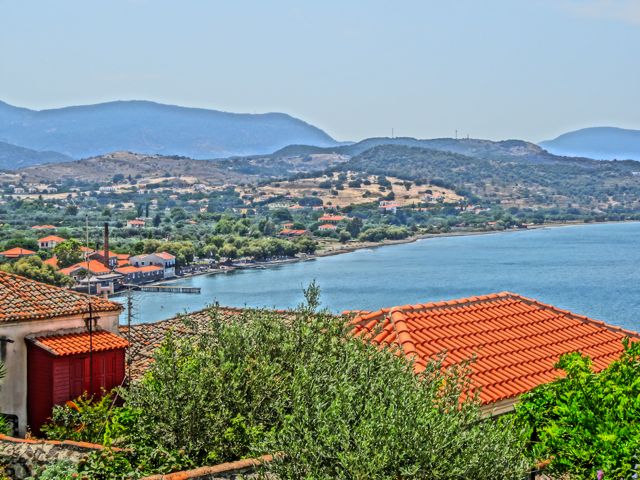 These 3 houses are cleverly designed to create authentic Greek homes and include all the latest modern conveniences so one can experience the best of both worlds. For one who wants a more upmarket holiday in a self catering villa, this is ideal.Every room has a spectacular view, either of the mountainous region of Lesvos or the great sweeping views of the north Aegean and the bay of Molivos. There are also views of the castle and village from the front veranda. A postcard in real life. You can enjoy amazing Sunsets, every night with your aperitif. Each house is air-conditioned throughout, has free Wifi access and has its own parking space. The owners are ecologically aware and in the construction and running of these 3 houses have done their utmost to take in to consideration and abide by all green issues. The houses are fitted with coco mat mattresses, sheets and towels. Click for more info and booking
Molyvos Views Villa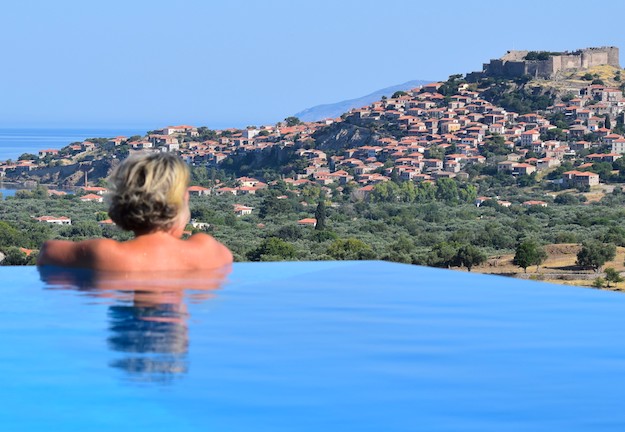 Villa Molivos Views is a newly built, architecturally designed villa within close proximity to the historic and picturesque village of Molyvos. Offering a high level of luxurious accommodation, the villa is located in a quiet and beautiful setting, unspoilt by tourism, within easy walking distance of local beaches, restaurants, shops and historic sites. With a mountainous backdrop, the villa has stunning views of Molyvos, its Byzantine castle, the bay of Molyvos, the Aegean and the Ottoman coastline. The contemporary design of the Villa rivals those on Santorini and Mykonos and offers a level of sophistication, rare to Lesvos. The design is open plan with sliding glass panel doors to create a seamless transition between the indoor and the central courtyard. An abutting building wing houses all bedrooms. For photos and more information click here
Delfinia Hotel and Bungalows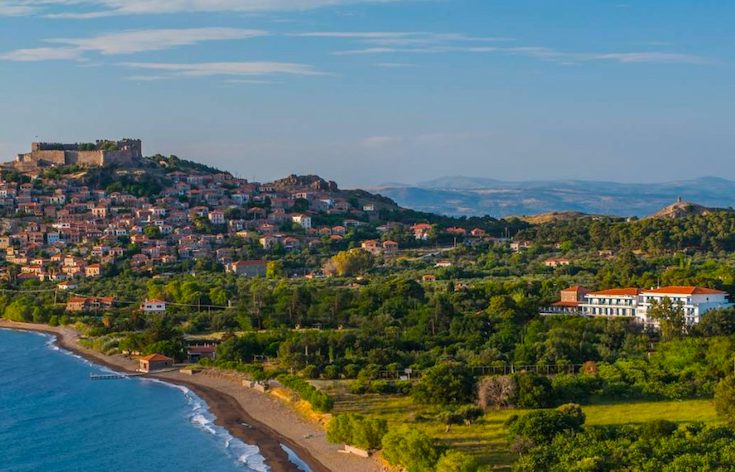 Located on a beautiful estate, this traditional hotel offers a warm family environment and was one of the the first hotels in Molyvos, built in 1961. This picturesque Molyvos hotel started with 40 rooms and was extended and renovated during the 60's and the 80's. In 1988, Delfinia Hotel became Delfinia Hotel & Bungalows and managed to reach a total of 125 rooms and self-catering bungalows. The hotel has it's own beach, which incidentally is the best beach in Molyvos. Right next to the beach is the hotel taverna and cafe bar and the large swimming pool with a spectacular view of Molyvos Castle. A second restaurant is located in the main building with dishes made with local ingredients and fresh meat and fish and a variety of traditional recipes made with the best Lesvos olive oil, accompanied by the sunset view and the sea breeze. All areas of the main building and the rooms, are decorated in traditional village style. The bungalows consist of 57 rooms decorated in a simple and elegant manner. Paths intertwine and bring you to the hotel's vast garden. For photos and more information click here
The Best of the Rest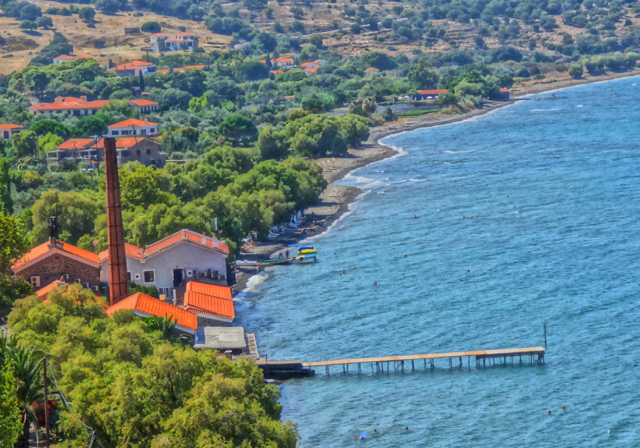 The Olive Press Hotel & Apartments is the old olive pressing factory of Molyvos which has been converted into a very nice beachside hotel. The hotel has free WiFi, a very good restaurant and an outdoor pool and offers pet-friendly accommodations The hotel has a terrace and views of the sea, and guests can enjoy a drink at the bar. Every room at this hotel is air conditioned and is equipped with a flat-screen TV with satellite channels. Set amongst olive groves, just 50 feet from a beach in Molyvos, Aphrodite Hotel offers a pool and 2 restaurants. It features a tennis court and rooms with free Wi-Fi and balconies with Aegean Sea or mountain views. The Schoolmistress with the Golden Eyes is a family-run pension, in the heart of Molyvos named for the title of Stratis Myrivilis popular book and was once the home of its main character, Myrivilis lover Stella. Its location at the top end of Molyvos cobbled street allows you to enjoy stunning panoramic views of the Aegean Sea, Molivos Bay and the port from your balcony. You are also close to all the shops of the village.
For more hotels in Molyvos see Booking.com's Molyvos Lesvos Page and Matt's Hotels of Greece: Lesvos page. For more houses and villas in Molyvos see www.greecetravel.com/villas
Hotels in Petra
After Molyvos the most popular holiday village in Lesvos is Petra. Famous for its monastery, perched on a rock like those of Meteora, the town has a very nice beach, lots of restaurants, cafes and shops, and plenty of nightlife. For more about the village see my Petra Page
Little Bird Lesvos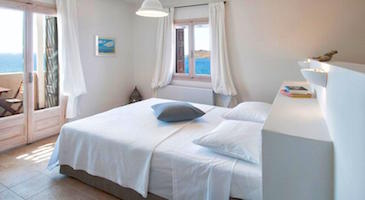 Offering a garden, Little Bird Lesvos Apartment-Hotel shares the same spectacular hillside location and views as Bird's Bay Seaside Homes. Free WiFi is offered throughout the property. The units have heating and air-conditioning. The accommodation features a seating area. Some units feature a dining area and/or balcony. There is also a kitchen, fitted with a dishwasher. An oven and toaster are also featured, as well as a coffee machine. There is a private bathroom with a hair dryer in every unit. Free private parking is available at the aparthotel. The beach and the town of Petra are a short walk as is the beach and town of Anaxos. For photos and more information click here
For more hotels in Petra, Lesvos see Booking.com's Petra Page and Matt's Hotels of Greece: Lesvos page.
For hotels in nearby Anaxos see Booking.com's Anaxos Page
Hotels in Mytilini
Mytilini is a small port city though quite large by Greek island standards. Most people stay here because they have a boat or plane to catch or they arrived late. However in the off season this is one of the best places to be with lots of restaurants, bars, nightclubs and one of the best markets of any Greek island. Oh, and a castle too. If you love walking and exploring cities this is the place for you. Plus you can take the daily ferry to Turkey as well. For more information see my Mytilini page.
Matt's Pick!: Blue Sea Hotel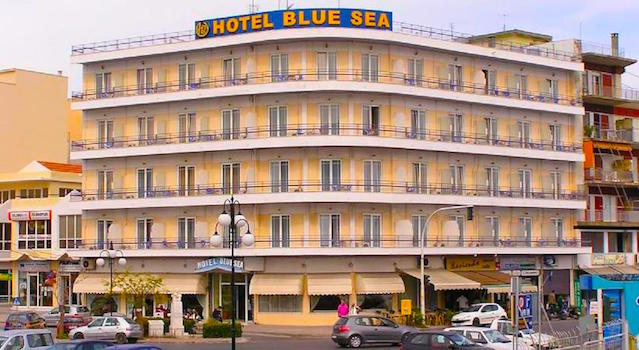 The Blue Sea Hotel is right on the water in the harbor of Mytilini town. The rooms on the right side face the inner harbor and the lights of the city. The rooms on the left side face the sea and the dock where the ferry boats come in. If you are like me then you will be very happy with one of these rooms because I love watching the big ferries sail slowly into the harbor and dock up, unloading their passengers and cars and trucks. It's like watching a movie. Either side the view is pretty spectacular so try to get a room on the third or fourth floors. The rooms themselves are very comfortable. They have air-conditioning but we didn't need it since there was a nice sea breeze blowing. There is a television too but we never turned it on since there is so much going on in Mytilini town, with concerts in the castle, cafes, bars, clubs, and great restaurants, who needs a TV, except to babysit your kids for awhile. Breakfast is nothing special but with a harbor full of cafes and espresso bars who cares? As for catching a ferry, no hotel is more convenient. For prices and booking information more photos, guest reviews book instantly with Booking.com
Matt's Pick!: The Loriet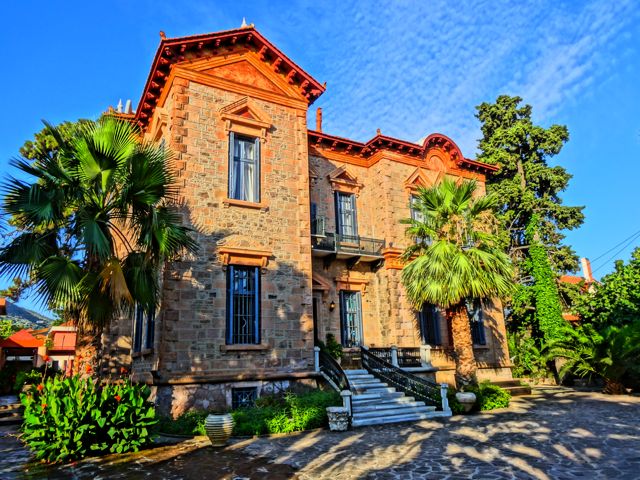 Though not as upscale as the Pyrgos, the hotel Loriet is no less impressive an example of the 19th century architecture of the upper class Mytilinians. This grand old mansion was built in the 1880s as a summer residence at a time when Mytilini was a more important city than Athens. With a marble staircase, murals and painted ceilings and antique furniture from the period, staying here is like a trip back in time, (except they have FREE-Wireless). The hotel is run by a Greek-Australian brother and sister who do a great job of making their guests feel comfortable. The Cottage, once the stable and servants quarters, has been cleverly restored and converted to three beautiful suites. The Apartments include a kitchenette, Mini Bar, full size baths and hair driers, TV and internet access. But if you want a real treat stay in the main building. The Loriet has a salt-water swimming pool (with a waterfall) and the pine-shaded garden is a place you won't want to leave. You can take a bus into town and there is a small beach in front of the hotel (though it is unspectacular to put it nicely). However, if you have a car and plan to explore this part of the island the Loriet is a wonderful place to come back to each day. In the summer they have yoga seminars and other interesting things. Daily breakfast includes cakes and pastries, jams and fresh fruit from the garden. I stayed here and loved it. I am guessing you will too and it is not expensive either. Click Here for more photos and information or to book with Booking.com
Best of the Rest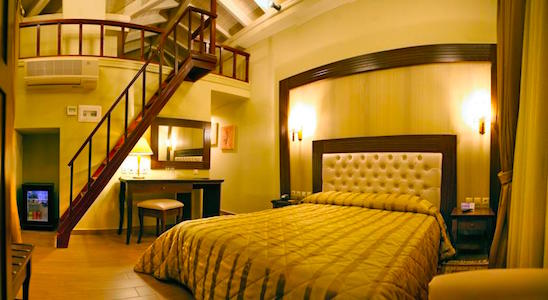 Only a short walk from the market, the port, the castle and Tsamakia Beach, the 4-star boutique Theofilos Paradise Hotel offers elegant rooms with free Wi-Fi. Hotel facilities include a rooftop pool, underground parking and a spa with Turkish hammam and sauna. Built back in 1912, the 4-star boutique hotel's main building is a carefully restored traditional mansion. Today it houses the reception hall, lounge with marble fireplace, as well as some of the rooms and suites. Theofilos rooms are spread over 3 separate buildings. All rooms of the Theofilos Paradise Boutique Hotel have a safe, flat-screen, satellite TV and minibar. The luxurious bathrooms include hydromassage shower or bathtub. For economical travelers the nearby Orfeas Hotel offers simply firnished air-conditioned rooms overlooking the Aegean Sea. The Hotel Lesvion right on the waterfront offers sound proofed guestrooms many with a balcony with views of the harbour, the market or the village. Ask for harbor view. For more hotels in Mytilini, Lesvos see Booking.com's Mytilini Page and Matt's Hotels of Greece: Lesvos page.
Hotels in Eressos
The beach at Skala Eressos is probably one of the nicest you will ever see and the town is one of the hippest places in Greece with amazing restaurants of all different types as well as cafes, bars and dance clubs.There are literally hundreds of rooms in Eressos from inexpensive hotels, villas, private rooms and even a Luxury class hotel with a swimming pool. For more information see my Skala Eressos page.

Eressian Hotel & Hammam Spa
The Eressian Spa Hotel and Villa is a Boutique Hotel in Skala Eressos, Lesvos with an awarded private Hammam & Spa that can accommodate groups of up to 10, offering the ultimate rejuvenation experience, combining the privacy of a Spa Villa with the luxury service of a Hotel.
In 2021, the Eressian Hotel & Hammam Spa won the "Small Hotel Spa of the Year" award at the Greek Hotel of the Year Awards, solidfying its position as a world-class wellness retreat & repositioning Lesvos as a top Mediterranean Wellness destination.
The Conde Nast Traveller UK magazine featured The Eressian Hotel & Hammam Spa in the "Islands" special of its September 2021 print issue referencing our award-winning purifying hammam experiences and the petite size of the hotel making it ideal for groups who want to rent the whole hotel privately, as a villa. Click here for photos, reviews and booking information.
Matt's Pick!: The Heliotopos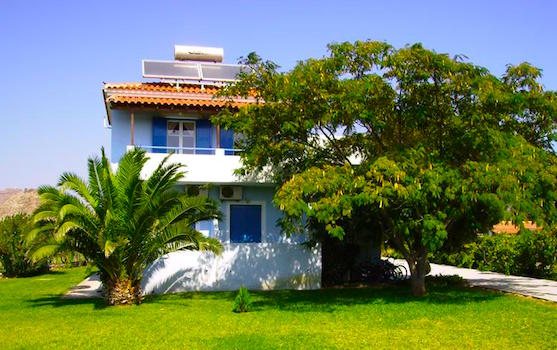 The Heliotopos Hotel is set back a couple hundred yards from the beach surrounded by fruit trees and fields the greenest green I have ever seen. It is a catagory A and consists of three apartments and five studios in two buildings run by a very nice American couple. Each apartment has a fully equipped kitchen and on Friday nights guests and locals get together for a pot-luck barbeque in the gardens. The hotel is within walking distance of the restaurants and nightlife of Skala Eressos though if you are old and feeble you may want a car. There are bikes for children and adults to use for free. The apartments are air-conditioned but starting in 2001 the studios will be too.The extensive garden is home to many birds. One of these is an African Grey parrot who has a large vocabulary of whistles, words and sounds. You can sit on the balcony and talk back and forth with him across the garden. It is also across the road from the famous turtle pond where you can actually feed the turtles by hand. For prices and booking information you can contact the hotel by using this form or book directly with Booking.com. But hurry because this hotel sells out every year.
Hotel Sappho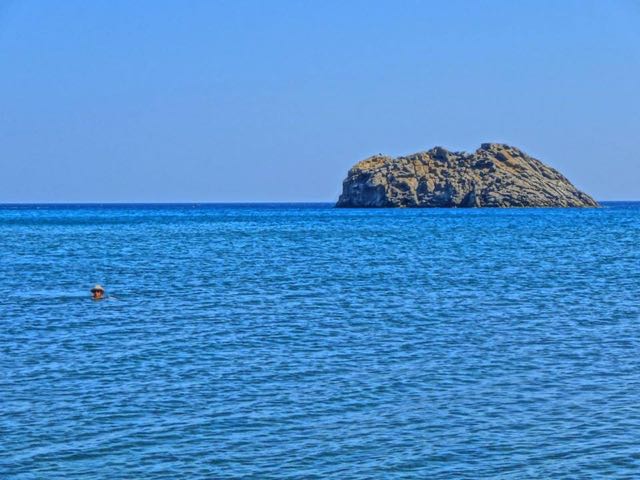 This hotel was formerly a women only hotel which is now for everyone and it is all about location, which as you can see from the photo, is about as close to the sea as you can be. The hotel sits right on the pedestrian street that borders the beach where all the restaurants and cafes are. Sappho Hotel offers rooms with Aegean Sea or mountain views. Ask for the sea view even if you have to pay extra. (The hotel is cheap anyway) The hotel has a snack bar on the beach and provides free Wi-Fi throughout. The air-conditioned rooms at Sappho come with wooden furnishings and have an en-suite bathroom with shower. They are all equipped with a TV with satellite channels and a mini fridge. Guests can enjoy drinks, coffees and light meals at the property's bar, which features an indoor lounge area as well as a shaded, sea-view terrace. You are right in the middle of the town. You can't ask for a better location. This hotel does sell out quickly so book now if you like it. Book directly with Booking.com
Aumkara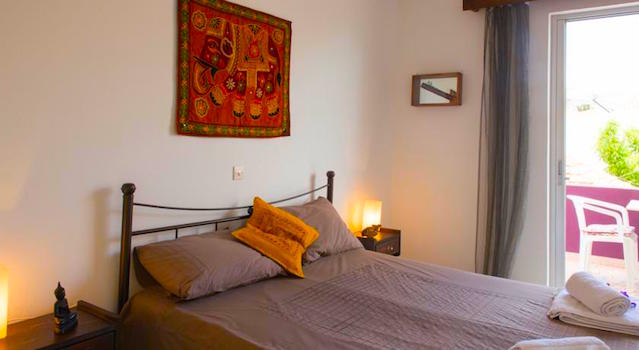 Just 1-minute walk away from Eressos Beach, Aumkara features self-catered accommodation amidst a blossomed garden. Guests can relax at the100m2 rooftop terrace enjoying views of the Aegean Sea. Free Wi-Fi is available in public areas. All air-conditioned studios and apartments are spacious and open out to a balcony with mountain or sea views. Each has a kitchenette with a mini fridge, cooking hobs and coffee maker. A TV and hairdryer are included. Staff at Aumkara can arrange car rental to explore the Petrified Forest of Lesvos, at 20 km or the seaside Sigri Village, 24 km away. Mytilene Town and Port is at 86 km, while Mytilene International Airport is 94 km away. Guests will find tomatoes and herbs in the property's garden if they wish to use them for cooking. See more photos, guest reviews and book instantly with Booking.com or you can contact Joanna at Sappho Travel with this form
Best of the Rest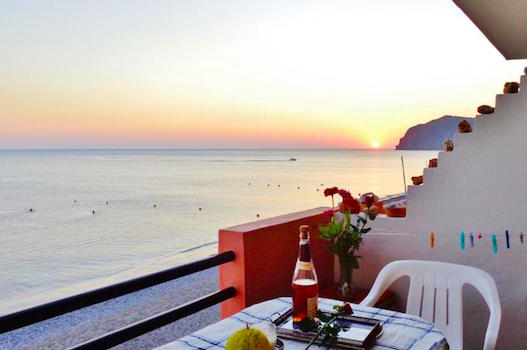 Located right on the beach(photo), Villa Marilena features air-conditioned accommodation with sunset views of the Aegean Sea. Free WiFi access is available in public areas. Opening to a furnished balcony or a terrace, all rooms of Marilena have a kitchenette with a mini fridge. The seafront, family-run Hotel Kyma is located on the waterfront close to the beach and all the cafes and restaurants. It has a lounge area and a furnished sun terrace, and offers rooms with views of the sea. Free WiFi access is provided throughout. Each room has air conditioning, flat-screen TV and a balcony. Complete with a refrigerator, the dining area also has kitchenware and an electric kettle. The family-run Galini Hotel is centrally located and offers air-conditioned rooms with a balcony, fridge, a safety deposit box and a TV. Each comes with a spacious kitchenette with cooking hobs, fridge anddining area. And finally, a few steps from Skala Eressos Beach, Aeolian Village Beach Resort has accommodations with a restaurant, free private parking, an outdoor swimming pool and a fitness center.
For more hotels, apartments and rooms in Skala Eressos see Booking.com's Eressos Page and Matt's Hotels of Greece: Lesvos page.
Hotels in Plomari
The town of Plomari is known as the ouzo capital of the world. But it is also known for its gorgeous beaches, amazing town and some of the best mezedes on the island. For more information see my Plomari Page.
Pano sto Kyma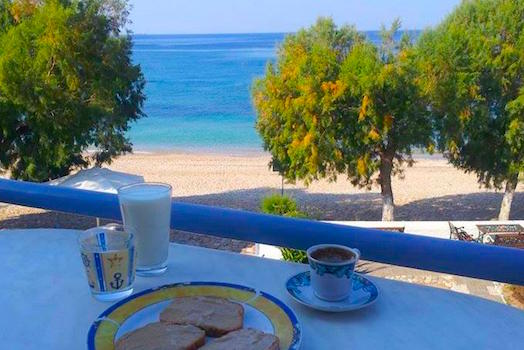 Located by on the beach of Agios Isidoros, Pano sto Kyma offers self-catered accommodation with open sea views. Outdoor seating areas are available, and shady trees line the beachfront and surround the hotel. With large windows and balconies facing the sea, the studios and apartments of Pano sto Kyma have a private kitchenette with fridge and a ceiling fan. The complex is just a few minutes from Plomari and Barbayiannis Ouzo Museum. Free private parking is provided on site. Mytilene is 42 km away and the hotel can arrange transfers. No internet is available at the hotel but some might find that a blessing. The hotel has been very highly rated by guests who have booked through Booking.com. You can see more photos, guest reviews and book instantly with Booking.com
Gera's Olive Grove (Elaionas tis Geras)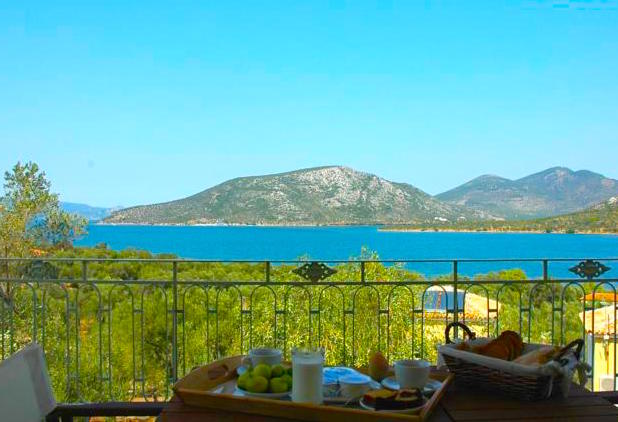 Though not really in Plomari but 14 kilometers away in the equally interesting town of Perama, this is a very special hotel that is also highly rated by the people who have stayed here. Within a beautiful landscape of olive groves, this traditional guest house offers beautifully appointed accommodation with its own farm and animals, a private fishing boat and fresh produce from its own land. Geras Olive Groves has 3 self-catering lodges that combine rustic charm with modern luxuries. Enjoy spacious rooms with marble and wooden furnishings. There are plenty of outdoor dining areas at Geras Olive Grove, perfect for enjoying the fresh food made with the farm's own produce by local housewives. Enjoy the natural surroundings of the herb gardens and daily farm life. The family at Geras Olive Grove is happy to help organize tours of Gera and Lesvos Island and also have a private fishing boat, which is used as transport as well as for fishing trips. Children will love spending time around the farm and helping with the animals. The environment is safe for them to play in and to enjoy the fresh country air. They can also enjoy learning about growing herbs and making their own food from fresh and natural products. Wi-fi is available in public areas and is free of charge. Hire a car and further explore the unspoilt area of Gera. The guesthouse also offers free private parking. You can see more photos, guest reviews and book instantly with Booking.com
PEBBLE BEACH HOTEL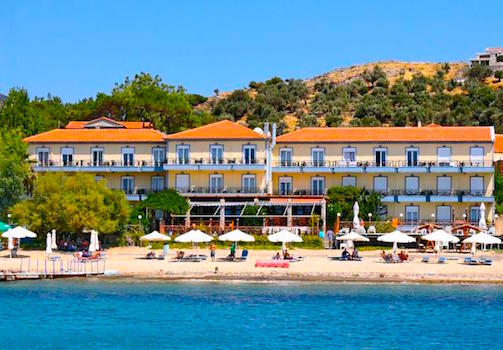 Matt's Pick! 30 years ago Angie Saropoulos and her husband George sold everything they owned in America and came to Plomari where they built the Pebble Beach Hotel. The hotel is situated on beautiful Agios Isodoros beach, has a full restaurant and bar, both of which are popular with guests and locals. The hotel is very tastefully decorated with original paintings and prints and rooms are very comfortable, particularly the sea view side. But what makes the Pebble Beach special is the personality of the owner. Angie is a warm and engaging person who makes you feel at home in a far away place. She has a love and enthusiasm for her hotel and life in Greece and she easily shares this with guests. She is more then a hotel owner. She is a gracious host and her customers return year after year feeling like they are part of the family. The Hotel is a short walk from the nightlife of Plomari. The beach is clear and clean and the small dock they have built is a great spot for beating the heat. Being on the south side of Lesvos means that the water is usually calm. The swimming pool is salt-water and of course popular with children (especially mine). The bar is alive with different languages, particularly English and Danish and her son Jimmy keeps the entertainment level high. (He also misses baseball so bring your mitt and a ball) Behind the scenes, George Saropoulos keeps it all together, from taking care of maintainance to making his special pizza which the hotel restaurant is famous for. He also lends a hand at the bar and like Angie, George is a ball of energy. But usually by the end of the night you can slow either of them down enough to have a quiet conversation about what it is like to live in Lesvos and what is going on back home in the USA. If you are looking for a place where you will feel welcome and not like a stranger in a strange land then I encourage you to spend a few days here. Book instantly with Booking.com
For more hotels in Plomari see Booking.com's Plomari Page and Matt's Hotels of Greece: Lesvos page.
Hotels in Vatera
At 7 kilometers Vatera may be the longest beach in the Greek islands. For sure it is one of the most beautiful and barely discovered. There are perhaps a dozen hotels spread out, most within walking distance of the center where there are restaurants and cafes and a few shops. You can sit under umbrellas on beach chairs and do water sports or go to either end of the beach and have it all to yourself. The nearby hot springs of Polychnitou are another reason people come to the area, not to mention some of the best fish restaurants at nearby Ag Fokas, Nifida and Skala Polychnitou. For more information see my Vatera page.
Matt's Pick!: Aphrodite Beach Hotel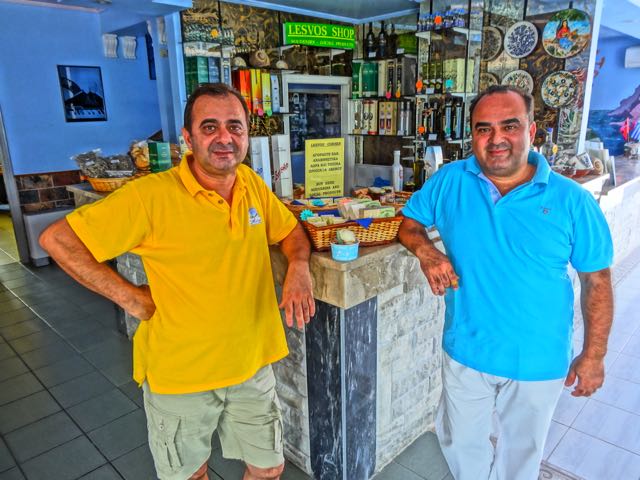 The Aphrodite Beach Hotel is probably the best family hotel I have ever stayed in and in my opinion the best hotel on the island. Located right on the beach in Vatera, one of the most beautiful and longest beaches in Greece. Immaculate with TV, AC, balconies, phone, showers and small kitchens. It is a C-catagory but as good as an A-catagory and very reasonably priced. Owned by John and George Hahathakis and completely family run. John's wife Maria is Canadian from near Vancouver and everyone in the hotel speaks English fluently since the are all from or connected with Canada or the USA through marriage or birth. The entire family works here and they all take great pride in the fact that not only do they provide excellent service but that they are able to make people feel at home. Very high percentage of return customers that come back every year.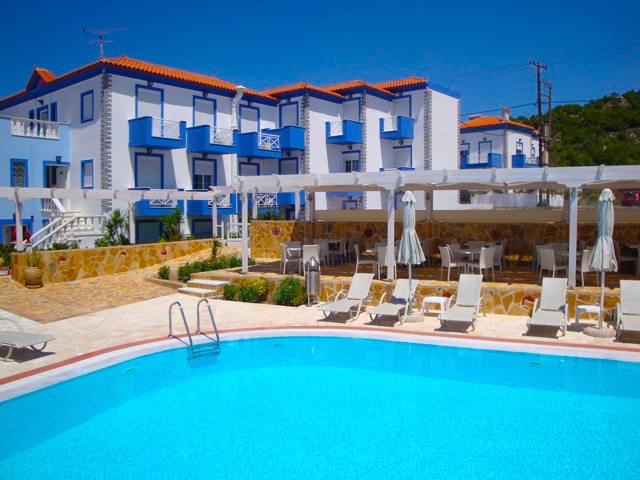 There is a Greek taverna in the hotel. They do Greek dance night with live music (John was a professional bouzouki singer and his father plays too.) The last time I was there the hotel had a big party with roast suckling pig and Yiannis band played and everyone was dancing on the tables like a Greek taverna in Athens. Even the grandmother was dancing! The restaurant is traditional Greek food and is excellent with a big and diverse menu and very nice homemade dishes which are all the mother's recipes. (She works in the kitchen with other members of the family). They grow their own organic vegetables in the garden right next to the hotel, and the chicken, pork and lamb comes from their farm. The fish is always fresh and they even have sardeles pastes in season. If you have children who you fear may not like Greek food you will be happy to know one of their specialties is pizza and even the locals come for it.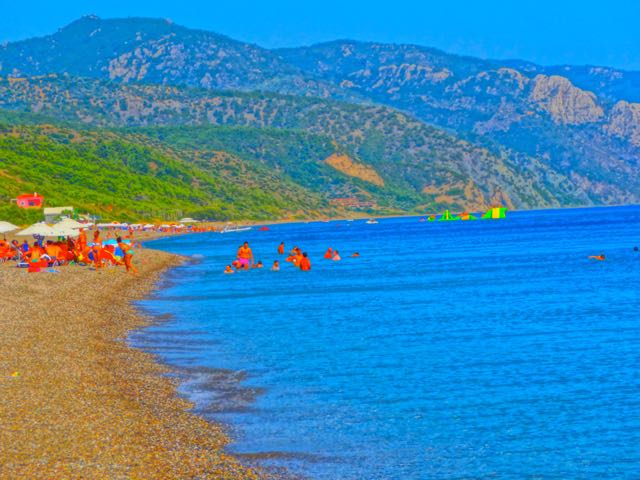 I think anyone who stays here will be pleased especially if they have kids because there are lots of English speaking children around they can play with. Plus they have something that is unique in Greek hotels but which I believe will soon be quite common. They have a trampoline. I would estimate that the children guests at the hotel spent more hours jumping than they did swimming. The parents enjoyed it too because it was right by the hotel's restaurant so they could relax, eat and drink and watch the children all jumping. I believe a lot of friendships were made in mid-air this past summer. Lots to see in the area including traditional villages and hot thermal springs. But Vatera beach itself is one of the best beaches in Greece. The hotel has beach umbrellas, beach chairs, paddle boats, volleyball and they rent bicycles which is great because Vatera Beach is completely flat and you can ride for miles. The hotel has a built in swimming pool, a children's pool and a pool bar, sauna, jacuzzi, exercise area and massage!
The Aphrodite Beach Hotel also has an in-house rent-a-car service so you can see the whole island and a full service travel agency for ferry tickets, tours of Lesvos and to Turkey and booking hotels in Athens and other islands. For photos and more information see the Hotel Aphrodite Beach website or you can see more photos, guest reviews and book instantly with Booking.com
Hotels in Skala Kaloni
Most people who stay in Skala Kaloni are here for the bird watching. But it is the most centrally located beach town on the island, in fact it is right on the middle of the island. How can a beach town be in the middle of an island you ask? Skala Kaloni is at the end of an enormous bay, one of the richest areas for fishing in Greece, where the island's sardine fleet is based. For more information see my Kaloni page.
Aegeon Hotel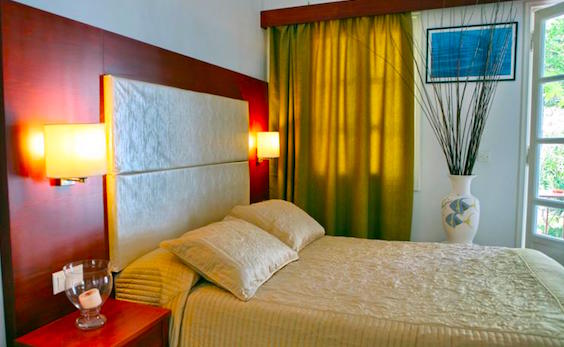 The Aegeon Hotel in Skala Kalloni is one of the best kept secrets in Lesvos and has a clientele that returns year after year. The rooms are beyond what one might expect for a C- Catagory hotel, clean, colorful and tastefully decorated. The cleanliness of the rooms, the lobby, and the pool are constantly maintained throughout the day and the grounds and gardens manicured to perfection. Fresh vegetables, are used in cooking dinner each night, and are grown in the hotel's own garden. The staff would rival that of any major hotel and visitors tell of long nights of pleasant conversation with the owner, family and friends who receive high marks for friendliness and hospitality. The Aegeon is located at the very end of town, which makes the evenings very quiet, though the center of town is only about ten minutes' walk along the edge of the Gulf of Kalloni past the beach and excellent fish tavernas of Skala Kaloni. Breakfast at the Aegean Hotel is ample, delicious and beautifully laid out. The hotel has 47 luxurious rooms, all equipped with individual bathroom, telephone, radio, air-conditioning and refrigerator (after request) and comfortable balconies full of sunlight. The facilities include a large outdoor swimming pool with children's pool. Spacious sunbathing area with sunbeds and umbrellas. Quench your thirst at the pool-bar. At the hotel restaurant the guest can taste - from midday through the evening - the Greek traditional cuisine (accompanied by fish and ouzo). Book instantly with Booking.com
Aeolian Gaea Hotel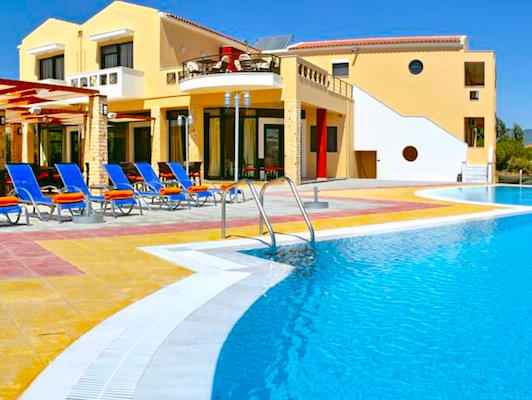 Only 500 metres from the beach, Aeolian Gaea Hotel perfectly combines luxury with a fusion of traditional and modern art. Overlooking the Kalloni beach, it comprises of a 4-building complex, along with a 225 m2 outdoor swimming pool. All air-conditioned units open to a private balcony and have a well-equipped kitchenette with fridge and cooking. Free toiletries and bathrobes are provided. Some accommodation types include a spa bath. Guests at Aeolian Gaea can start their day with a traditional breakfast, enriched with homemade marmalade, cakes and local products. Salads, pasta and gourmet dishes are served during lunch and dinner times at the poolside restaurant. Facilities include a fitness centre with sauna, and a playground for younger guests. The renowned Greek painter Ioannis Papaioannou's frescoes in the reception and the suites have captured the art culture of the island from the archaic period to the painter Theofilos and the modern era. You can see more photos, guest reviews and book instantly with Booking.com
Hotel Pasiphae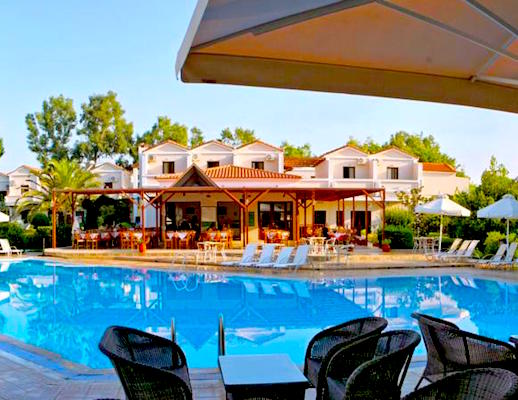 Located just 300m from the beach at Skala Kalloni, the Hotel Pasiphae is one of the islands premier hotels offering it's guests all the amenities necessary to enjoy your holiday with that added touch of luxury. The hotel consists of 60 rooms set in a two story building with expansive entrance and reception area leading to one of the two restaurants where you can sample the delights of breakfast, lunch and a full a la' carte evening menu. The villa style accommodation is set in beautiful landscaped grounds and around the large hotel swimming pool with sun terraces and pool bar. All rooms have private bathroom with either bath or shower, balcony, & telephone. Most rooms are air-conditioned. There is the advantage of a children's playground and large television lounge. A car park is available to guests. During the high season, you can enjoy the added bonus of live music and folklore entertainment 'Greek Style'. Book instantly with Booking.com
For more hotels in Skala Kaloni see Booking.com's Skala Kaloni Page and Matt's Hotels of Greece: Lesvos page.
Hotels in Sigri
I can't imagine going to Lesvos and not staying at least a night or two in Sigri. It is the furthest point on the island from Mytilini, a small town with several of the best beaches in Greece, some of the best restaurants in Lesvos, and a climate different from the rest of the island since they get the north wind which makes it cooler and dryer than the rest of Lesvos. If you are worried that Lesvos might be too hot for you in July or August then come here. You will probably come back next summer too. See my Sigri page.
Matt's Pick!: Sigrion Villas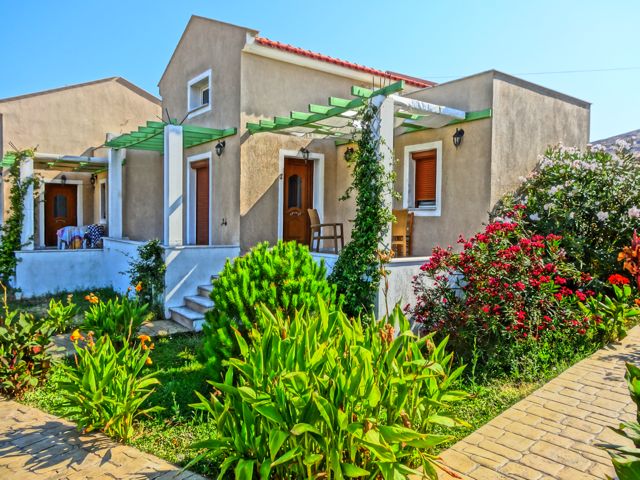 I strongly recommend the Sigrion Villas, 5 independent condominiums, all of which face the sea and offer visitors front porches with sea views. They are an excellent choice for families, as there is ample space for children to play on the grounds and for children to have their own 'space' inside the villas. The units are fully equipped with all one could possibly need while on vacation and are air-conditioned though nights when you need it in Sigri are rare. The owners live in one of the units and are eager to be of assistance but also leave guests with their privacy. They also have a swimming pool. Both the Sigrion Villas and the Evangelina Apartments are owned by a Greek-American family from Mississippi who are very helpful and hospitable. For more on the Sigrion Villas see their website
Evangelia Apartments
Matt's Pick! The economical Evangelia Apartments are located in the heart of the village of Sigri, Evangelia Apartments is an established and popular accommodation unit. Visitors have a choice of two types of rooms here: one-room studios or two-room apartments. There are 6 studios, three on the ground floor and three on the first floor. The first floor studios offer sea views from private balconies, with superb of Sig Each studio has two single beds, fridge, kitchenette, kettle, private bathroom (shower and toilet), closet, and fans. The ground floor rooms are the same, with balconies offering more limited views of the sea. Evangelia also has two apartments, which are ideal for a family with young children or for 2 persons wanting more space. One apartment is on the first floor and boasts a large balcony with views of Sigri castle and side views of the sea. It has two single beds, two private bathrooms (with showers and toilets), a kitchenette, fridge/freezer, kettle, dining table, sofa (which converts into single bed). Another bed may be added to the common room, if requested. For booking info see their website or book instantly on Booking.com
The Lesvos Tower House
The Tower in Sigri is a traditional building with obvious middle age elements mixed with the Lesvian architecture and is one of the nicest places to stay on Lesvos. Built on a mountain side, on an eight – acre farm full of olive trees, citrus trees and other vegetation, it has a wonderful view of the sea. You can walk through the small paved paths that lead you to various parts of the farm. The beautiful flowers and trees, as well as the rock gardens with running water offer the ideal environment for relaxation and rest. There is also a swimming pool.
Parts of petrified trees come into view at some places of the farm, what is now left, after millions of years. The Tower is 150m away from the ocean, 500m from the village and 600m from the beach. The Tower consists of four apartments and a ground floor (reception) decorated with Lesvian antiques from the past century.
Each apartment has central heating, air-conditioning, NOVA TV , internet, rest room , kitchen, dining room, bedroom with traditional furniture and bed antiques over 200 years old. Washing machine for personal use. You can get more information including rates and more photos and book instantly on Booking.com
More Hotel and Travel Information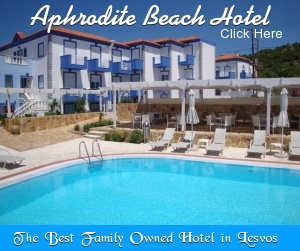 You can book these hotels through any of the agents listed on the Travel Agent page. In most cases you are better off booking with the agencies because besides giving you the same rates as the hotel, they can also handle your arrangements for flights, ferries, car rentals and excursions and they can also book your hotels in Athens and travel to Turkey.
You can find hotels in Lesvos with photos, descriptions, guest reviews, rates, maps and book instantaneously on Booking.com's Lesvos Page
You can find more Hotels in Lesvos at www.hotelsofgreece.com
For Houses and Villas see www.greecetravel.com/villas
If you will need a hotel in Athens see www.hotelsofgreece.com/athens or see the hotels page in my Athens Survival Guide