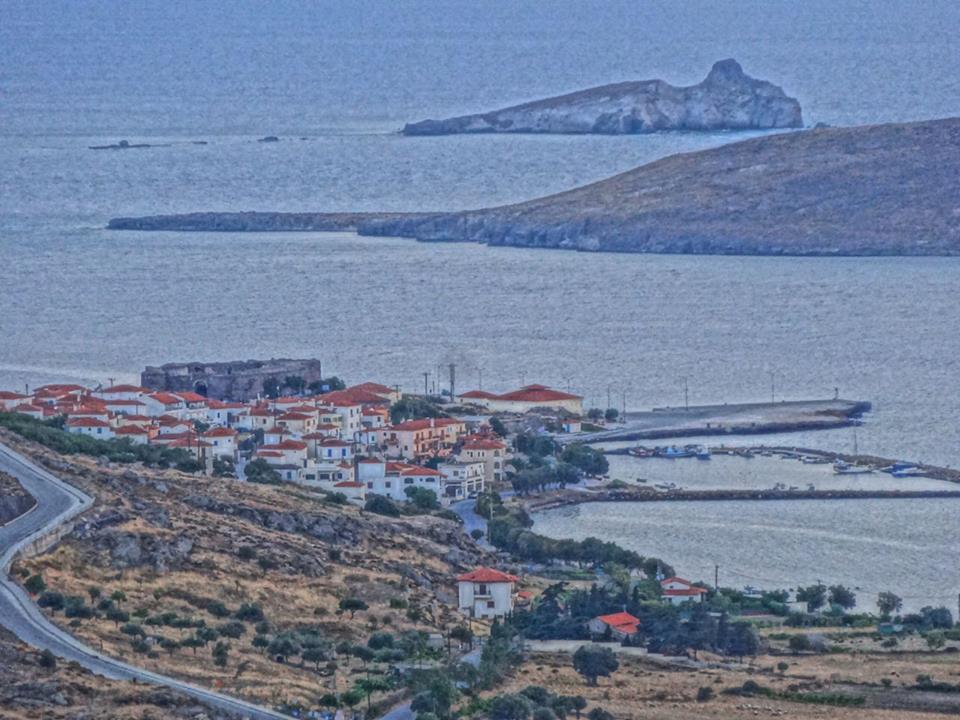 Sigri is the land that time forgot, the most remote tourist destination in Greece. The village is a chaotic hodgepodge of summer houses, rent rooms and hotels clustered around a small fishing harbor, a Turkish castle, and the town beach where most people staying here swim. In front of the dock is the Cavo d Oro fish taverna, one of the best on the island and there are several others in the small village square that overlooks the enormous bay which is sheltered by a mysterious island populated only by telephone poles. Sigri, though not an attractive village by Lesvos standards, is where I would choose to live if I was going to stay here forever. The lay of the land and its relationship to the sea is so multidimensional that it would be hard to be bored here if you have any affinity for beaches and water at all.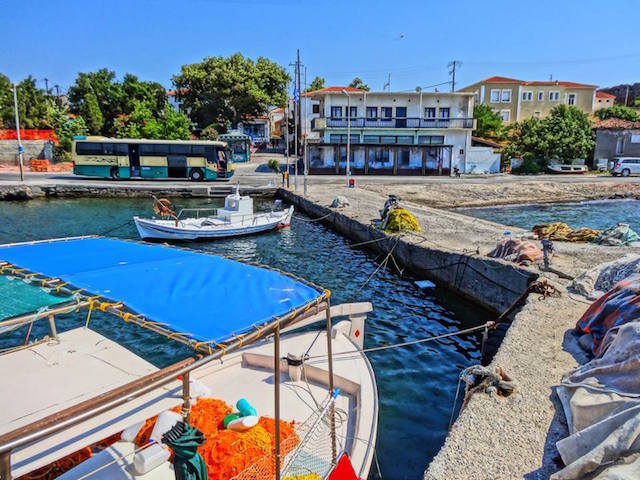 "Sigri is so misunderstood," said our Portuguese artist friend (who will remain un-named) one day at lunch. This brought forth an argument from everyone at the table, led by her husband Waldo, a retired plumber from Akron.
"What's to misunderstand? It's a typical town built for mass tourism".
"But that's my point! It's not a tourist town. It just looks like one and there are hardly any tourists there and that's part of the problem"
That's the problem for our un-named friend, whose beautiful watercolors were sold in the small tourist shop in the town at the rate of one or two a month until the place finally folded along with Sigri's brief flirtation with mass tourism when the one British company that still mentioned it in their brochures moved out. It's a shame. A mystery actually because Sigri is one of my favorite places on Lesvos and if I wanted to buy another house on the island then Sigri is where I would buy it. I don't know what is going to happen to our world which goes from one crisis to the next without really fixing anything. If we humans ever get it together then for sure Sigri will become an important tourist destination if not a hub connecting the islands of the North Aegean with the Cyclades when our western economies stabilize and the emerging economies actually emerge. And if the whole world goes to hell? Where better to go then the most remote port town on one of the furthest Greek islands, that just happens to have the best beaches and the coolest climate on Lesvos.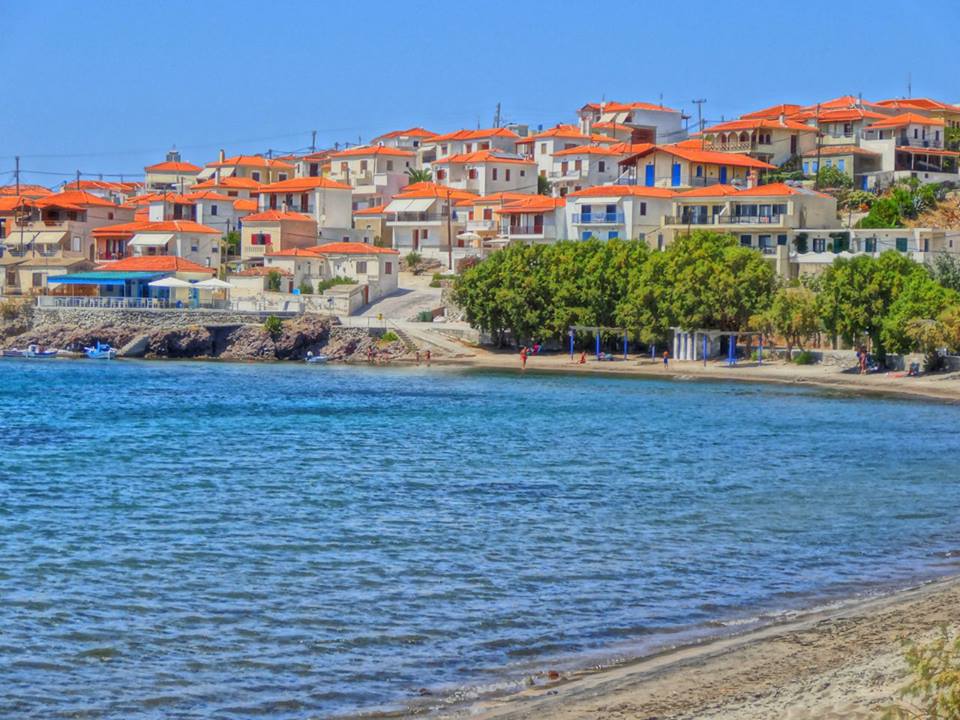 Sigri is not a beautiful town by Greek island standards or indeed by any standards. Yes it has a castle, built by the Turks in the 18th century, though it is hardly a tourist attraction. Sure it has a beautiful bay, sheltered by a long island called Nisiopi. But the architecture in the village is what you would expect in a village in Greece where you know the preservationists and the city planners are not going to come for an inspection anytime soon. But honestly that does not bother me at all. If you want traditional villages whose integrity is protected by law, whatever that means, you can go to Vatousa. If you want a nice town on the sea with cheap rooms, terrific restaurants with inexpensive fish, plus a crescent-shaped town beach just a few steps from wherever you happen to be staying, then Sigri fits the bill and who cares about the architecture?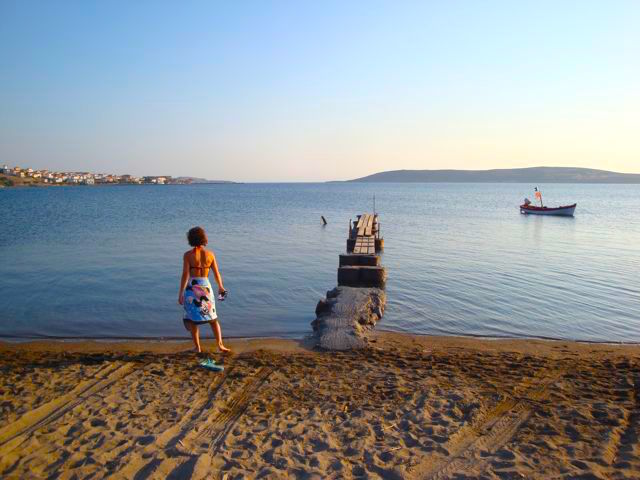 For me the most important unknown fact about Sigri is the wind which keeps this part of Lesvos cool when the rest of the island is hot and makes the locals look at you as if you are crazy when you ask them if the room they are renting has air-conditioning. "Air-conditioning in Sigri? You need a blanket at night" our landlady told us in late July. What baffled me was why hadn't the wind-surfers discovered this place yet? The bay is miles wide and winds come down from the Black Sea even when the sea is flat a few kilometers away. If the windsurfers ever discover Sigri you will see the town prosper. For now it is just a comfortable port town at the end of the road in northwest Lesvos with one lonely wind-surfing center waiting for customers. It does not always blow hard, and even when it does you can escape the wind in a number of sheltered spots. But most people who want to go places in Greece where they think they can escape the Meltemi winds in August end up regretting it. Because when the wind is not blowing from the north the islands are hot.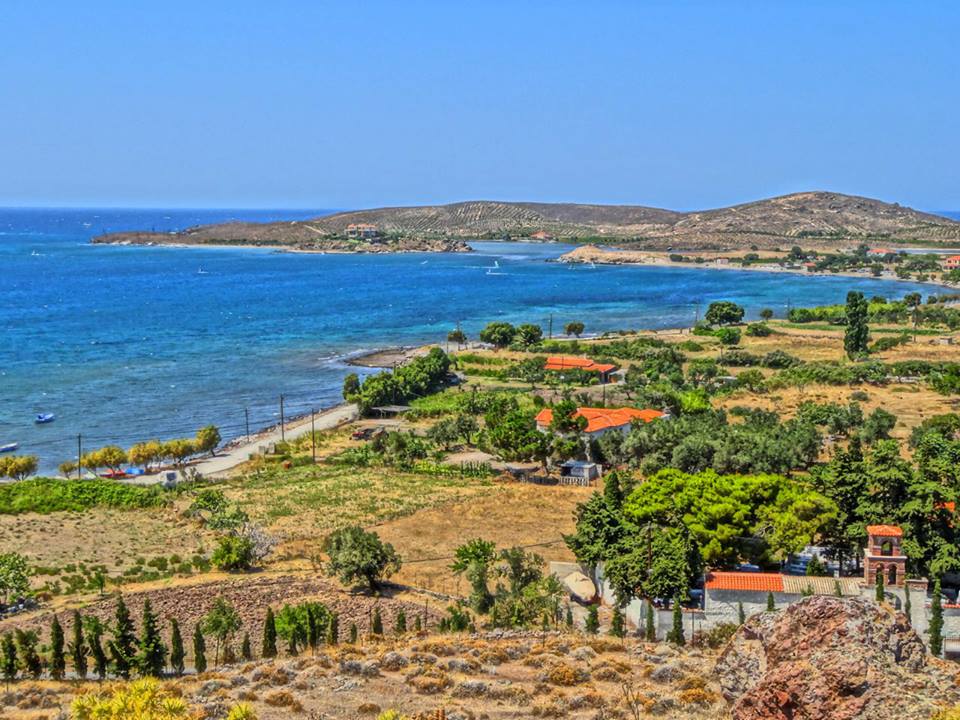 Most people come to Sigri by car, taxi or bus. It's about an hour and a half from the port of Mytilini through some of the most interesting and varied landscapes on the island. The village has in the past been connected to mainland Greece by ferry service via the port of Lavrion, just an hour outside of Athens. Should tourism increase while oil prices stay high most likely this route will be re-opened since it turns the 11 hour ferry trip from Pireaus to Mytilini into a 4 to 6 hour ferry trip which in terms of fuel consumption makes a lot more sense. The port can easily handle it and the harbor was good enough to keep the entire Turkish fleet there while they built the castle in 1776.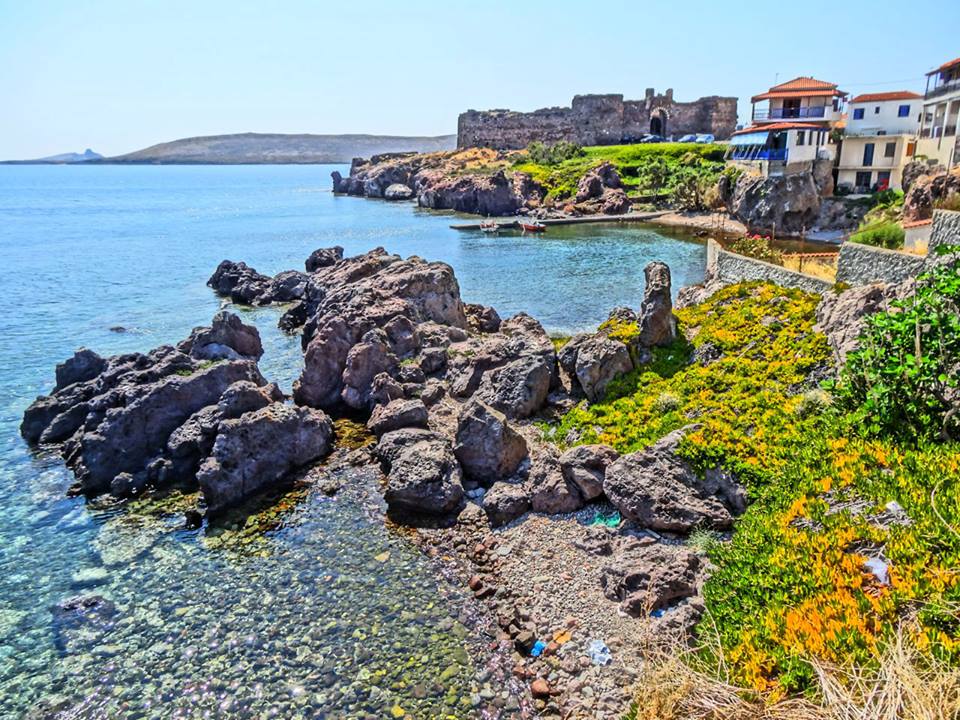 The Turkish Castle is probably the towns most impressive man-made feature. Built in 1746 by the Sultan Mehmet I, this fortress protected the harbor. The stones come from quarries in Sarmaisakh, Turkey, paid for by heavy taxes levied upon the Christian inhabitants of this part of the island. You can walk through the iron door and along the walls for an impressive view of the village and the surrounding sea. One morning during my stay I heard a strange noise like heavy breathing coming from the courtyard of the castle and I crept in quietly to see what it was. There were two owls doing some kind of courting dance and I watched them for 20 minutes in amazement. Of course because it is Turkish and not Venetian or Genovese, nobody really cares about it and they don't do much more than pick up the garbage. Probably if some people had their way they would just bulldoze it. But Turkish or otherwise, castles don't grow on trees and if you had a castle in your town you would be proud of it, wouldn't you? Anyway it is closed but there was not much to see inside anyway.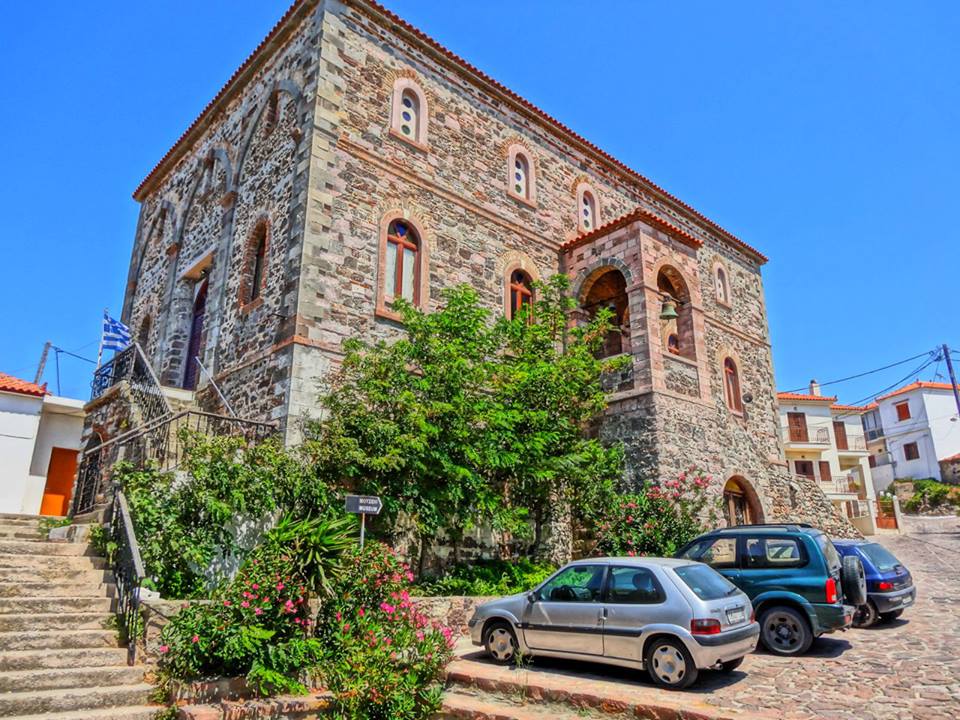 The church of Agia Triada was originally built as a mosque. But unlike other mosques which face Mecca, the men who constructed it somehow were able to face it east. Perhaps in 1870 the Turks knew that the winds of change were in the air, or maybe the builders just pulled a fast one. Inside the church is a water cistern which supplied the ships of the Sultan and the hamam (Turkish bath) next door. The old hamam sits unused since the last Turks left the island in 1923 with the exchange of populations after the Greek army's defeat in Asia Minor. There are rumored plans to reopen it again, though there seems to be some dispute with the current owner who for some reason is reluctant to see this happen. Maybe he dislikes Turks more than he likes money, which is pretty rare these days. If the parties concerned can come to terms, a Turkish bath would be a wonderful addition to the village. In fact were the people of Sigri to have a working hamam visitors to the island would flock here, not just in the summer but year round. Especially since so many of the visitors from Lesvos these days are coming from Turkey.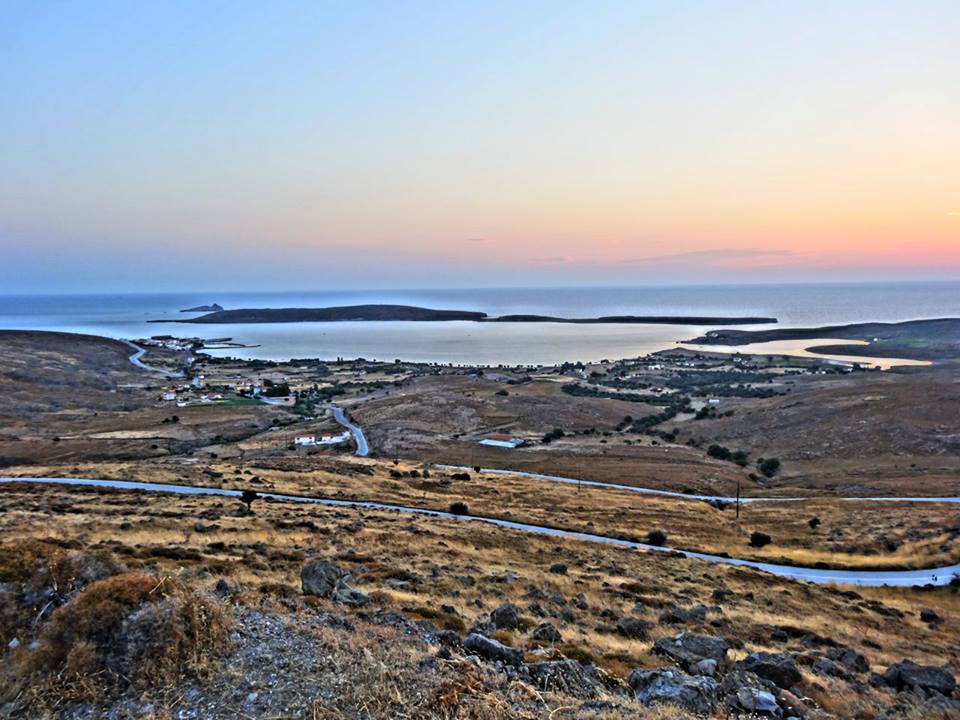 The island of Nissiopi which protects the harbor from the open sea has a large amount of petrified trees. The suspicious looking line of telephone poles and wires do not provide power to a secret submarine or underground missle base, but to the lighthouse that keeps ships from running aground. The summer of 2005 there was a sailing yacht that was laying on the rocks off the coast of Nissiopi, apparently not having heeded the warning.
Above the village of Sigri is the brand new Museum of Natural History which features many examples of the different kinds of trees found in the nearby petrified forest. The now completed museum is well worth the walk to the top of the village. For more information including history and hours click here. Petrified wood is not limited to the forest, but can be found all over the southwestern portion of the island. Much of the area between Sigri and Eressos is tuff, a type of rock created by volcanic ash, from the massive volcano where the villages of Xidira, Antissa and Vatousa are now.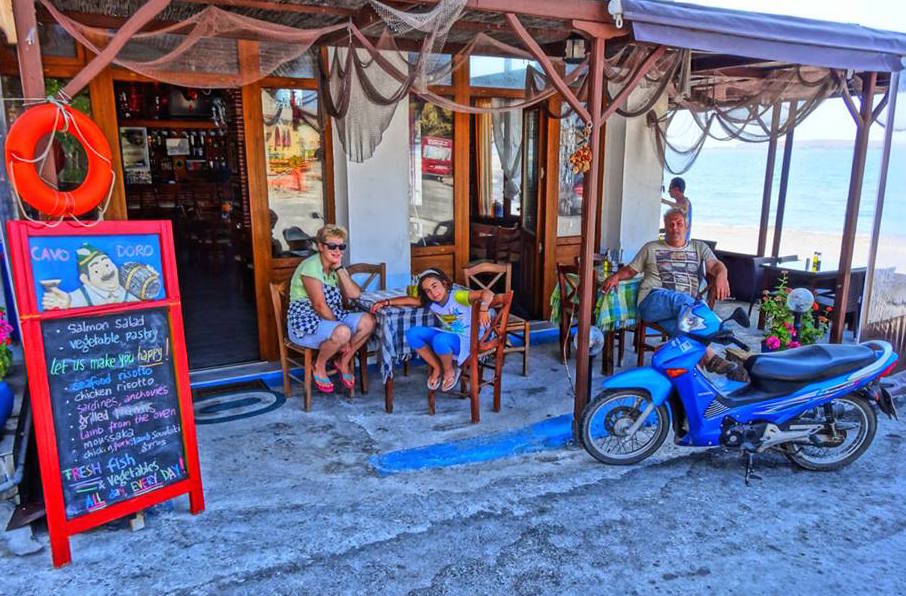 In Sigri you have a town that is everything a good tourist town should be. Good food, clean beaches, nice hotels, great family run restaurants with fresh fish, stuff to do and even a tourist shop or two, and yet it is not over-run with tourists. Sigri is certainly at the very least worth a visit for lunch and a swim if not a week long stay. The taverna at the town dock called Cavo di Oro is one of the best restaurants on the island. We eat here regularly and love their fried barbouni (red mullet). Yannis makes excellent lakerda (marinated tuna), sardeles pastes, scoumbri kapnisto (smoked mackeral), yalisteres (raw clams on the half-shell), media (mussels in a wine broth), grilled octopus that you can pick from the clothesline where they are hanging, louloudakia (cheese filled zuchini flowers battered and deep fried), grilled sardines, fish soup, grilled vegetables with haloumi cheese, an assortment of pastas and rizzotos which I assume he added when the nearby Italian restaurant went out of business and people came looking for it of which I recommend the seafood pasta, and several creative salads. If you are just here for an ouzo and to watch the sunset just order the pikilia and have faith that you will be served something fishy and delicious. The last time we ordered it we got marinated octopus, sardeles pastes, red peppers stuffed with cheese, hot peppers, olives, tomatoes and it looked so good I would not let anyone touch it until I had photographed the plate for a future advertisement for Ouzo-Matis.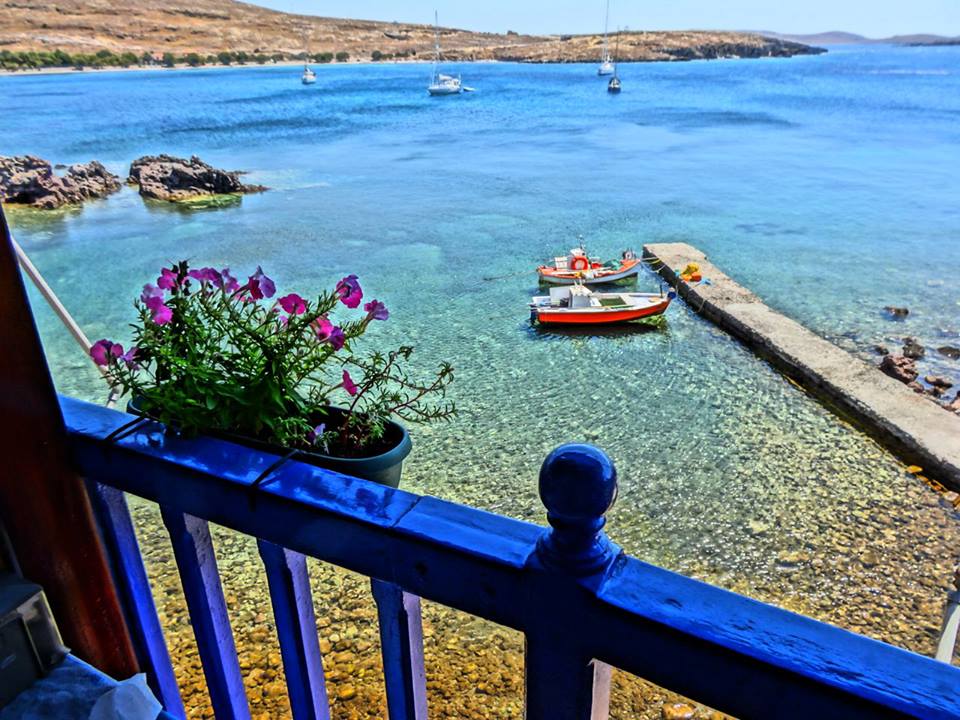 There are other restaurants in Sigri but to be honest with you it has been so long that we have eaten at any of them that I would not know which one to recommend. Back in the days when Joanna and her now ex-husband at Sappho Travel were wining and dining me with giant lobster at Remezzo's Fish Taverna just below the castle, overlooking the beach I was so impressed that I wrote an entire article about it the first time we came here, several years ago. We ate here again last time we were here and it was great. You can read my review of Remezzos and see a photo of the biggest lobster I have ever seen. In terms of a bar-scene and nightlife most of the activity is in the restaurants and cafes but there are a couple cafe bars in Sigri. But all you need in a town is one good bar to make it fun and if you have one good bar who cares how many others there are? Sigri has at least one good bar with live music and jazz and the local cafeneon is a fun place to hang out either day or night.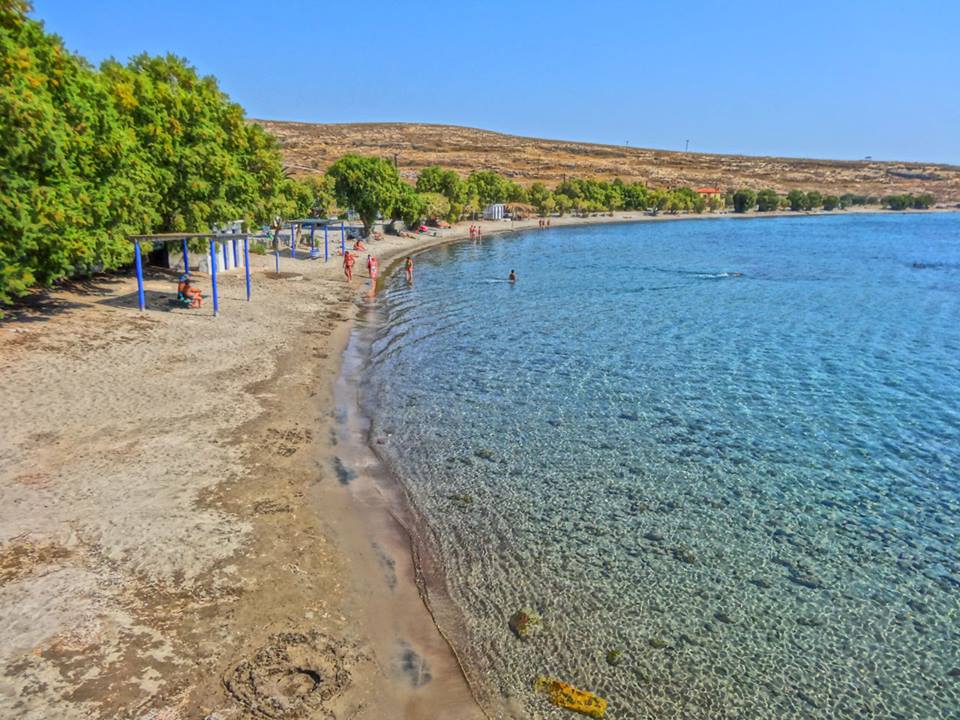 The town beach is a good one, especially for families with children, looking for other families with children and is shallow enough to let you relax if you are a parent. (If you have a small child you will know what I mean.) In fact this beach is probably the primary reason the package tours came here. There is a taverna on the beach and a canteen that sells drinks and snacks. Like many beaches in Lesvos there is also a shower so you can rinse off and not have that salty-skin feeling we all know so well. The best thing about this beach is that the sea is cool and refreshing even though it is sheltered from the wind, and it is close to wherever you are staying if you happen to be staying in town. If you happen to just be here for the day to eat at Cavo d Oro and the children get antsy just send them to the beach while you finish eating and drinking or whatever you are doing.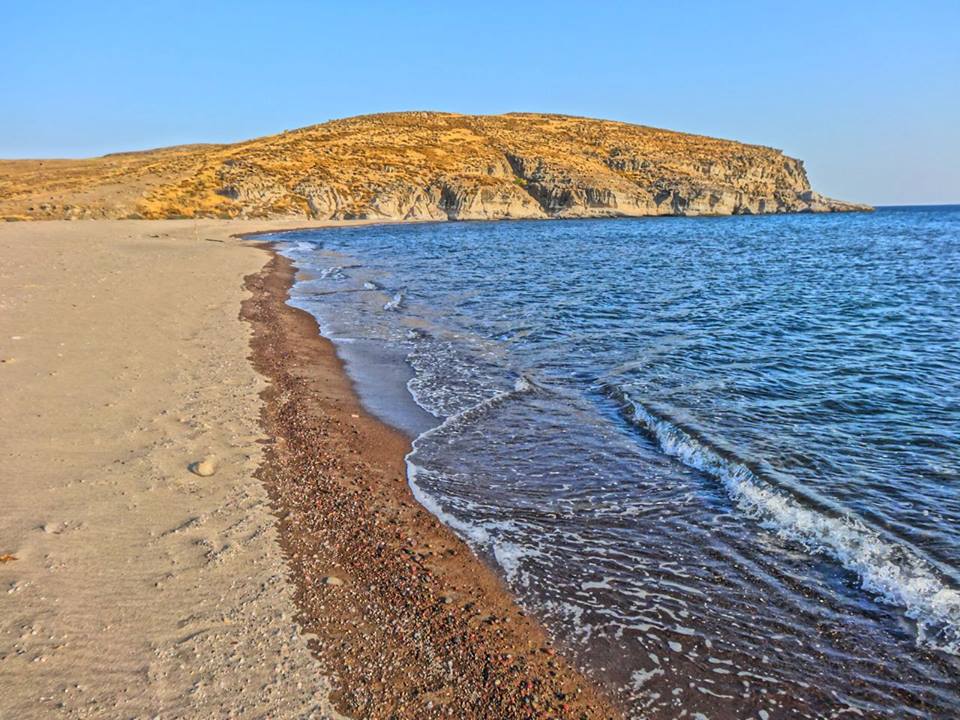 The beaches to the north and south are simply breathtaking and depending on the time of day, you can have one all to yourself, even in August. The snorkling south of town off the rocks is good with plenty of fish and even an octopus or two that you can make friends with. Just follow the dirt road to Eressos. The beach at Tsichlioda is at the end of a long valley that looks like the Alaskan Tundra. You can get close to the sea but it can be rough on your car so take it slow. Though not an officially designated nude beach, there is nobody there to stop you and even if someone official does come you will spot him before he gets within a half a mile from you on the long beach. On the southeastern end (on the left if you face the water) is where the Tsichlioda river meets the sea. There are bits and pieces of petrified wood you can find among the sand and gravel on the river delta.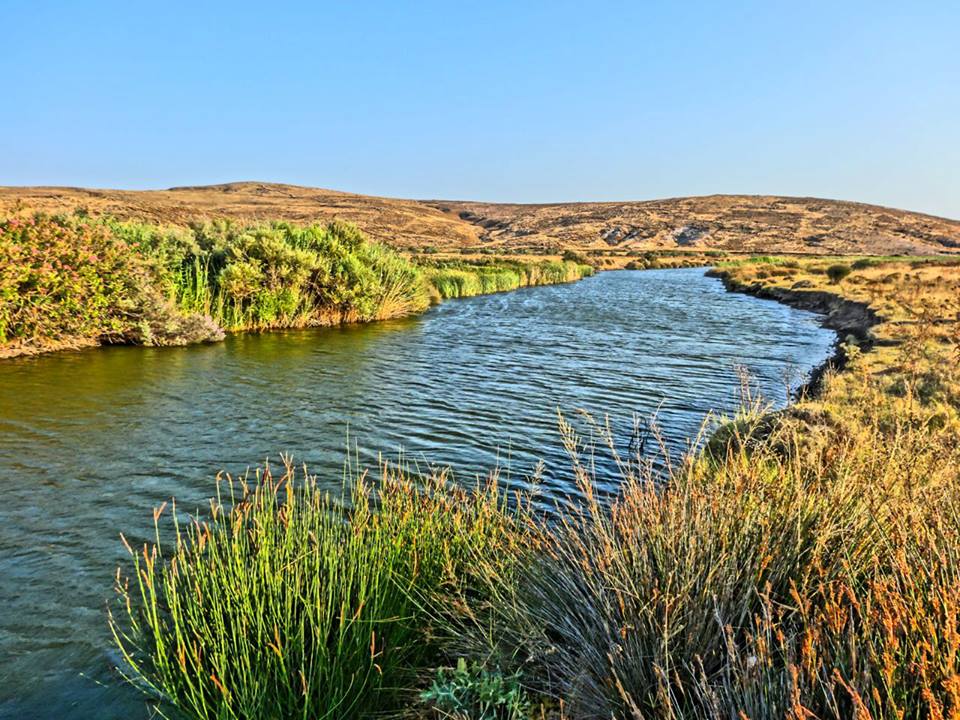 The river itself is fascinating and who knows what kind of creatures live beneath the surface. The area is a haven for migrating birds and is featured in Richard Brook's excellent Birding in Lesvos . There are tall swamp grasses and the area is very green even in the summer. The rivers edge is a great place for a picnic and maybe some late afternoon fresh water fishing. You may even discover an unknown species that you can photograph, name it after yourself and then throw it back. If you continue on the dirt road that winds through the nearly treeless mountains and valleys you will eventually come out in the village of Eressos. If you can find a copy of the pamphlet Sigri: Where the Road Ends, Roy Lawrence gives directions for hikers to explore these beaches to the south of Sigri. If you are walking I strongly suggest you bring water. You won't find any on the way. In fact I encourage you not to walk if it is a hot day in July or August.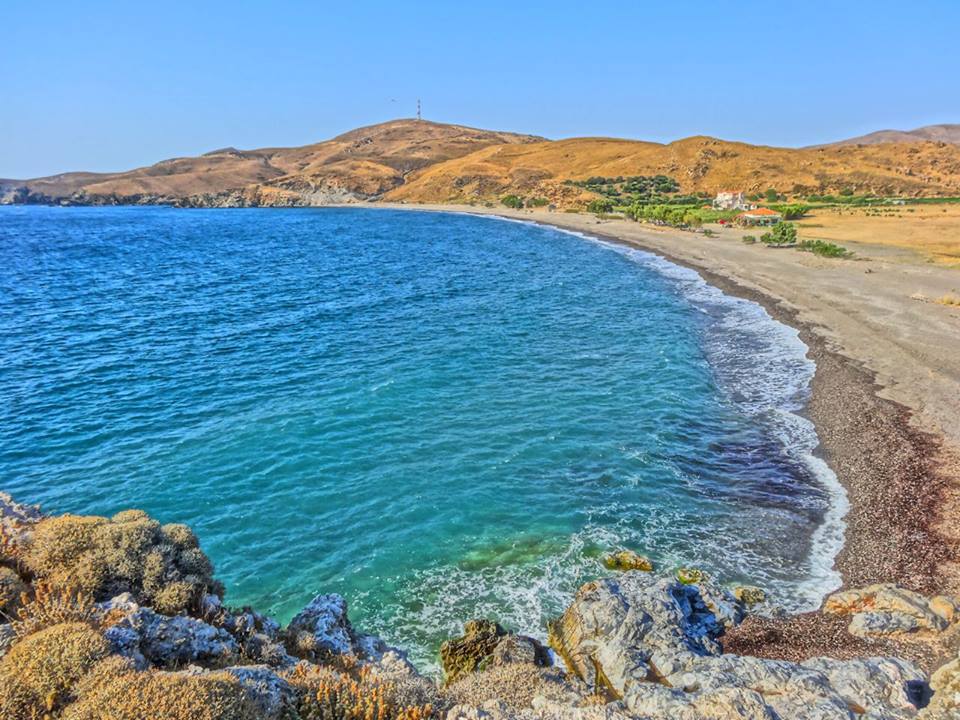 The beaches to the north of Sigri like Faneromeni, are also beautiful and uncrowded even during the summer. The waves can be big here when the wind blows from the north. Big enough for body-surfing at least. There is a small area that is sheltered by rocks that give you the best of both worlds: waves for you and the teens and a safe harbor for the non-swimmers and youngsters. Faneromeni beach is separated by a large rock that offers shade, and a place to dive off if you are one of those people who don't like sand, though make sure you know how deep it is before you dive. The rock is also a great place to take postcard-like photos from as you can see from these next three photos. The original town of Paleohoro, which means old village, was in the hills above Faneromeni, around the small church of Agia Paraskevis, one of the oldest buildings in this part of the island. There was also a castle here that survived until it was destroyed by the Turks in 1461. When the Turks built the castle and the mosque in Sigri the inhabitants of Paleohoro were forced to leave their town. Many of those who refused were taken to Constantinople and crucified as a lesson to others. The Turks also built an underground system of pipes that brought water from Paleohoro to the cistern under the mosque which is now the church of Agia Triada in the new town in Sigri.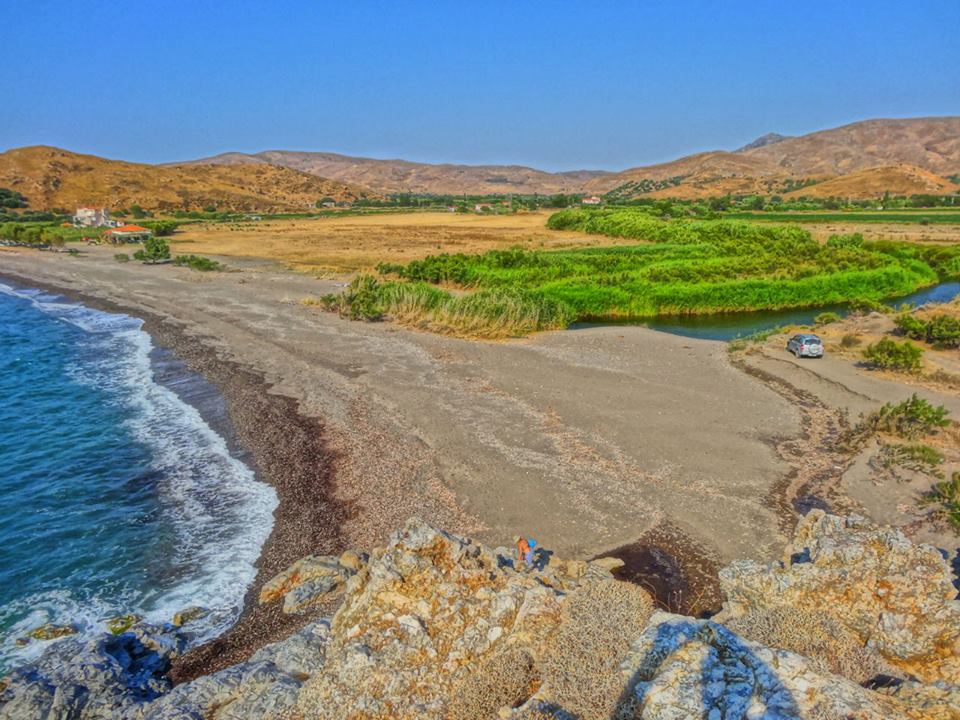 The Tapsas river does not quite make it to the sea, at least not in July, but if you bring bread you can probably coax some kind of creature to the surface, most likely a water turtle or a fish or one of the minature frogs. At the end of the beach is the Zoedochos Church which is built into a rock. Keep your eyes open for scorpians. They can't kill you unless you are very young, very old or it just happens to be your time to go. The whole valley is great for walking when the weather is not too hot. Bring water if you come here for the day. There is a cafe at the center of the long beach but if you are on either end you may not feel like walking to it. On days when the sea is calm you can snorkel here and find pieces of petrified wood. The beach of Fanouromeni is my favorite on the island. It is the end of Lesvos and there is nothing but open sea from here to the Bosphorus and the entrance to the Black Sea. Few people come here. Bathing suits are optional. If you wear one you are probably ashamed of your body or traveling with your parents.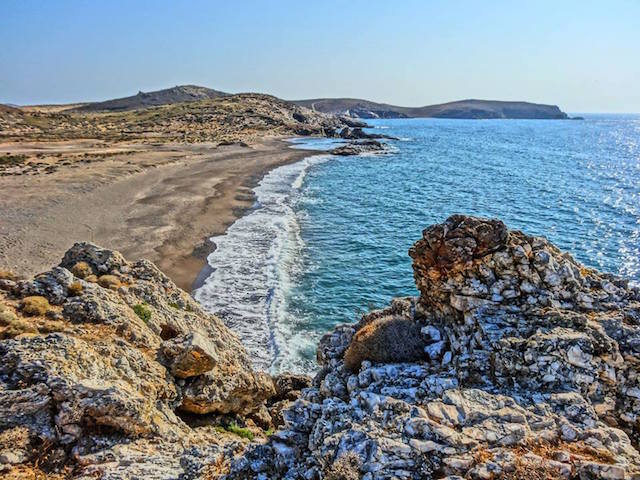 As these photos show you, Sigri is destined for popularity someday. I imagine that sooner or later some lucky wind-surfer will discover the place and spend a few solid weeks racing back and forth on the sea, waiting for the wind to let up so he can go elsewhere, finally giving up and going home to tell his friends and write articles about it in windsurfing magazines and eventually Sigri will be to the North Aegean what Prasonisi, Rhodes is to the south. Or maybe one of the package tour companies that left here twenty years ago will return to offer cheap holidays to people smart enough to want to go somewhere with good food, beautiful beaches, history and off-the-beaten-track, though I kind of doubt that. Most likely Sigri will become popular with people like me who just sort of stumble upon it and look beyond the funky little man-made harbor and the odd architecture and realize that this is a really nice place to spend a holiday if not the whole summer. And if the world economy collapses, maybe forever.
But don't wait until then. Come now.

Sigri Arts: Painting and Writing Workshops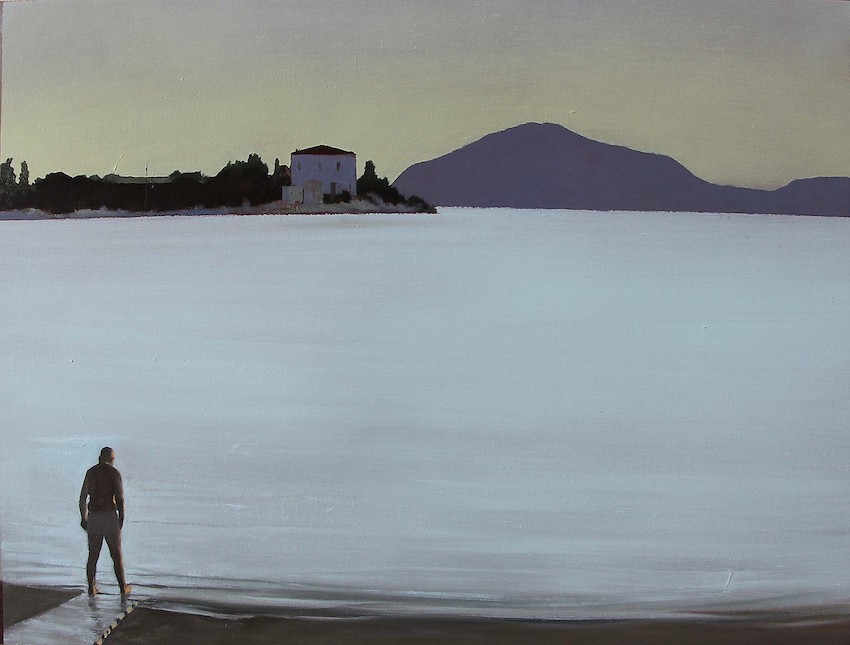 Tomas Watson is a British artist who has lived and worked in Greece since 1994. He studied at the Slade School of Fine Art in London. In 1998, he won the BP Portrait Award and was subsequently commissioned by the National Portrait Gallery to paint the author John Fowles. This portrait is in their permanent collection. Efrosini Camatsos (Cindy Kamatsou) is both an academic scholar and a writer of fiction. She received her B.A. in English from Wesleyan University, her masters in European Literature at the University of Oxford, and her Ph.D. in Modern Languages at the University of Cambridge. Her first novel Beneath the Surface, the tragicomic story of a woman who survived the German occupation of her village by helping the Nazis confiscate olive oil, was published in Greek translation by Livanis in 2010, and her second novel, The Duct-Tape Diary, is a coming-of-age novel set in Mississippi. Their summer programs cater to every skill level, from absolute beginner to semi professional. The only requirement is a passion to create and an openness to push beyond your limits. For more information see their website
Sigri: A Quick Review
So let's go back over what we have learned about Sigri and maybe a few things I forgot to mention....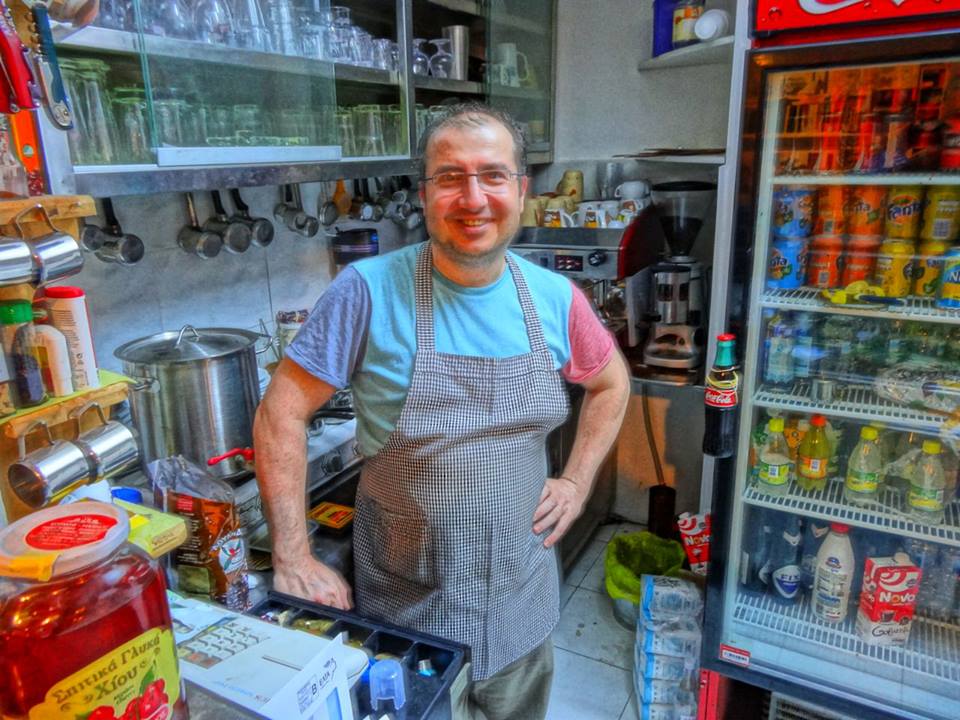 You can get free information and pamphlets about Sigri from Adonis at the Kentro Cafeneon in the main square and it is also a great place to hang out and meet people.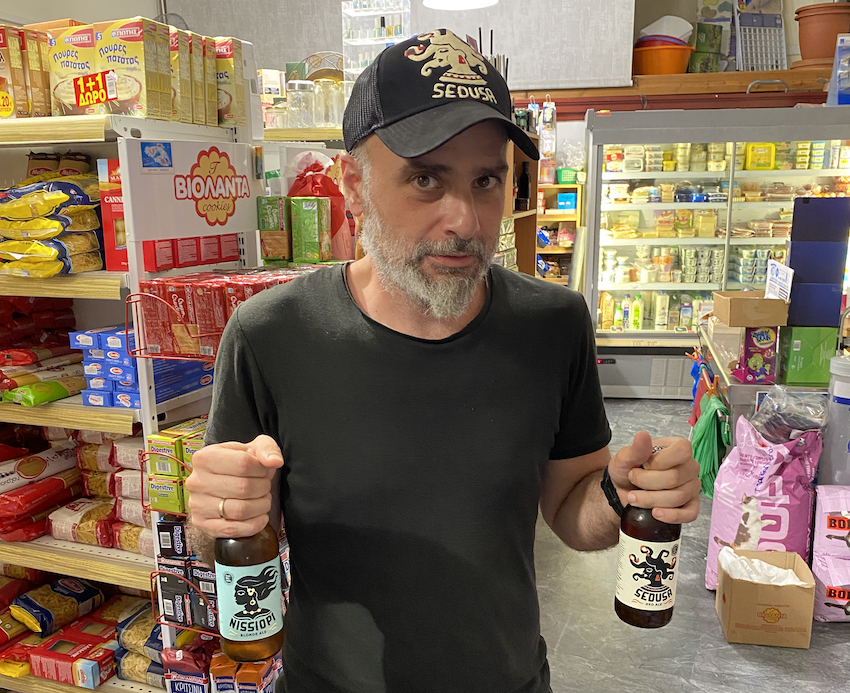 One of the best craft beers in Greece is from Sigri. Sigri Beer is opening a brewery in the village which will make it a destination for craft beer lovers. Until they open you can meet the founder Christos Hatzakis at his family supermarket in Sigri where you can buy the beer. It is also sold in the restaurants and bars in Sigri. If you are visiting Lesvos ask for it around the island so hopefully everyone will carry it. Support your local craft brewery. See the Sigri Brewery Website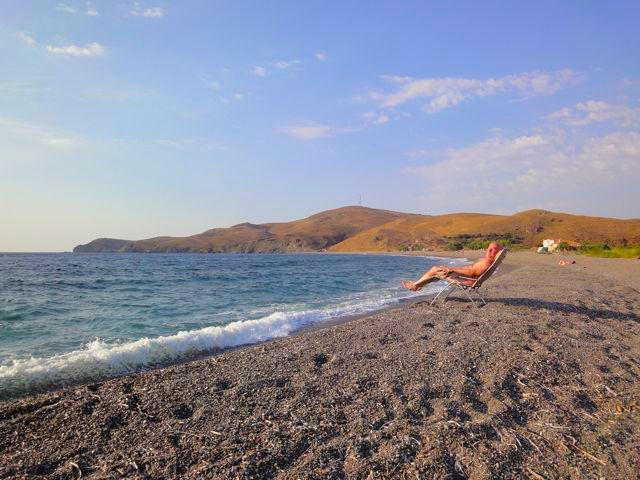 Remember that nudism is forbidden in Greece. But on Faneromeni who cares?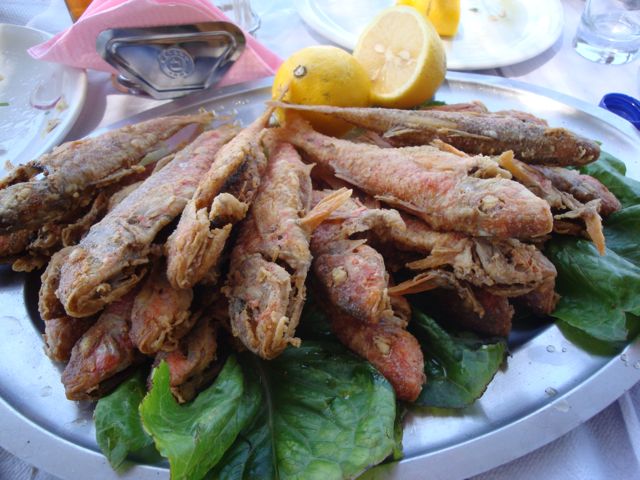 Don't forget to order barbounia or koutsomouria at Cavo d Oro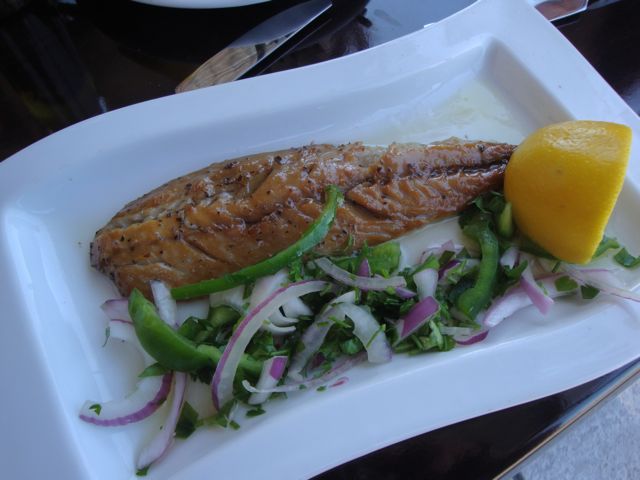 The smoked skoumbri is not bad either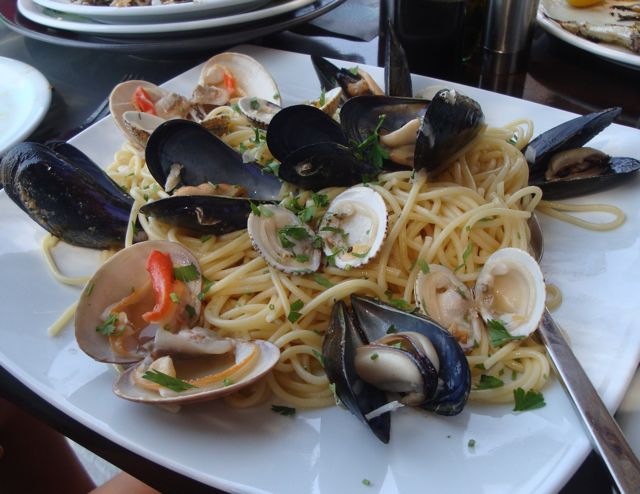 But you will probably break down and get the seafood spaghetti
Or the fish soup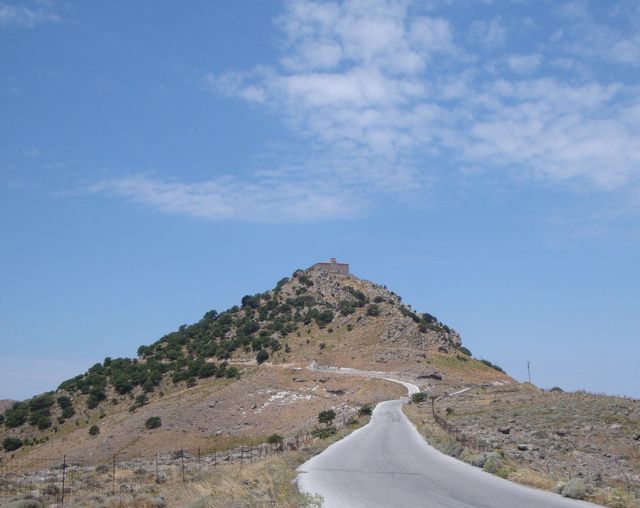 And after you have eaten and had a swim visit the Ypsilou Monastery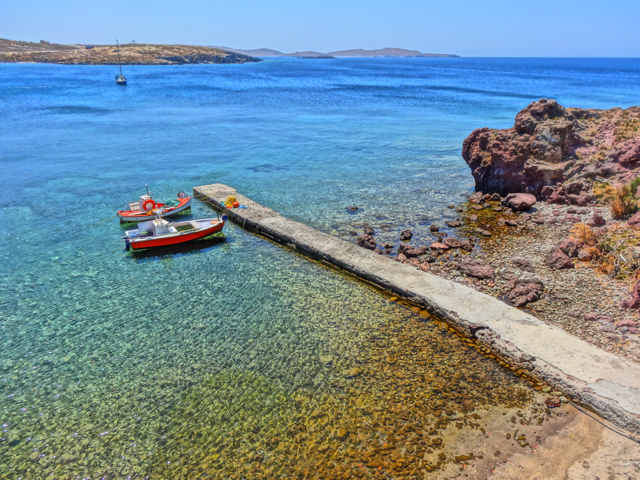 Sigri is a great place to go if you are on a sailboat and has several harbors so whatever way the wind is blowing you will be able to find somewhere you can go where the sea will be calm.
Helpful Sigri Information

Hotels and Villas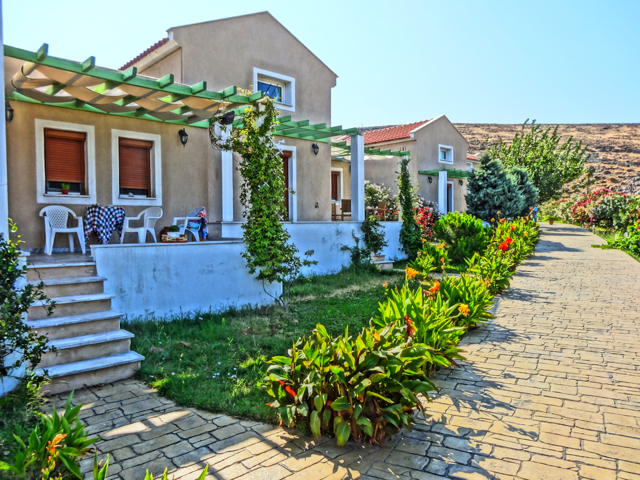 I recommend the Sigrion Villas and the Evangelina Apartments owned by a very nice Greek-American family from Mississippi! Their daughter Cindy runs Hyphenology, a cultural-educational program in English for high school kids. The villas are very nice houses that share a pool and are a short walk into town with kitchens, AC and a very nice garden area. The apartments are very comfortable and are located right in the town.
One of the nicest places to stay in Sigri is the Lesvos Tower House Komninos which is a 4-star accommodation with a pool and self-catering units with seaview. The 2-star Orama Hotel features an outdoor swimming pool with a sun terrace. It offers rooms that open to a furnished balcony with Aegean Sea views. Free Wi-Fi is available throughout most of these hotels.
You can find more hotels, apartments, and villas on Booking.com's Sigi Page and on my Lesvos Hotels page
Helpful Information
Be sure to buy Sigri: Where the Road Ends, written and illustrated by Roy Lawrance. It is an excellent guide to the area, wildlife, history and society, that we used for reference during our visit.
You can reach Sigri by bus or taxi but it is best to have a car. It is not essential because you can walk to most of the beaches though there may be days when you want to go further, like to Eressos or to explore the island. See Renting a car on Lesvos. But even if you don't have a car you will be quite happy here. Bring a sweater. It can get cool at night.
Take a look at my Sigri Photo Album from the summer of 2005 too. You can also visit my Sigri 2013 Photo Album on Facebook