Vatera in Lesvos is seven kilometers of uninterrupted sandy beach that seems to extend forever...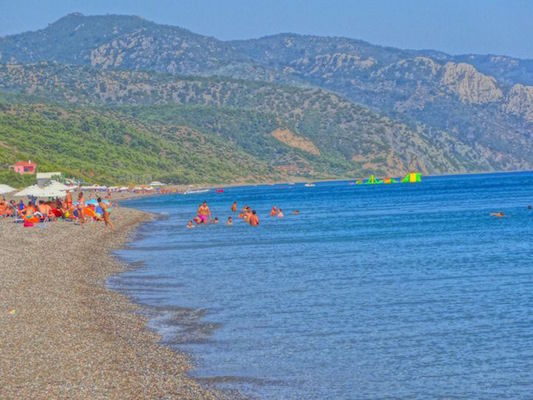 One of the longest and most beautiful beaches in Greece, Vatera is the best place to be if you are traveling with your family or are looking for a quiet place to enjoy the sea and nature as well as good food and the nearby hot springs of Polychnitou. (Which are unfortunately closed for the time being) Located on the coast between the Gulf of Yera and the Gulf of Kaloni, near the town of Polychnitou and the amazing hot mineral springs, Vatera is seven kilometers of uninterrupted sandy beach. This is one beach that seems to extend forever. The town of Vatera itself stretches a couple kilometers and is made up of some really nice tavernas, a pizza place or two, several small bars, a few shops and some terrific family oriented hotels. Most of the people who come to Vatera are Northern Europeans who have been coming for years and a few celebrities in the know who enjoy a quiet ouzo and mezedes and a good book at sunset, as well as snorkeling along the coast where fish and octopus are plentiful. In fact I caught several baby octopus and played with them with my daughter, letting them climb from one hand to the other before letting them go again, probably wondering to themselves what that was all about.

How to Get to Vatera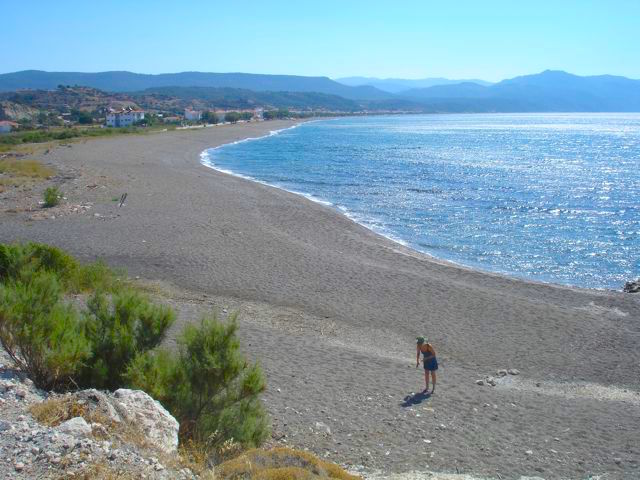 There are several ways to get to Vatera. The way we came on our first visit was on a dirt road that will destroy your car but begins as a beautiful paved road up around Agiassos. You will know you have taken this road by several things, your nerves will be shattered as will the car's suspension, you will be driving for hours and never seem to get any closer (because you can't drive over 20 mph), and you will come out at the far end of Vatera beach and marvel at the beauty and the solitude. But it won't matter because if you are like me you will have to head into town for a drink to recover. Luckily there is an easier way, a paved road that begins on the main Mytilini road near the Gulf of Yera that will take you through olive groves and forests, past the springs of Karina and the mountain village of Agiassos to Polychnitou and then Vrissa and Vatera. Or if you are coming from Eressos or Molyvos take the road that begins in the eastern part of the gulf of Kaloni past Achladeri (Ancient Phyra). If you are not renting a car take a taxi from the airport or ferry or ask your hotel or travel agent to book one for you.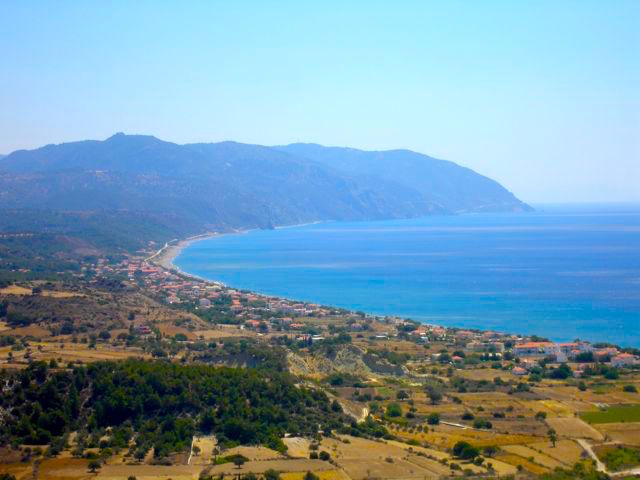 When you arrive at Vatera beach after passing through the town of Polychnitou you can turn left and follow the beach to where the population dwindles and eventually fades to nothing, where you can swim in any attire you please until the next solitude seeker shows up. But with nearly four kilometers of deserted beach there is no reason why anyone should be anywhere near you, except maybe in August on Sundays, when Vatera can get crowded with locals and Athenian tourists. But even then there is still plenty of room and it would probably take the swimming populations of several major cities to fill this beach. Because the island faces south, it is protected from the northern winds that usually come in August. It has been awarded the EEC Blue Ribbon for its clean water repeatedly.
Where to Stay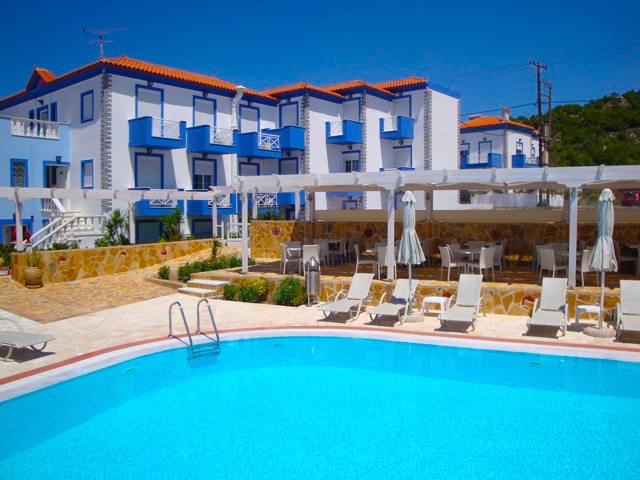 The Hotel Aphrodite Beach, owned by the Greek-Canadian Hahathakis family is in my opinion the best family hotel on the island, if not all of Greece, and is right on the beach. All rooms have AC and TV's and the hotel has free wireless as well as computers in the lobby in case you forgot yours. Great for mature couples too as well as honeymooners. The trampoline was the best free baby-sitter I have ever seen. Children spent hours on it while their parents we able to relax and make friends with other guests in the hotel's taverna or sit by the pool which I guarantee is one of the most impressive pools you have ever seen. Because Vatera Beach is flat the hotel's fleet of bicycles get a lot of use too. The hotel has self-catering rooms as well as apartments for families and people who need a little more space. In the morning their breakfast buffet covers all the bases and there is someone in the kitchen who can fulfill specific needs and desires. One of the best features is the giant Nespresso machine that automatically grinds the beans and brews your espresso, capuccino, late or coffee. For lunch and dinner their family run taverna serves fresh fish, local meat, and organic vegetable dishes and salads from their farm right next door.
For more info see their website or book instantly with Booking.com
In and Around Vatera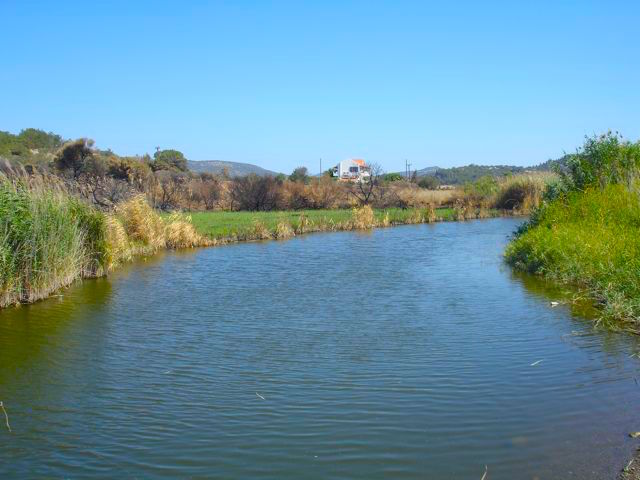 If you take a right upon entering you will pass hotels and restaurants and eventually the road leaves the beach to go over a small river where you can stop and feed the turtles from the bridge. They love bread so save it from all your meals. I don't know what it is about feeding turtles that makes it seem so much fun. Maybe it's because they are reptiles and one does not get to socialize with this strata of life very often since they are generally reclusive, or maybe it's because it is fun to watch a bunch of turtles race for a piece of bread and then fight over it. But ever since I made this website the turtles of Vatera have been among the most well fed on the island of Lesvos and have been reproducing at an unprecedented rate from all the bread the tourists are feeding them. Rumour has it that the turtles plan to make a statue of me and a commemorative coin after there are enough of them to wipe out the humans and take over the island.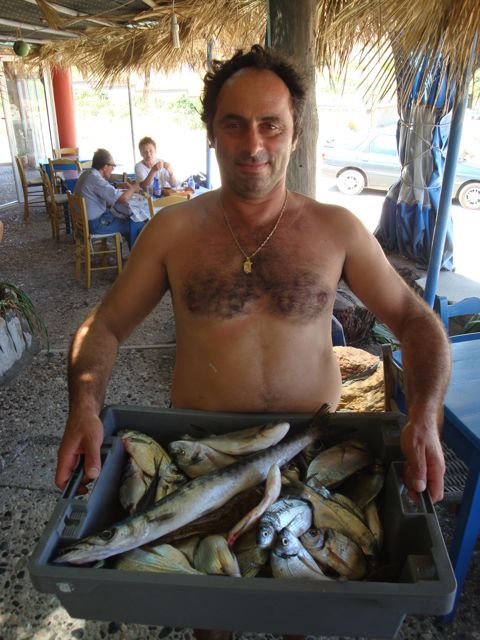 If you keep driving you will pass the Well of Achilles on your left and some farms, olive groves and a small military base and you will reach the tip of a peninsula where on your right is some decent snorkling off the rocks and on your left the small port of Agios Fokas, with two fish tavernas. We stopped at the first one on the right on our first trip and since then we have come back every year. It is called Akrotiri Fish Tavern and is the closest to the ruins of the Christian church and the temple of Dionysious the Spring Born, just above the small harbor where the ducks hang out. We had excellent sardelles pastes and grilled sardines, incredible lakerda, (marinated tuna steaks), another style of Greek sushi. If you are looking for a place to have a drink, eat sardines, mussels saganiki, octopus and watch dusk come over the beach at Vatera, this is the place. On Sunday afternoon this little taverna is jumping, especially in August. If you order in advance Dimitri will make a big pot of fish soup for you. This restaurant is one of the best on the island and even if you are not staying in Vatera I highly recommend you make this one of your stops on your culinary journey around Lesvos. If you frive the dirt roads in the area you will eventually come to the ruins of the 15th Century Gatalucci Castle. Then again you may not.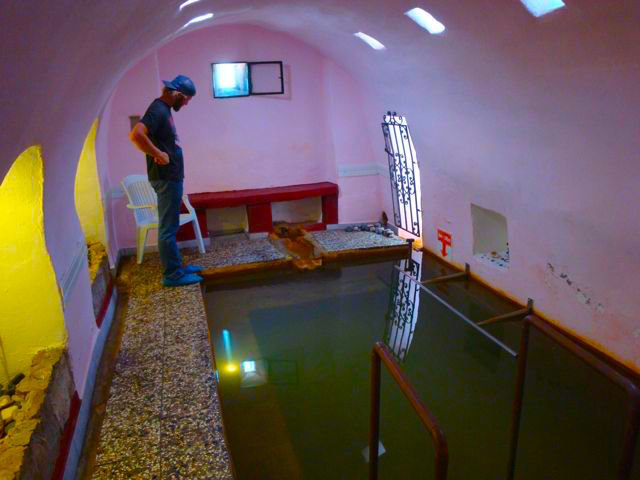 A required visit is the natural Hot Springs of Polychnitou. (Temporarily Closed) The valley is full of steaming hot streams that leave sediment in some of the most beautiful pastel colors, meandering past the ruins of ancient bath houses as well as pools of boiling water. There are several old bath houses and one that has been rented and restored. The waters here are supposedly the hottest in Europe and can cure a great variety of ailments. Inside there are comfortable chairs for relaxing, private baths, the two main baths, one for men and one for women though if you come as a family or couple and there are no other bathers they may allow you to be together. There is a small shop that sells local natural products, herbs and spices and is also a cafe where you can get softdrinks and snacks. Out back is a covered area where massage is offered. For more info see hot springs and natural spas of Lesvos. For more pictures of the baths and springs of Polychnitou click here. Also nearby are the hot springs of Lisvori which have a small taverna and seem to be the undiscovered treasure of hot springs on the island.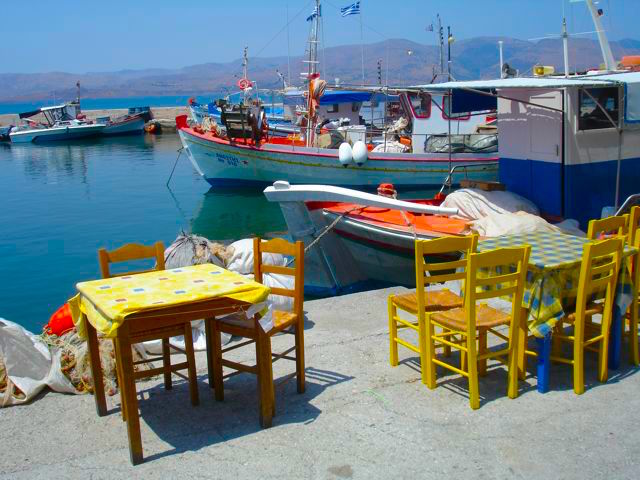 The town of Polychnitou is a labyrinth of decaying mansions and small traditional shops, great ouzo cafeneons and restaurants, museums and the Agro-Tourism Woman's collective which is involved in the production of Byzantine icons, handicrafts, embroideries, tapestries, preparation of preserved sweets, marmalades, liqueurs, local cheeses, olives, olive oil and herbs. (Tel,22520-42175 or 41190 or 42260). A few miles a way in the Bay of Kaloni is the town of Skala Polychnitou with its fleet of fishing boats, a few seafood tavernas and a town beach as well as some interesting crumbling old buildings. Its a good place to go for lunch if you are staying in Vatera and want to do an eckdromi. (Greek word which means like an excursion). If you follow the signs to the beach village of Nifida near the entrance of the Bay of Kaloni you will find my favorite seafood taverna called Grigoris, with fresh fish and sardeles pastes in season. In fact it was here that we filmed our groundbreaking video How to Eat Sardeles Pastes. The sea is shallow here and safe for small children and non-swimmers. You can also visit the area called Achladeri where the ruins of Ancient Phyra lay just below the surface of the sea and there is a small fish taverna that features sardeles pastes, agriogarides, and clams on the halfshell picked fresh from the sea every day.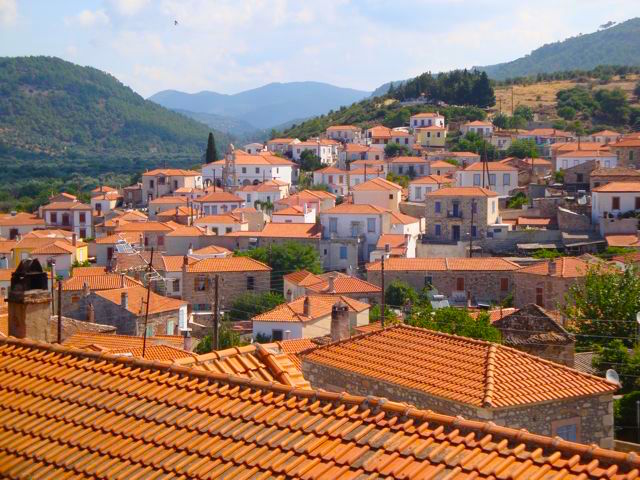 The small village of Vrissa, the closest town to Vatera Beach,was one of the most attractive of the traditional villages on the island and the home of many of the people who have hotels, restaurants and businesses on the beach in Vatera. The village was severely damaged by an earthquake in 2017 and is in the process of rebuilding though this could be a very slow process because of the red tape involved. Vrissa was the home of the Museum of Natural History with an amazing collection of Paleolithic fossils, ancient fish, fossilized bones of a 1.6 million year old mastodon and various other animals, rocks and plants, all from the area. As of now there are no plans to reopen the museum elsewhere. Vrissa had a cafeneon that was famous for its mezedes called To Platanos which was totally destroyed in the earthquake and has relocated to Vatera.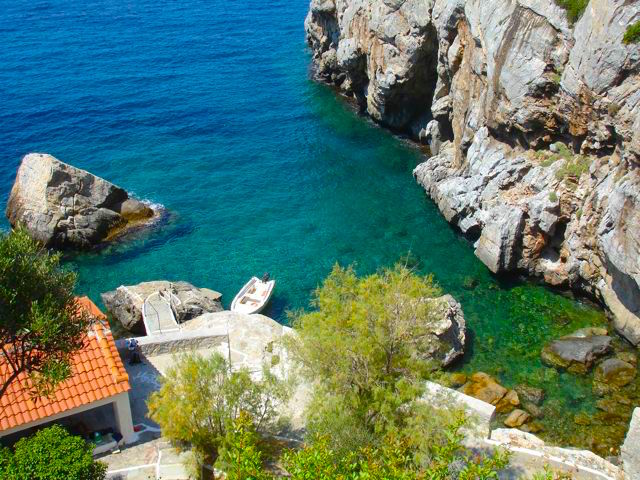 Just down the coast from Vatera there is a tiny bay and a small church nestled into the rocks. This is the Panagia Krifi, the Hidden Virgin, which can be reached by motorboat from Vatera. There is a small stone beach and excellent snorkeling as well as a hot spring. We came here with George, one of the owners of the Hotel Aphrodite in his fishing boat. Chances are if it is summer he may not have time to take you but it won't hurt to ask. Its a very beautiful place. You can also reach it from the road to Melinta, another small beach town with a couple nice seafood tavernas. If you go beyond Melinta you will come to the town of Plomari with its ouzo factories and shops, ouzeries and the beautiful beaches of Agios Isidoros. But I have to warn you that this drive will take you on unpaved roads for several miles.
Nightlife in Vatera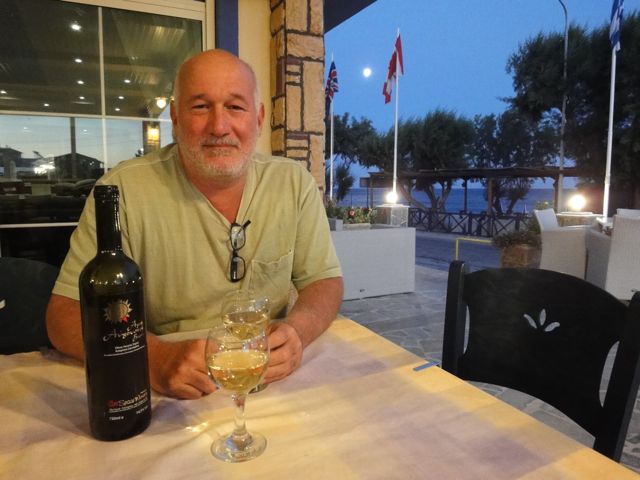 Wild nightlife in Vatera? Well don't get your hopes up if you come in the off season, but if you like sitting at a beach side taverna with a group of new friends, watching the sunset, eating fresh fish, drinking ouzo and wine, while wondering who the interesting looking fellow who looks like Ernest Hemingway is, then spend your holiday in Vatera and rent a car to explore the rest of the island by day. If you crave action, Polychnitou is close enough and a town of its size has its fair share of bars and discos. And before you dismiss Vatera itself as a place completely lacking in youth culture, you will be happy to know there are indeed clubs and discos on the outskirts of town along the beach and some quiet bars on the beach road. The Hotel Aphrodite Beach have a lovely pool bar where you can watch the changing lights of the pool or you can take your drink and sit at a quiet table by the sea.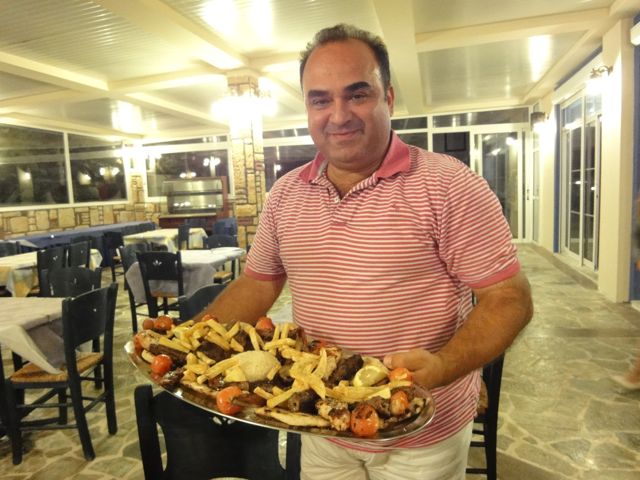 Try the Aphrodite Taverna at the Hotel Aphrodite. All food comes from their organic farm and is made from traditional family recipes. If you go on a weekend night you may be lucky enough to hear the owner, John Hahathakis and his band perform. The dancing and singing has been known to go on for hours. Even Yannis mother dances. With the trampoline keeping the kids occupied you can have a nice dinner and then join in the festivities or just hang out and listen and watch. It can get pretty wild and I have often wondered how some of the dancers were able to appear at breakfast so bright-eyed and bushy-tailed. But even on quiet nights its a friendly place to eat with good food and attentive service. And the trampoline gives the restaurant a lot of extra points as does the new swimming pool, one of the nicest I have seen, with a children's pool and a small island connected by a bridge where Yannis and his band can perform on special evenings. If you are coming during the Olympics or the Eurocup or any major sporting event you can sit by the pool and watch the action on a giant screen.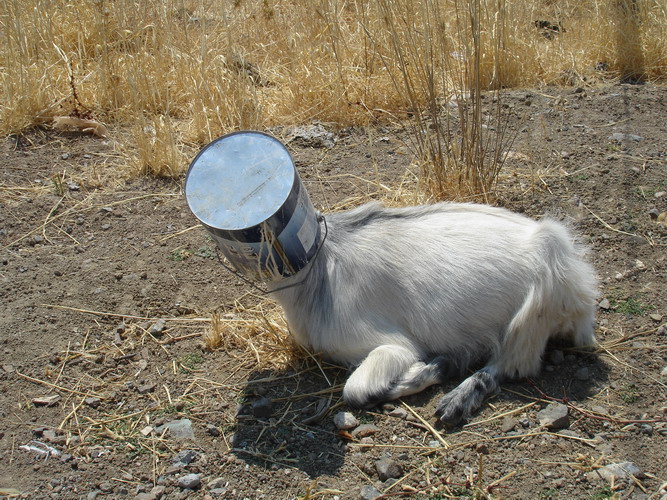 One last note on Vatera, a story really. One afternoon after one of our trips exploring the island we were returning to Vatera for a swim when Andrea yelled "STOP THE CAR!!!" I could not imagine what was so important that I needed to stop here on the outskirts of Polychnitou.
"What is it?!!" I asked her.
"Its a goat with a can on it's head." she told me. I could not even imagine what she meant. So I turned around and sure enough there was a goat with a can on its head. Somehow it had been eating and gotten it stuck. It was behind a big cyclone fence and ...... well I will let the picture tell the story. The good news is that we went to the hotel and told George and he found the owner in the phone book and the next day we went back and the goat was happily eating without the can on its head.
If you are traveling with your family or even without it for that matter, in my opinion Vatera Beach is the best placein Lesvos for children or for the child that is within all of us. You won't find a better place to explore this part of the island and day trips to Agiassos, Plomari, and the other towns, beaches, ancient sites and thermal springs of Lesvos are easier when you know at the end of the day you are going back to somewhere that is equally as beautiful and fun as where you have spent your day. And you may take one look at the beach and say to yourself that this is where you are staying for the rest of the holiday and who cares about whatever else there is to see on the island. This really is one of the most beautiful beaches in Greece and the fact that development has been so limited is a blessing. How long it lasts before it is discovered is anybody's guess. But if you come and stay in Vatera you can have the option of being among a handful of people on the sunbeds or walk a few hundred meters along the beach and have it all to yourself. If this appeals to you then chances are you may become one of those people who returns here year after year, even if you are not Northern European.
Practical Information for Vatera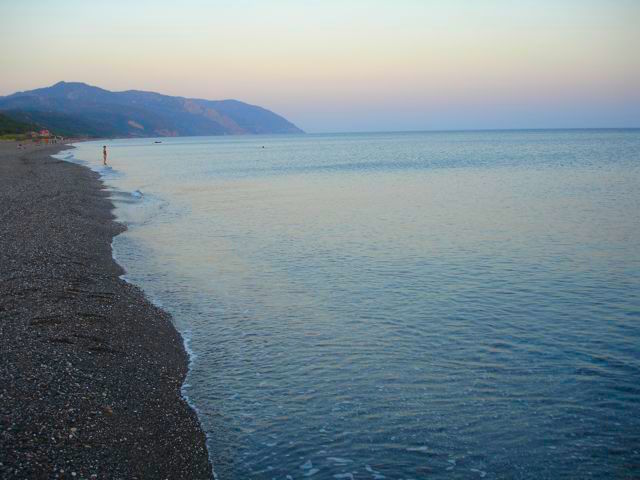 To book hotels in Vatera or around the island, rent cars and get ferry and airline tickets to Lesvos visit Sappho Travel or Fantasy Travel in Athens
To book the Hotel Aphrodite Beach, the best hotel for families with kids, honeymooners or any kind of traveler book instantly with Booking.com. If Booking.com says they are full then visit their website because they may still have rooms.
You could easily spend your whole holiday in Vatera and explore the surrounding area but if you don't want to spend all your time in one place why not combine it with Skala Eressos or Molyvos?
Be sure to visit the Hot Springs of Polychnitou, the hottest in Europe and the village of Agiassos, one of the holiest places in all of Greece.