Molyvos is the tourist capital of Lesvos but don't let that scare you away. It is Greek Island tourism at its best with all of the good qualities and few of the bad and attracts visitors who are sensitive to culture and tradition but are still there to have a good time.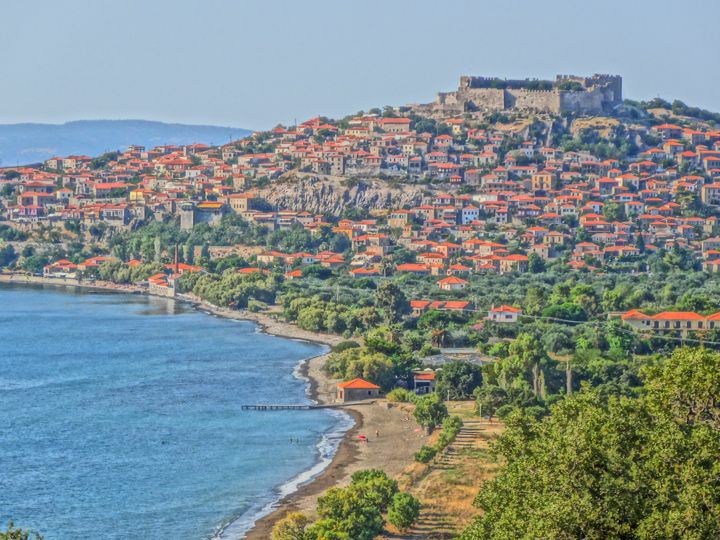 Mithymna, or Molyvos as it was called during the middle ages, is truly an amazing town. When you pass through Petra and follow the coastal road you really are unprepared for the dramatic first view you get when you come around that last bend. Luckily there is a place to pull off where you can take it all in, rather then sneak glances and endanger your family and everyone else on the road. The town is situated on a small mountain topped by the dramatic Castle of Mithymna, built by the Byzantines and renovated by the Gattelusis, who were from Genoa and were ceded the island when Francesco Gattelusi married the daughter of the Byzantine Emperor John Paliologos. The original castle which this one replaced, was conquered by none other then Achilles during the Trojan war. (The ruins of the ancient city of Troy are right across the narrow straits between Molyvos and Turkey). There are still ancient ruins scattered around the town including impressive polygonal walls and a few giant holes where archaeologists have begun their slow work after some poor person discovered them while renovating their home.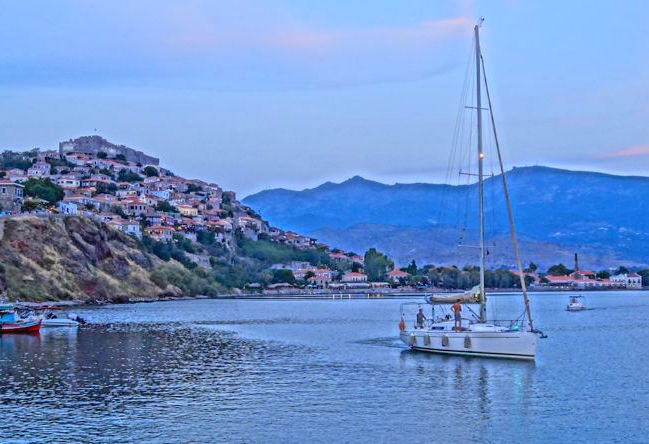 The town of Molyvos itself is built of stone houses and shops which surround the castle and follow the coast to one of the most scenic harbors in Greece. As one enters the village there is certainly a lot of tourist activity, at least more then anywhere else on the island, (yet nowhere near Cycladic proportions). But rather then terrifying teens on motorbikes, these are a more sophisticated breed, some of them actually carrying books of Greek Mythology and histories of the island. I think one of the things I like about Molyvos is that the tourists are interesting. You can sit down with one and have a decent conversation at breakfast. You can get drunk with one and actually learn something because unlike places like Mykonos, Ios and Santorini which people hear about by word of mouth or from their local travel agent, to know about Molyvos, you have to at least know how to read. Many of these tourists not only know how to read but they devour literature on the island and return year after year, some of them eventually buying a house and settling here and even becoming writers.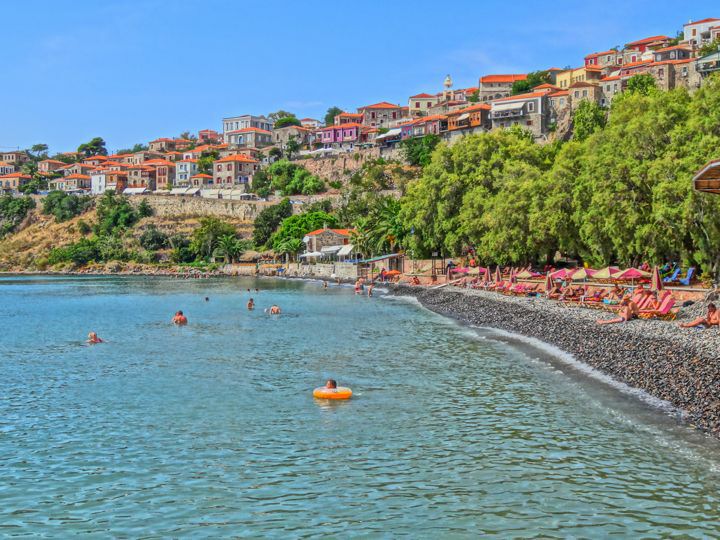 There is a stone beach and a small park in Molyvos down by what used to be the village Olive Oil factory but what is now the Olive Press Hotel, one of the most interesting hotels on the island. Living in America or any modern industrialized country it might be hard to conceive of turning a factory into a hotel. But the Olive Press is a simple, large stone building, broken up into different rooms with a beautiful courtyard garden, pool, and a very nice restaurant right on the water. The beach is small stones but once you get out a few feet this gives way to soft sand and there are few beaches that have the view you get when you turn around and face the land. It is a view of the town and castle so beautiful that you will risk the possible destruction of your camera in order to get a photo. (I didn't risk it). There are a few cafe-bars and restaurants in this part of the village. Unfortunately a garbage truck hit my rental car while I was asleep one night. Because of this experience I should warn you that it is not a great idea to park on the small streets of Molyvos. There is a parking lot outside the village that is within easy walking distance from most of the hotels and another lot above the harbor which may require more courage than you have to get in and out of because the road is so steep. So I suggest you leave your car on the lot outside the village and get your exercise walking to the harbor. If you keep walking away from the village the Hotel Delfini sits on a very nice sandy beach, one of the best beaches on the island actually. In Greece you can't own the beach which means even when a hotel sits on the beach, anyone can swim there.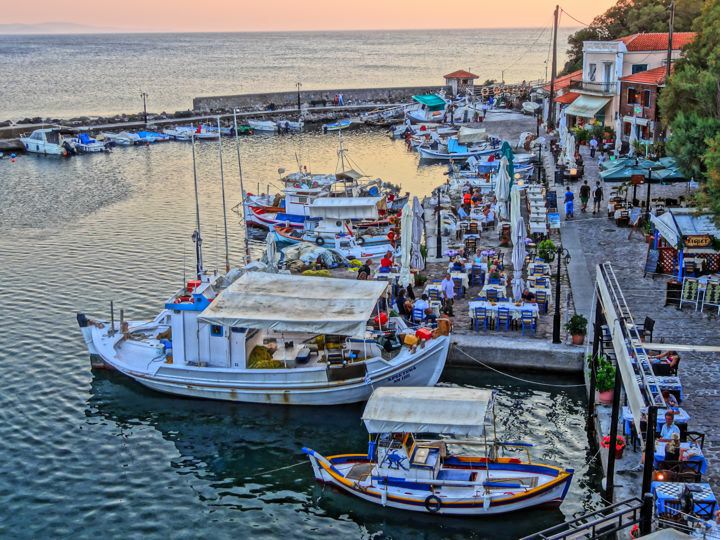 The harbor is Molyvos best feature in my opinion. It is a working fishing harbor and if you sit in one of the cafes or restaurants in the morning you will see the drama of Molyvos sea commerce as they unload boxes of sardines, mackerel, lakerda (a kind of tuna), gopes, barbounia and many other types of fish to waiting pick-up trucks which race them to markets in Mytilini or sell them in other towns and villages around the island. The fishing boats themselves come in all sizes, some quite large, with crews from foreign countries, mostly Egypt, and some small caiques. There are usually a few sailboats in the harbor and there is an old wooden ship building yard that is still in use. The harbor is surrounded by a number of fish restaurants and you pretty much cannot go wrong with Limanaki, Kismet, Octopus or any of the other traditional family run psarotavernas. My favorite is as ever The Captain's Table owned by Melinda and Theo and staffed by their children and other family members. Also singled out for good food is Tropicana in Kyriakou Square in the village. For more places to eat, in and around Molyvos see my Lesvos Restaurant page.
Exploring Molyvos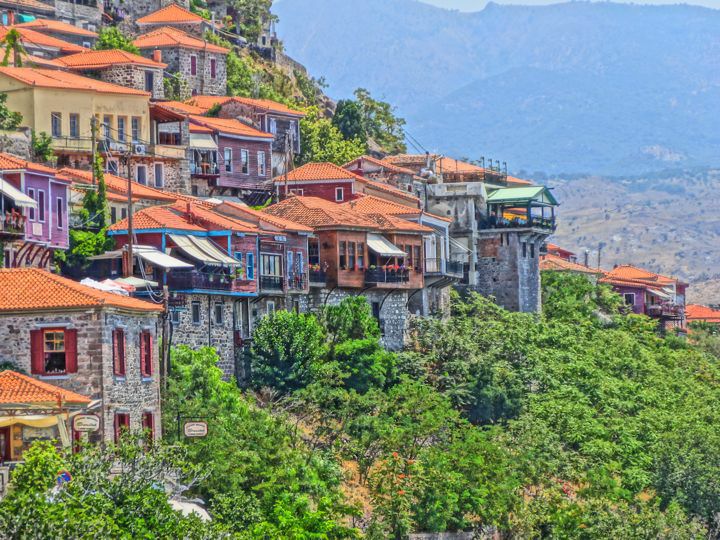 The walk through the village itself is one that should be taken even by those with fears of walking uphill. The main street of Molyvos is made of cobbled stone and covered entirely by wisteria that seems to be in bloom even when it shouldn't be. The street is completely shaded by these incredible vines and make walking by day quite bearable, even on the hottest days. Well maybe not on the hottest days but that's what the beaches are for. If you continue upwards you will pass museums, galleries and eventually wind up at the castle where they have concerts during the summer of some of the most well-known Greek musicians and even some International groups on tour. There are plenty of interesting shops for those addicted to buying, including jewelry stores, boutiques, pastry shops, fruits and vegetable stores, and several fine restaurants and ouzeries that have a view of the coast and the entire valley of Molyvos as well as most of northwestern Lesvos that may make you feel like you are in Santorini.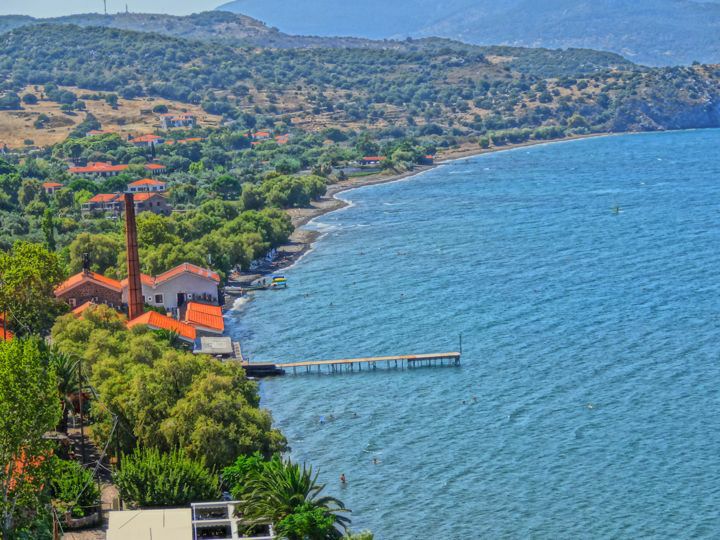 If you like swimming and in particular snorkeling, walk beyond the dock and follow the rocky coast until you find a place that looks easy to get in the water and more importantly to get out. If you have been looking for those sparking clear azure seas that they show you in the guidebooks you will find them here and some privacy too. There is a stony beach that you can get to by following the paths above. Watch out for sea-urchins which are plentiful. If you step on one take the time to get all the little spines out of your foot, because if you don't by the next day they will hurt like hell. We were told that if they are too deep to get out, rub tooth-paste on it and leave it overnight. The next morning there should be enough of the spine protruding for you to get a grip on it. I think Elmer's glue works too. They are not poisonous. Just a pain. If you want to avoid this experience there is always the town beach and the beaches at Eftalou. If you would rather have a beach relatively free of people try following the coast in the opposite direction past the town beach until you get to an area relatively free of people which should not be hard to find in the off-season or on weekdays. But the beach is rocky and getting in and out of the water without water shoes is a challenge. If you keep walking the stony beaches finally give way to sand at the Delfini hotel which also has a nice restaurant and a pool.
For those who have the need to fill their days with loftier activity then laying on the beach, there are several cultural and spiritual centers in both Molyvos and nearby Petra where you can learn yoga, iconography or study with famed author Carol P. Christ who leads seminars for women every summer.
Molyvos at Night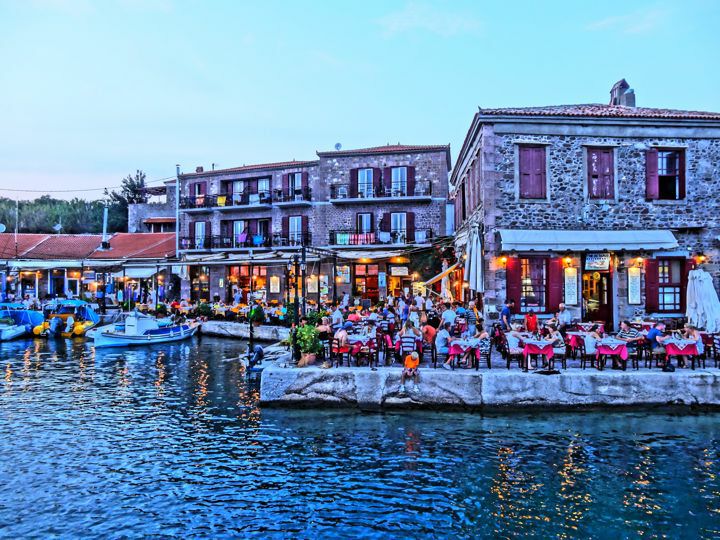 For those who crave a little nightlife with their relaxing holiday, Molyvos will not disappoint. There are many bars in town and a few discos and some large clubs on the outskirts of town and enough young people to make it interesting. Those who are into serenity won't be bothered by the nightlife since the louder clubs seem to be set away from the hotels (with the exception of those by the town beach). Those people who enjoy an evening of ouzo or wine and deeply profound philosophical conversation about life, love, God and other important matters, should have plenty of company in the various restaurants and cafes around the port. If you love Greek music played by a talented musician just follow Vangelis around to whichever restaurant he happens to be playing at that night and by the end of your visit you should be able to sing-along with most of the songs. Last summer I saw Vangelis playing in a boat in the sea in front of one of the harbor fish-tavernas, I suppose to get around the fact that the restaurant had no license for live music.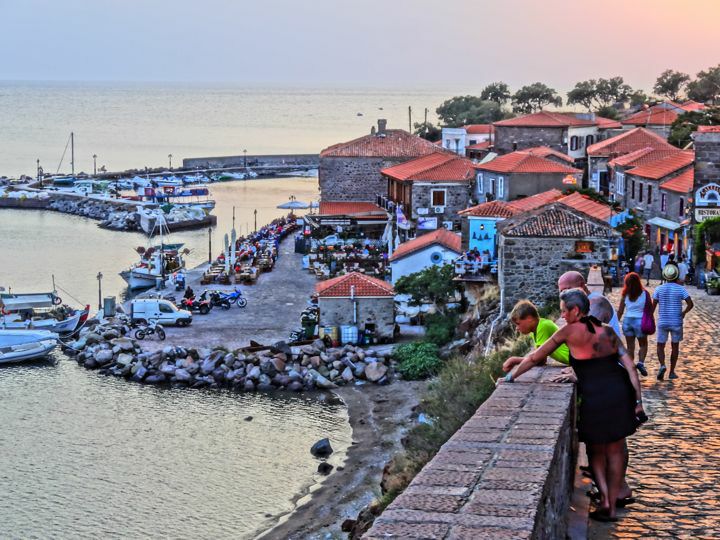 My favorite place, well actually the only place I go to, is a small bar in the harbor called Molly's, owned by two Englishmen, Martin and Paul. Well I assume they are English because Martin sounds English and he and I stayed in the bar one night til 4am watching and listening to his incredible collection of music videos and drinking Guiness. OK, Maybe he is Irish. It doesn't matter. The point is if you are staying at the Hotel Sea Horse, like I was, you will only have a few steps to go and be home so you can drink as much as you like. If you are staying further out you can call a taxi or walk. If you drink enough you probably won't mind. They also show all major sporting events so if you are worried about not being able to follow your team while on holiday you shouldn't be. Also I have heard that Hammam has reopened with their delicious food and live music on weekends.
Shopping in Molyvos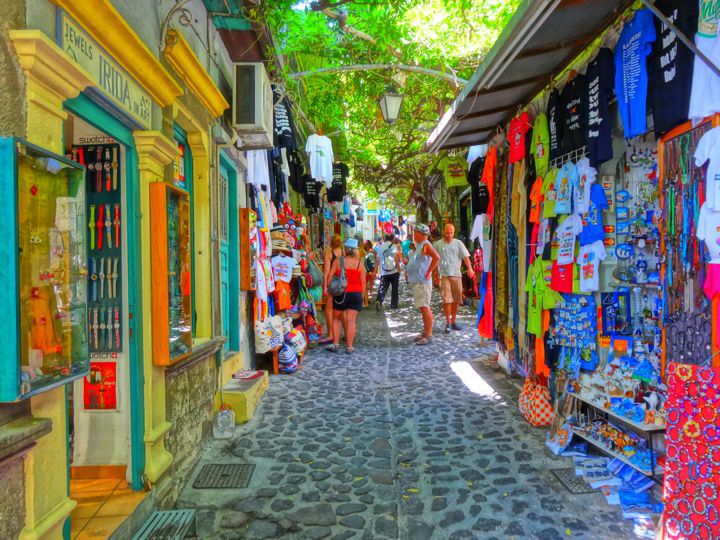 There are a number of interesting stores in Molyvos and visitors can pass the time between their afternoon naps and their first ouzo and dinner by looking at some of my favorites. There are a few interesting shops in the harbor but be sure to check out Mythos on the main street in the village as well as a few dozen other interesting gift shops and jewelry stores. If you are serious about reading go into the wisteria shaded agora and wander the car-free streets until you find the small book store called Bibliopoulio Estrabazario where you can also find maps, cards and other gifts. If you like rembetika music talk to the owner who is an expert. My recommendations are the books of Myrivilis, Greece's most widely read novelist: The Mermaid Madonna and The Schoolmistress with the Golden Eyes which are both stories that take place on the island in the twenties and thirties. Also Daphnis and Chloe, an ancient Greek love story, beautifully illustrated by Marc Chagall. The book and CD set Music of Lesvos is a great collection and history of the island's music. There are a number of shops selling traditional sweets, olive oil, wine and herbs scattered around the village including the Molyvos Women's Cooperative which is right on the coast road.
On the opposite side of the Seahorse are two very interesting shops. The Aigaio is owned by Costas and Ute Zissiadis and has perhaps the most interesting collection of local, Greek and Turkish art that you will find anywhere and can experienced as a gallery rather than just a gift shop. J ust across the street is a small shop that has traditional foods and other things from Lesvos, Limnos and Chios. You can find many of the island's ouzos and the celebrated Methymnaos wine from the town of Xidira. They also have some delicious wines from the island of Limnos, Mastika from Chios and of course locally produced olives, olive oil, soap and shampoo, canned sardines, various Lesvos cheeses, pastas and many things that come from the women's cooperatives around the island.
Around Molyvos
Hot Springs of Eftalou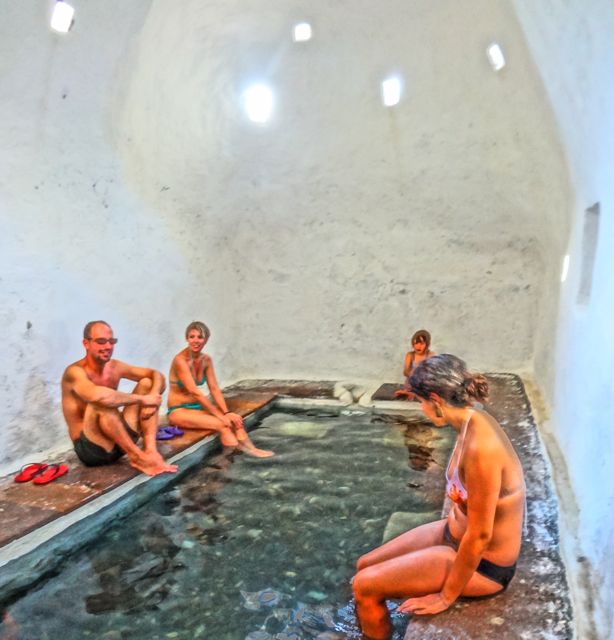 On the other side of Molyvos on the road to Eftalou there are a few stony beaches and several nice hotels with swimming pools some with restaurants and bars where you can have a meal or a drink and let your kids play in the pool if you have the kind of kids who prefer pools to the sea (like mine). We stayed at the Sunrise Hotel a few years ago which was one of the best hotels we have ever stayed at in Lesvos. It's a 20 minute walk to town but there is a shuttle bus. If you are on Lesvos chances are you will want to have a rental car to see the whole island so where the hotel is located should not make too much difference. It's also a 20 minute walk to the wonderful hot mineral baths and beach at Eftalou, where I swear that my injured back, which made any movement brutally painful, was cured in about twenty minutes. If the baths are closed it doesn't matter. The hot water seeps through the ancient building into the sea and by moving a few rocks you can have your own hot pool. Inside the building there are private baths and next to it the ancient bath which is so hot I dare anyone to sit in it for more than thirty seconds.
Golden Beach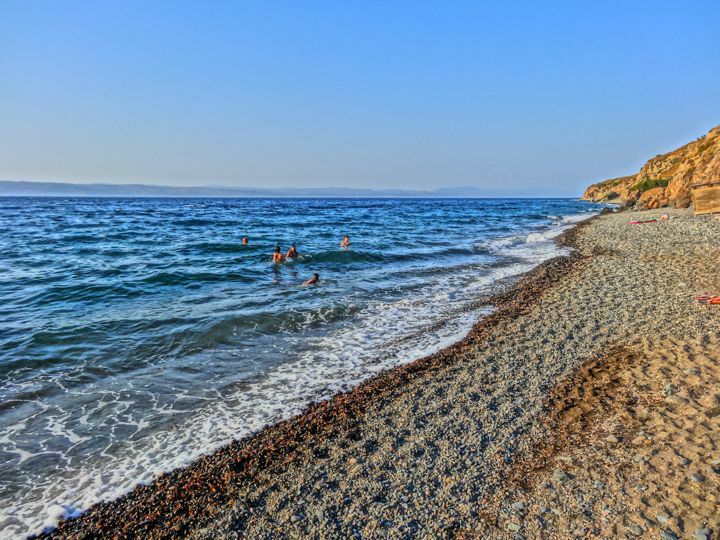 Beyond the beach and hot springs of Eftalou is the very nice Golden Beach (photo) which is worth the journey and is one of those beaches that only in-the-know travelers knew about until everybody eventually knew about it. Though not officially a nudist beach since no beach in Greece is officially a nudist beach, nudism is tolerated or more accurately ignored since you can get far enough away from the people so that nobody knows if you are nude or wearing a flesh colored bathing suit. You can get here by town bus or by taxi to Eftalou and then just follow the people who take the path along the coast. You can also drive right to the beach and the taverna there if you have a car or mororbike. If you do have a car, well a jeep is better and a motorbike is not advisable, take the dirt road that goes up after the baths at Eftalou and follow it along the coast. When the road comes back to the sea and you pass a small farm with lots of goats look on the left for a big rock with smaller stones places on top of it. These rocks mark the space where some hot springs are. They are in the sea so don't look for a stream or a building. It is very rocky and you will probaly need some kind of water shoes but you can swim around and feel the pockets of warm water. In the winter it is easy to find because you can see steam rising from the sea. If you continue for another 200 meters or so you will come to a lovely little taverna called Ligaria Paradise, named for the large tree that shades it. It is run by a woman and her daughter and the grandmother and has excellent traditional food and fresh seafood which they catch. They have several interesting pitas you should try because you probably won't find them anywhere else. The girl speaks fluent English.
Skala Sikaminias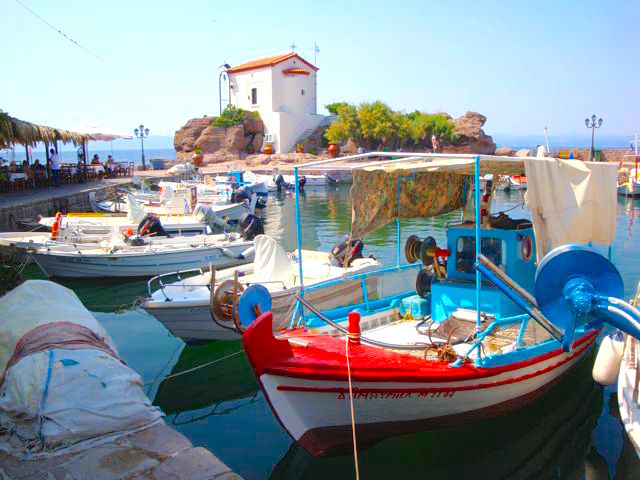 Further along the coast on this dirt road, or else reached by another road that goes over the hills, is the tiny port village of Skala Sikaminias. There are two or three nice little restaurants and a couple nice cafes. It's a spot popular with artists, poets and Greek filmmakers being the legendary village made famous by Stratis Myrivillis in The Mermaid Madonna, a beautiful book I highly recommend buying while you are in Lesvos because chances are you will not find it anywhere else and it is a wonderful book. With a backdrop of the arrival of the refugees from Asia Minor in 1922 it tells the story of a young girl and a mysterious icon of the Madonna in the shape of a mermaid that was in the small church on the stone peninsula that protected the harbor. We went there looking for the Madonna but it was no longer there. When we asked a woman in one of the shops she told us that it is a matter of opinion whether the Madonna existed at all outside the mind of Myrivrillis and his readers. Then while in the Theophilos Museum I discovered the sad fact that not only did the Madonna not exist, but according to one of the famous artist's paintings of Skala Sikaminias, the church itself did not even exist in 1922. Nevertheless it is a lovely spot to visit and the church should not be missed by lovers of this book.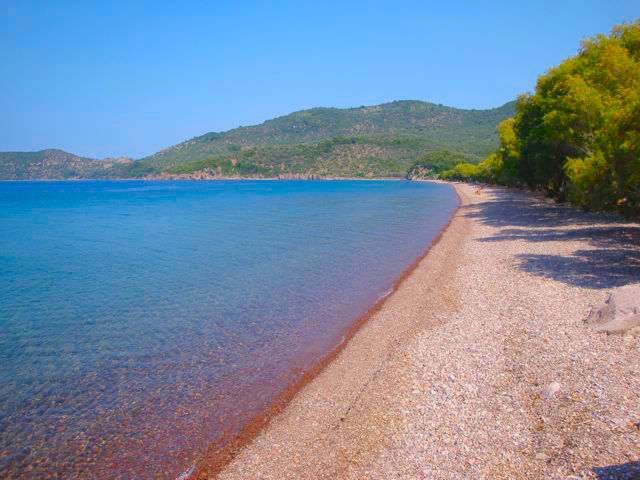 Kagia Beach which is just on the other side of Skala Sikaminias is worth a visit, especially for snorklers. It's a stone beach with a taverna or two and shade trees nearby. It is also a popular visiting place for Dolphins, or at least it was when we were there. Like some of the beaches in this part of the island getting in and out of the sea can be an endeavor because of the rocks. Though I think they look pretty dorky I would recommend those swimming shoes you see sometimes for those situations when the sea looks so beautiful that you have to get in it but there is no visible way to do it. Plus stony beaches are prone to sea-urchins. Of course stony beaches are much more interesting for snorklers than sandy beaches so it is a trade-off. To get to Kagia you can drive and follow the signs or else walk along the town beach on the harbor side of Skala Sikaminia and follow the path at the end of the beach.
Above Skala Sikaminias is the village of Sikaminias. Between Sikaminias and Molyvos is a deserted village above the town of Lepetimnos. According to an old man I met on the road, the village was moved in the sixties because of rock slides and water damage during heavy rains. You can still walk down what were once cobbled streets and walk into what were houses and stores.
By the way, if you are staying in Molyvos, the travel agency at the Hotel Seahorse offers excursions on their boat Mercury Express to Skala Sikaminias, Kagia beach and all the way to Tsonia, another amazing beach.
About Staying in Molyvos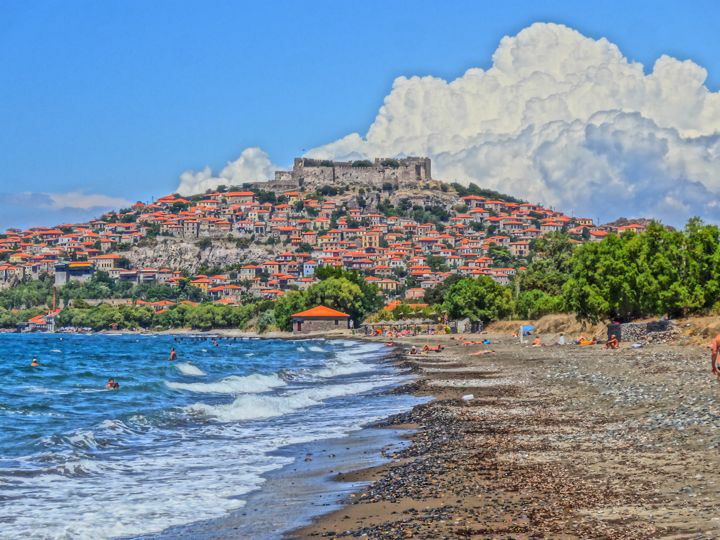 No matter what your vacation needs are I think you will find the time you spend in Molyvos fulfilling and chances are, like many people before you, it will be a place you return to every chance you get. The Molyvos area is a good place to base yourself if you want to stay in one town and see the entire island because it is centrally located, at least as centrally located as a place can be on an island the shape of Lesvos. You are within an hour and a quarter of just about any town or beach you want to see on the island and there are enough nice beaches and villages in the area that you can survive with a small motorbike or using public transportation. My suggestion is to spend half your trip here and the other half in Vatera and use the Hotel Aphrodite Beach as your base to explore that part of the island. It will seem like you have visited two separate islands. Then on your next trip you can choose the place you liked best and spend half your stay there and the other half in Skala Eressos or Sigri.
Hotels in Molyvos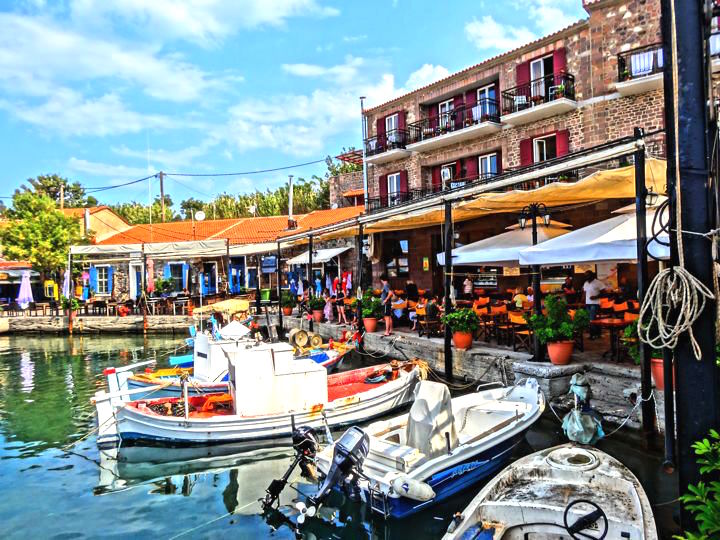 The best place to stay in Molyvos to take advantage of the charm of the port and the good food is the Hotel called the Sea Horse which overlooks the boats in the harbor (not in the parking lot), owned by an Australian by the name of Stergios Tekes and run by he and his wife Toula and his son Dimitris and his wife Stella, all of whom speak English. Their cafe-restaurant on the waterfront is a great place for breakfast, lunch or dinner, a beer, or a late evening sweet and they serve excellent espresso and coffee drinks as well as ice-cream. The hotel is not only inexpensive but pretty darn nice and you absolutely cannot beat the view. Every room overlooks the harbor and you can watch the comings and goings of the fishing boats all day and all night if you like. All the rooms have air-conditioning and cable TV. They also have free wireless! Mr. Tekes also owns the travel agency next door and the excursion boat Mercury Express which takes people every day to the beautiful town of Skala Sikaminias and the beach at Tsonia, to Gavathas and also on excursions to Rabbit Island where they have built a small building as an observatory for watching the many birds and animals that make their home there. They also do BBQs and snorkeling trips to various remote beaches in the area and can arrange to take you anywhere you like. But since the Seahorse only has a couple dozen rooms you need to book quickly or have a back-up hotel in mind.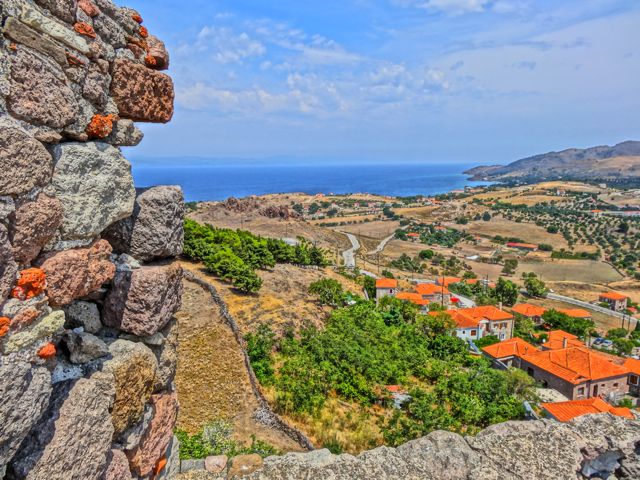 A short walk from the restaurants and cafes of Molyvos, The Delfinia Hotel & Bungalows features a private beach on the longest beach in Molyvos and seasonal outdoor swimming pool and restaurants with a view of the castle, beautiful gardens. Built in 1961 as one of the first traditional hotels in Lesvos the hotel has been added to and reonnovated many times since then. The Hotel Aphrodite has its own beach and perhaps the largest collection of palm trees besides the forest in Vai, Crete. It also has a large swimming pool and an excellent restaurant with a sunset view. It is also one of the best and most well run hotels on the island. The owner, Aphroditi Vati was born in Chapel Hill, North Carolina and her father graduated from Duke.
The resort-style Sunrise Hotel is located on the road to Eftalou on the other side of the castle and is about a 15 minute walk from the town. It is built on the side of a mountain with steps leading up to bungalows of which there are 4 rooms to a building. Each room has a fantastic view of the sea, the olive groves, the fields and Turkey and you can easily walk to the beaches and hot springs of Eftalou. The Captain's View is a beautifully restored house in the village with splendid views overlooking the sea. For couples looking for privacy or families this is a good option though you have to book quickly because it is not empty very often. The Schoolmistress with the Golden Eyes is a family-run pension, in the heart of Molyvos named for the title of Stratis Myrivilis popular book and was once the home of its main character, Myrivilis' lover Stella. Set amongst palm trees on the Blue-Flag beach of Molivos in Lesbos, traditionally built Hotel Molyvos I offers rooms with balconies overlooking the Aegean Sea or the Byzantine castle. It features free Wi-Fi and breakfast in its seafront courtyard. The Olive Press Hotel is on the beach right in Molyvos and has a pool and a restaurant. If you are interested in a beautiful villa with an infinity pool, similar to what you would find in Santorini and with views to match take a look at Villa Molyvos Views.
You can find more hotels in Molyvos (Mithymna) along with photos and descriptions and booking information on Booking.com's Molyvos Page
Matt's Pick!: The Grand View Houses of Molyvos: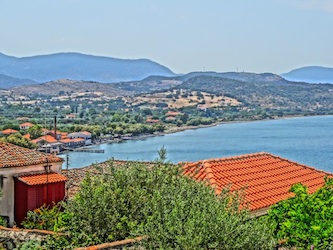 These 3 houses are cleverly designed to create authentic Greek homes and include all the latest modern conveniences so one can experience the best of both worlds. For one who wants a more upmarket holiday in a self catering villa, this is ideal.Every room has a spectacular view, either of the mountainous region of Lesvos or the great sweeping views of the north Aegean and the bay of Molivos. There are also views of the castle and village from the front veranda. A postcard in real life. You can enjoy amazing Sunsets, every night with your aperitif. Each house is air-conditioned throughout, has free Wifi access and has its own parking space. The owners are ecologically aware and in the construction and running of these 3 houses have done their utmost to take in to consideration and abide by all green issues. The houses are fitted with coco mat mattresses, sheets and towels. Click for more info and booking
See also
Molyvos: Another Hot Day in Paradise
and The Castle of Mithymna and make sure you visit my Molyvos Photo Album
Starfish Foundation: Help for Refugees in Molyvos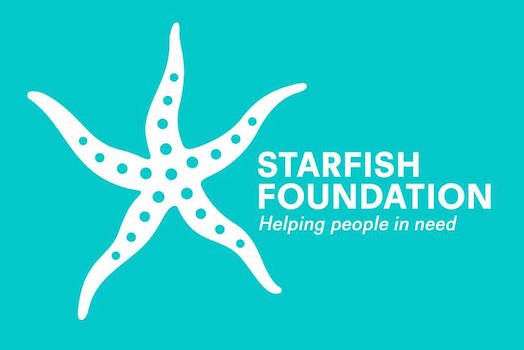 In the last few months many people have e-mailed me asking how they can help the refugees arriving in Lesvos. Some want to send money. Some want to send clothes. Others want to go to Lesvos and lend a hand. But most have no idea where to begin. The good news is that the refugees have stopped coming, but you can still help. The Starfish Foundation is an organization that is run by the people who have been helping the refugees from the day they began arriving on the island. Founded by Melinda McRostie, owner of the Captain's Table restaurant in Molyvos, the group greeted arrivals on the shore, gave them warm clothing and food and helped them get oriented and then assisted them in getting to the refugee centers in Mytilini so they could get registered and continue on their journey to Europe. For those who want to know how they can help you can visit the Starfish Foundation or contact them by e-mail.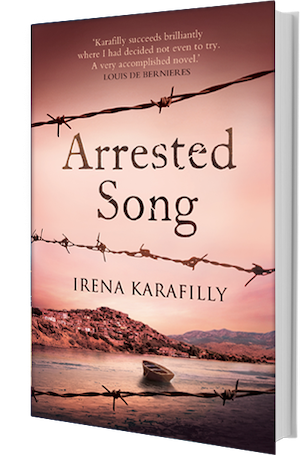 Arrested Song by Irena Karafilly
Calliope Adham – young, strong-willed, and recently widowed – is schoolmistress in the village of Molyvos when Hitler's army invades Greece in 1941. Well-read and linguistically gifted, she is recruited by the Germans to act as their liaison officer. It is the beginning of a personal and national saga that will last for several decades.
Calliope's wartime duties bring her into close contact with Lieutenant Lorenz Umbreit, the Wehrmacht commander. The schoolmistress is an active member of the Greek Resistance, yet her friendship with the German blossoms against all odds, in a fishing village seething with dread and suspicion.
Amid privation and death, the villagers' hostility finally erupts, but the bond between Calliope and Umbreit survives, taking unforeseeable turns as Greece is ravaged by civil war and oppressed by military dictatorship. It is against this turbulent background that Calliope emerges as a champion for girls' and women's rights.
ARRESTED SONG is a haunting, sumptuous novel, weaving the private and the historic into a vivid tapestry of Greek island life. Spanning over three decades, it chronicles the story of an extraordinary woman and her lifelong struggle against social and political tyranny.
"Karafilly succeeds brilliantly where I had decided not to even try. A very accomplished novel."-Louis de Bernieres, author of Captain Corelli's Mandolin
ARRESTED SONG is available from Abebooks.com, Amazon.co.uk or Amazon.de, Barnes & Noble, Lexikopoleio/Athens, Rodi/Petra, or through Skroutz.gr. The book will be distributed in North America and Australia in September.