Sappho Travel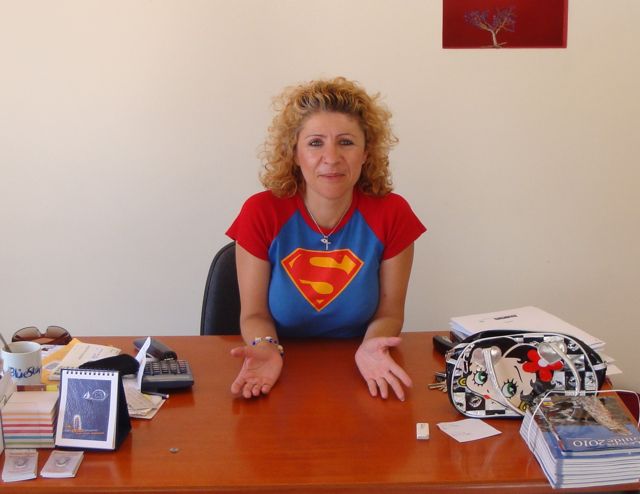 There are few women who can match the energy and enthusiasm of the quick-witted Joanna Savva of Sappho Travel in Skala Eressos. In fact if Zorba the Greek were seeking the perfect mate it would probably be her. How she gets the energy to answer a million tourist questions, run a travel agency, and a real-estate company, help travelers in distress, and still have time for dinner, drinks and dancing with her friends and still be able to wake up early every morning to begin again is a mystery and makes me believe she may have come from another planet where people have strange powers and super-human passions. For hotels and all travel arrangements in Lesvos including women only holidays see the Sappho Travel website. For those who are looking to book one of the dozens of inexpensive simple rooms and apartments which are not found on the internet you can use their Skala Eressos Room Search Form to find what you are looking for at a price you can afford.
You can find hotels, apartments, rooms and even houses through Booking.com's Lesvos Pages with photos, guest reviews, location maps and in most cases you can book with no cancellation fee.
Travel Agencies outside of Lesvos
Travel agents in who specialize in all of Greece can also help you book your holiday in Lesvos. Agencies like Fantasy Travel, Dolphin Hellas, and Aegean Thesaurus work with agents in Lesvos as well as with individual hotel owners. There are benefits of booking with one of these agents, especially if you want to combine Lesvos with other islands, particularly the Cyclades, Crete and the Dodecanese or if you want to combine your trip to Lesvos with a cruise or a few days in Athens. Aegean Thesaurus in particular offers a combination of Sifnos with Lesvos and Santorini with Lesvos, while Fantasy Travel offers a Lesvos-Athens combination as well as a Fly and Drive Program that supplies you with a rental car and hotels all over the island. Of course you can also work with any of these agents to put together your own special program too. In the summer of 2012 Fantasy Travel helped me put together a Santorini/Lesvos trip that was efficient and made the most of my time, traveling to and from Santorini by air and taking the overnight ferry to Lesvos in a beautiful luxury cabin that cost about ten euros more than a normal cabin.
Rent a Sailboat or Yacht
A fantastic way to see the island of Lesvos is by boat. The beautiful beaches and quiet harbors are perfect places to tie up and enjoy the restaurants and nightlife before going back to your floating hotel. The enormous bays of Kaloni and Gera are large enough so you can spend your whole holiday exploring the wooded shores and coves. Turkey is a short sail away and if you bring your fishing pole you will be rewarded with some of the finest fishing in the Aegean Sea. Visit Chios and the beautiful island of Psara on the way to or from Pireaus, or just meet the boat on Lesvos and fly home when you are finished with your cruise. Skipper Adonis Kondaxis says:
"I took these people on a charter. They only wanted to sail around Lesvos. I thought to myself: Are they crazy? They have all the Greek islands and they just want to sail around Lesvos? But after 10 days I realized they were right. We saw so much and we could spend another 10 days seeing more of the island. And the food on Lesvos was fantastic everywhere we went. The freshest fish and so inexpensive too. Since then I have longed to do this trip again."
For more on sailing in Greece see www.greecetravel.com/sailing