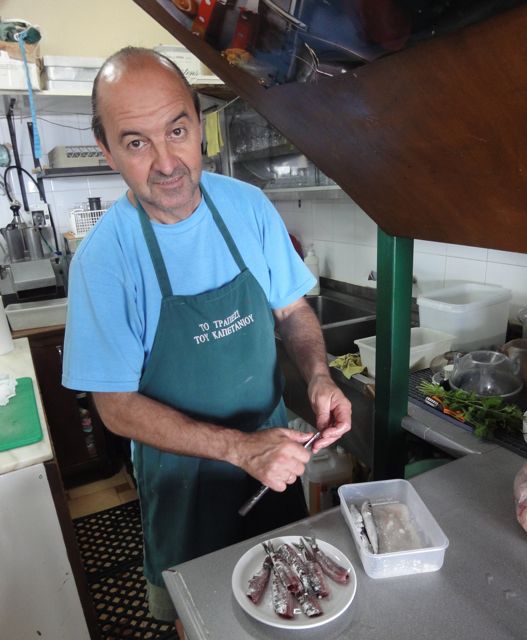 There are too many excellent restaurants on Lesvos to list them all or even to try them all in one lifetime. These are some of my favorites. If you like them let them know you found them from my web page. If you don't like them let me know. You can scroll down or you can use the index below to skip to the restaurants in the town you want to read about. I have a new section which are readers reviews since I can't really eat at every restaurant on the island and I know there are a lot more good places than the ones I eat at. One thing you will notice is that most of the restaurants I have chosen to review are the ones that generally serve traditional food from Lesvos. There are a number of new restaurants that could be called bistros or neo-Greek or International that I have not included, many owned by foreigners. Eventually I will do an entire page for them but for now if you want to check them out and let me know how you like them please do and send me an e-mail. Or if you have a restaurant and feel like you should at least be mentioned on this page just get your customers to write and tell me what they like the most about your restaurant. I can definitely be persuaded by public opinion to add (and occasionally remove) a restaurant. If you find this page useful please share it with your friends on Facebook or whatever social media you are addicted to.
Restaurants In and Around Molyvos
Long time favorite seafood restaurants Kismet, Octopus, Le Grande Blu, Maistrali and Limanaki plus Baboukos which is right around the corner next to Molly's Bar, are all worth eating in, with fresh fish, local specialties, ouzo, beer, wine and tables next to the fishing boats. The Hotel Seahorse Restaurant-Cafe has home-style Greek cooking and a variety of fresh fish, professional service, and it is very clean which matters to many people. For those looking for the standard Greek fare, the dishes that they are familiar with like mousaka, pastitsio, oven roasted lamb with potatoes, plus all sorts of food from the grill, and Italian dishes as well, you should be quite happy here, especially if you have children who are difficult eaters. This is the best place to come for breakfast too. Dimitris, the owner is a charming waiter and can help you decide what to eat. Many people who stay at the Hotel Seahorse just come down the steps and have a drink and a meze and end up eating here quite happily. I particularly liked the souzoukakia with roast potatoes when I had lunch here one day when I was trying to be a responsible food critic. The dakos salad and the sadziki were good too. But the best reason to eat here is the fresh local yogurt with fruit and honey which we have for breakfast every day we are in Molyvos. They also have nice strong coffee which is usually a necessity for me after an evening at Melinda's and Molly's.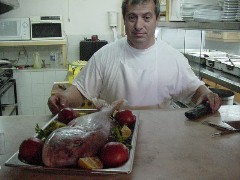 The Eftalou Restaurant on the beach right before you get to the Therapuetic Hot Spring Baths, has a wonderful selection of fresh fish, meats cooked on the grill and perhaps the finest Spinach Pie(spanakopita) and Zucchini Pie (kolakithopita) in Lesvos. Their grilled sardines are also amazing or you can order them fried. The staff all speak English. The garden patio is surrounded by tall reeds and shaded by trees. Directly across the small street is the beach, convenient for a before, after or during meal swim. But don't come just for the spanakopita because Manolis is one of the best chefs on the island and his specialty is grilled fresh-fish in all varieties. Fish are seasonal so depending on when you visit the choices will differ but I love the grilled mackerel (kolios). The restaurant is open all year and is a favorite of the locals and that means high-quality and inexpensive food. Manolis' wife Heidi takes pride in her home-made cakes and pastries so be sure to ask about their deserts too.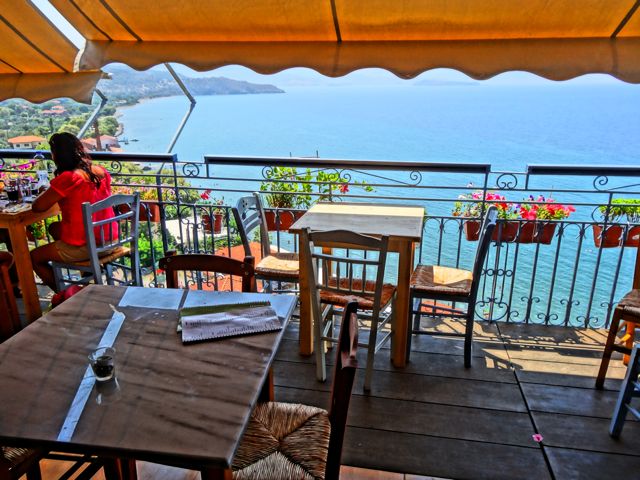 Also in Molyvos check out Tropicana in Kyriakou Square and order their lamb roasted with plums and apricots and be sure to ask for their garlic bread. For breakfast go to the Seahorse in the harbor or one of several cafes in the agora with balconies that overlook the bay and the beach, including Balkoniki, Blue Fox, Oysia or Hamam which is an ouzeri-mezedopouleion with a great view of the sunset and a place you can go for lunch, dinner, coffee, desert and maybe even breakfast (I didn't check: last time I was in Molyvos is was closed and nobody I asked knew if it was going to re-open). There is also a very nice bakery at the top of the agora where you can get fresh bread, spanakopita, tiropita and other snacks.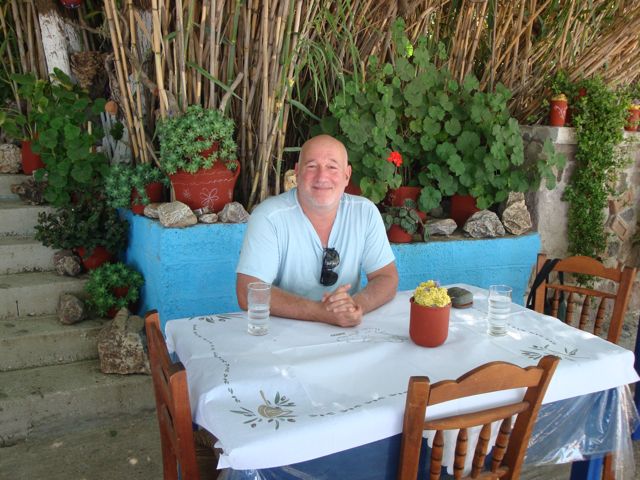 On the dirt road between Eftalou and Skala Sikaminia is a small restaurant run by three women, a mother, daughter and grandmother, who serve perhaps the most traditional food on the island. The restaurant is called Lignaria Paradise and besides the fresh fish I recommend you try their various pitas. The youngest of the three generations speaks near fluent English. Nearby is a hidden thermal spring. They will be happy to tell you exactly where it is. Perched above the town of Molyvos on an adjoining mountain is the village of Vafios, with one of the finest tavernas on the island called Vafios which has some delicious mezedes. We loved the stuffed onions, skordopsomo (garlic-cheese bread), melitzana salada, stuffed zuchinni flowers, and everything else that was put on our table. The menu is enormous, and all recipes were the owner's grandmothers. For main courses they have island specialties, clay pot cooking, fish and roast lamb on a spit, which we had of course. Great wine. Spectacular view. If you take the upper road to Skala Sikaminias, go past the donkeys and stop at the restaurant right before the playground (very convenient). Also word has it that the small taverna in Petri (not Petra) is one of the best in the area. I got it from a good source (Mark Dubin of Rough Guide) so go check it out and let me know.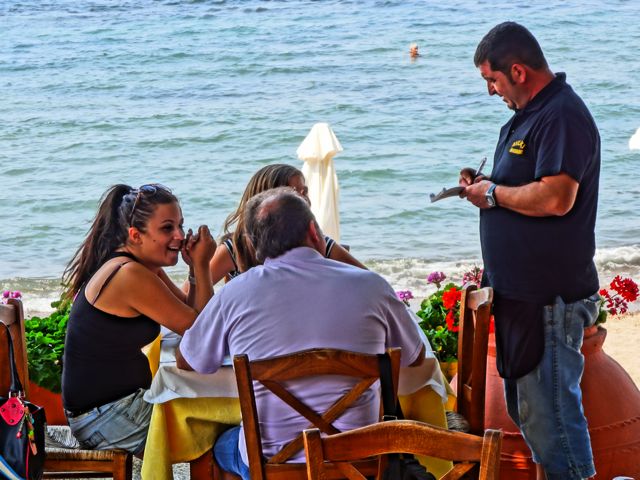 Avlaki Restaurant near Petra is a nice little restaurant and should not be missed if you are staying in Petra or Anaxos. From Petra you can walk along the beach in the direction of Anaxos or look for a sign from the road on the right. You have to go through the grounds of a hotel to get to the restaurant but once you do there is a view of Molyvos and Turkey and excellent food. Very clean and very professional but simple and charming, they are serving traditional village food to a clientele that is mostly, if not entirely tourist. They have excellent sardelles pastes, koukia, stuffed zuchinni flowers, grilled sardines and a large number of appetisers and salads. I had the tuna salad which is basically a green salad with a can of tuna on the top and a sort of mayonnaise sauce, not exactly traditional but I was in the mood for it and I liked it and since nobody at my table even wanted to try it I had it all to myself. You can swim before after or during your meal because it is right on the beach and if you eat there you can use their beach beds and umbrellas to wile away the afternoon. Petra is quickly becoming the most popular resort on the island so if you are a package tourist there is a good possibility you will be staying near here.
Restaurants In and Around Skala Eressos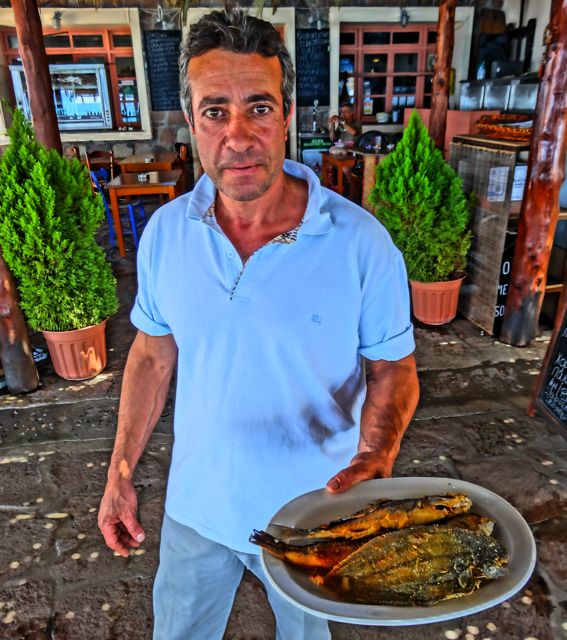 Adonis is a nice traditional restaurant in Skala Eressos, they have good mezedes and grilled meat and fresh fish plus a very large selection of oven cooked foods and many Greeks eat here. If you are lucky you will be there on a day they roast a lamb on a spit which is fairly often in the summer, usually on weekends. They also roast lambs heads and do kontosouvli (pork loin) on the spit and once in a while they have kokoretsi, usually on a Saturday night. Located on the sea in the western part of the village it's a family owned restaurant that plays Dalaras songs most of the night. If you ask they may even have tsipuro.(moonshine that is stronger than ouzo). Give my regards to Nikos, very nice guy who speaks English and has great taste in music. Order the steamed mussels, and whatever happens to be fresh. Also recommended is their grilled fresh kalamari, boureki (like a cheese pizza rolled into a taco-thingy and deep-fried-yum!), grilled fresh sardines, sardeles pastes, stuffed zuchinni flowers, stuffed grape leaves... I could go on. They also have a little play area for children if they get tired of the beach, which is about 10 steps from the restaurant. Sometimes they have the party after a wedding or baptism here and if you happen to have a table you may be dragged on to the dance floor. This is a good all round restaurant for lunch and dinner.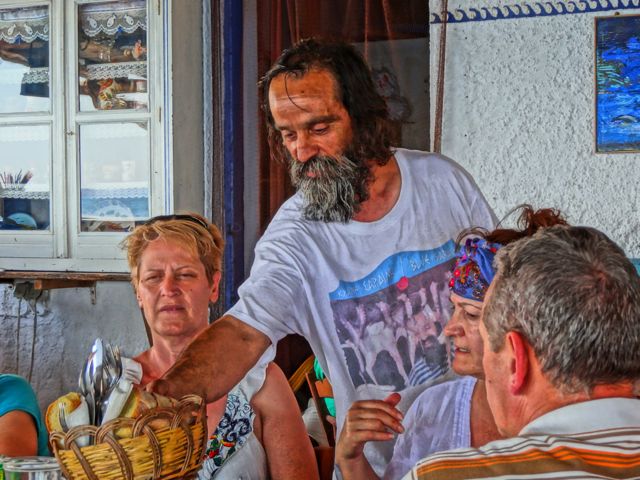 Next door the Blue Sardine is known for having good simple food and for having an eccentric owner, Kosta, who works because he enjoys it and plays old rembetika music instead of the Dalaras, Yannis Parios and Harris Alexiou that you will hear in the other fish tavernas. Unlike the other restaurants which make a show of their fish, Kosta tells you what he has and only sells what is fresh. Its probably the most down-to-earth Lesvos-style fish taverna on the beach. He has a large selection of the best Lesvos ouzos but try the hima, the ouzo he buys in bulk from Yianatsi and sells by the glass and the carafe. His home-made gavros marinatos (marinated anchovies) are the best I have ever had, his grilled sardines are excellent and he serves the best Greek salad on the beach.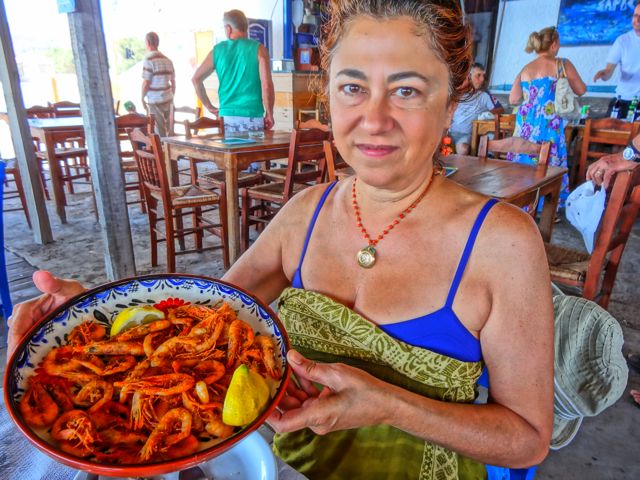 Try the fried shrimp and don't bother peeling them. You eat them shells and all as if they are fried potatoes. Ask for the organic white or rose Methymnaos if you are a wine drinker which you can drink all afternoon, take a nap and a swim and then come back for dinner and start all over again. Kosta makes an amazing x-rated tsipuro that goes nicely with his home made olives and can serve as a pick-me-up if you are starting to stall after a day of eating and drinking. A half kilo of fresh barbounia and koutsomoures (two types of red mullet) fried to perfection so that you can eat the whole thing if you like make a nice dinner for two with a salad and a bunch of sardeles and lakerda pastes. I don't know if I have mentioned it before but now when we go to Skala Eressos it is usually a swim with the Blue Sardine in mind, not necessarily in that order. Sometimes we will book a hotel for the night just so we can eat and drink without worrying about driving home.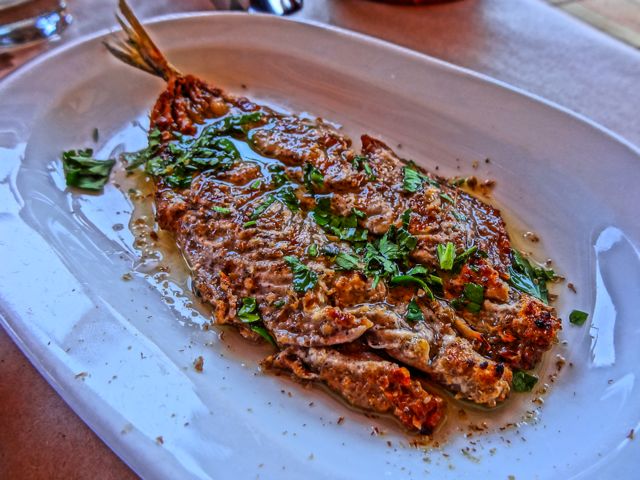 It took us years to eat at the family owned Aegean in Skala Eressos which is the first restaurant you come to if you turn right from the square. The reason is because it seemed to always be full. But we finally tried it this summer and it was excellent with a large selections of Greek specialties. The fact is that on the waterfront of Skala Eressos there are not any bad restaurants. They all serve good quality meat and vegetables and fresh fish and with the exception of the non-Greek restaurants they all have sardeles pastes in season. Yet another great restaurant on the beach in Skala Eressos is Soulatso which specializes in grilled meat and fish and Greek and local dishes. Not only do they have great sardeles pastes but they also serve Gouna(photo), which is spiced and salted mackerel that is sun-dried and then grilled crispy. They don't have it all the time but if people ask for it I bet they will. It is GREAT, especially with ouzo. Like many of the restaurants here, they hang their octopus out to dry on a clothes-line which runs between the tables and the beach. Some of the octopus are enormous. Be sure to try some on the grill.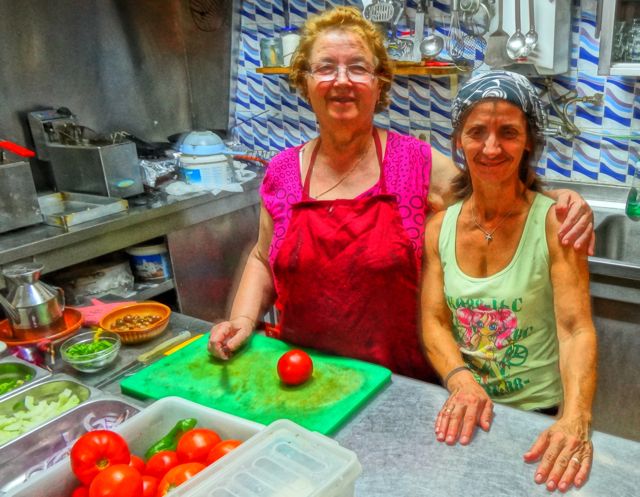 Last of the traditional seafood and meat tavernas, and one of the oldest is Karabogiannos which is between the Hotel Sappho and Roots and is also very good. Try their lakerda, which I think is among the best on the island. They also make delicious sardeles pastes fresh every day when in season. My daughter ate 5 plates in a row here. The restaurant is owned by Panayota, who also happens to be the mayor of Eressos. Everything in her restaurant that does not come from the sea, comes from her organic farm and is cooked by her mother who runs the kitchen and who makes perhaps the best stuffed tomatoes in the village. Try their excellent dolmadakia (stuffed grape leaves), or her paidaikia; lambchops from her own sheep. There is a display of fresh fish right out front where you can choose what you want. It does not seem as popular as the other traditional restaurants but don't let that keep you from going there. Probably the reason more people don't know to eat here is because they can't pronounce the name. So rather than try to remember the name Karabogiannos, just go to the place with the name you can't remember or pronounce.
The above restaurants are my first choices in Skala Eressos, mainly because they are traditional family run Greek restaurants owned by locals, serving island food, fresh fish and vegetables and for the most part local meat. The following are mostly foreign owned, in some cases by gay women, and most of the clientele is gay. But that should not stop you from going to them because they are friendly and they pretty much all make great food. Flamingo Beach Bar, which sits among the more traditional restaurants I wrote about above, is a cool cafe-restaurants with pizza and pastas and nice breakfasts, beautiful salads and good coffee. And of course it is a beach bar with cocktails, wine and beer.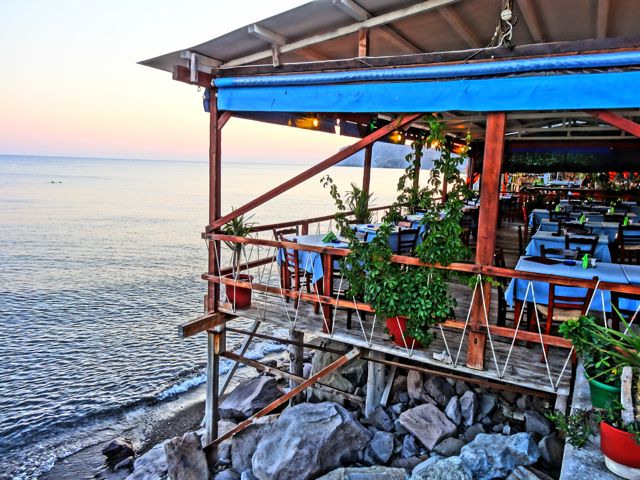 For a change of scenery go to the opposite end of the beach and eat at one of several international bistro-style restaurants in this area. If you decide to swear off Greek food forever there are at least two more restaurants serving international cuisine on this part of the beach. Vento which is an Italian restaurant with amazing pizza and is the latest creation of Vicki who was the founder of Roots, one of the best restaurants in Eressos, which she sold to open Vento. Next door is Parasol which has an extensive breakfast and some other nice salads and sandwiches. The Rajneesh-named Zorba the Buddha is the last restaurant before the fishing harbor. This area also has most of the Skala Eressos nightlife where the some of the bars play disco-techno and the later you eat the more your ears will be subjected to bad music. But if you eat early most of the bars are considerate enough to keep the volume down and even play something tasteful every so often. There are at least a dozen other restaurants and cafes scattered around the village, from grill house-souvlaki shops to cafe-bars that feature sandwiches and crepes. You can easily eat your way through your holiday in Skala Eressos. The good thing is that the sea is so close that there is no excuse for not working off any weight you may gain, or working up an appetite between meals.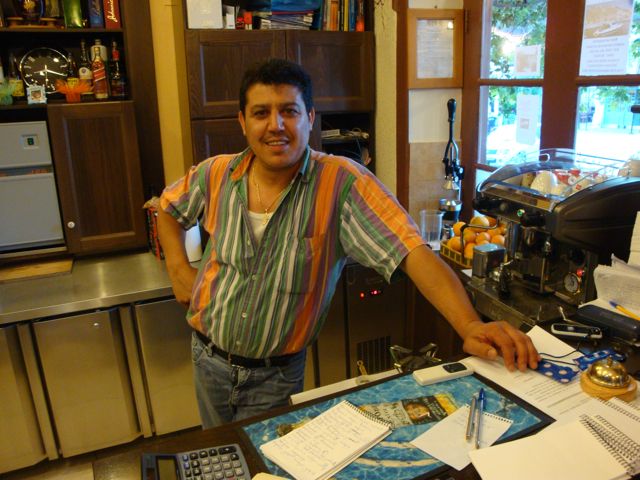 In the upper village of Eressos (not Skala) there are several restaurants in the Platia. I have eaten in two of them. One is called 'Samis', though that is not the name, just what they call it. It is on your right as you enter the main square and it also serves as the local cafeneon. Very good food and Sam is a really nice guy who will happily join you and tell you about the town if he is not busy. The square of upper Eressos has been renovated and allowed Sam to expand his tables and become more of a restaurant and less of a cafeneon-cafe. On nights when Skala Eressos is too hot, take a short drive to the upper village which is often a few degrees cooler. Diagonally across the square is another restaurant I believe it is called Paradosiako which means traditional. Great food and great wine and a talking parrot. You should be happy in either place.
Restaurants In Sigri
Cavo Doro Fish Taverna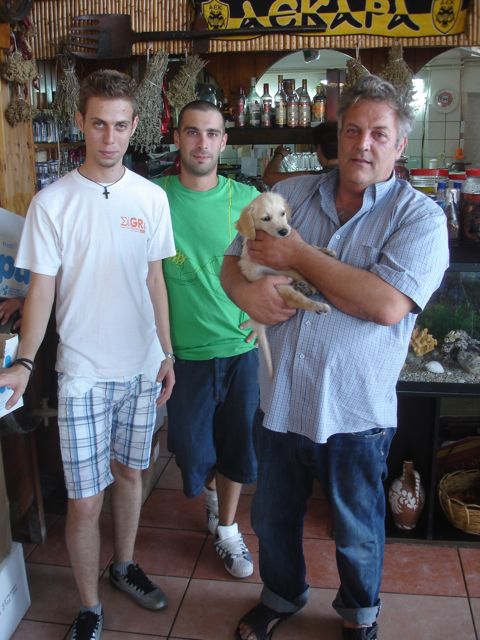 Cavo Doro is the first fish taverna you will see, right across the street from the fishing boat pier and is one of those special places you can walk into and wish you had been there all afternoon. Excellent fresh fish of all varieties including lobster, barbounia and koutsomoures (red mullet), sardines, whole grilled and fried squid and cuttlefish, and whatever the fishermen are catching that day. It is a fun family run restaurant, especially on those days when it is cold, raining or windy and the action moves inside. If you want to see kefi in action or experience it yourself then make this one of your Sigri haunts and stay late in the season. The best spot in town for ouzo and mezedes, the freshest fish, and on days when you are sweltering in Molyvos, Petra or Skala Eressos there is usually a nice breeze at the restaurant which is on the westernmost tip of the whole island. In fact it may be so windy you will have to sit on the sheltered side. Cavo Doro is open all year, which means this is where the locals eat, so it has to be good, right? This is my first choice in Sigri, in fact I have to be coerced to eat elsewhere because it is one of the best restaurants on the island. (If you are looking at the picture and wondering if they serve puppy the answer is no, they don't. That is Fidel when he was a puppy and he is a full grown dog now and still hangs out at the restaurant with his various well-fed cat friends.)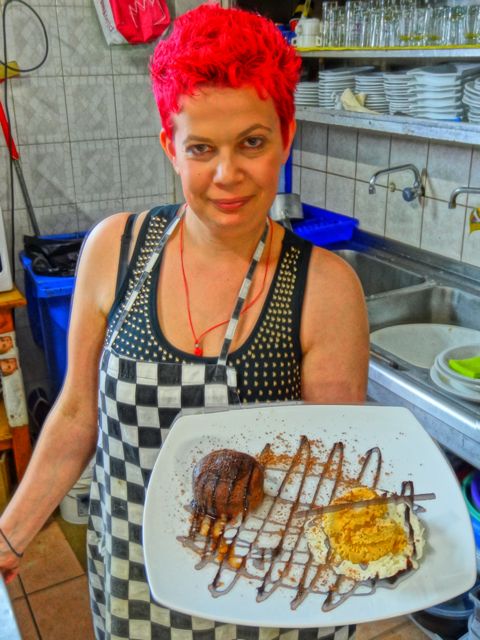 What makes Cavo Doro extra special is the fact that it is not just a great fish taverna serving traditional Lesvos food. Vivi, the daughter of the owners, is a first class chef who would be right at home in any kitchen in Paris, New York or San Francisco. In fact in the winter she works in a restaurant in Cologne and if I had the money I would bring her back to America to cook for me and all my friends and eventually open a restaurant for her to be the star chef. So while the purist in your group can eat sardelles pastes, grilled fish and traditional Lesvos food like koukia and stuffed zucchini flowers, others in your party have the option of dishes that you would find in the best Italian restaurant or New York City bistro. Try the seafood pasta, or the seafood risotto or the Cavo Doro Risotto, all featuring a creamy sauce made with safron and truffles. For dessert you can have the usual fruit or one of her amazing pastries. You may feel compelled to order the usual horiatiki salata though I suggest you try the Cavo Doro Salad with grilled manouri cheese and fried prosciutto on a bed of arugula and lettuce. (Arugula is called rocket). Make sure to get the grilled vegetables with manouri cheese on top too, as an appetiser or to share with everyone. Get both the sardelles pastes and the grilled sardines as well as the lakerda. That's what we do anyway. If you are staying in Sigri and are at Cavo Doro late, ask Yannis to play some music from his collection. He is a big fan of Frank Sinatra, Dean Martin, Elvis, Roy Orbison and others. But make sure you leave room for desert! And if you hire Vivi to come cook in your restaurant make sure she is back in Sigri by May 1st!
Remezzos and the Rest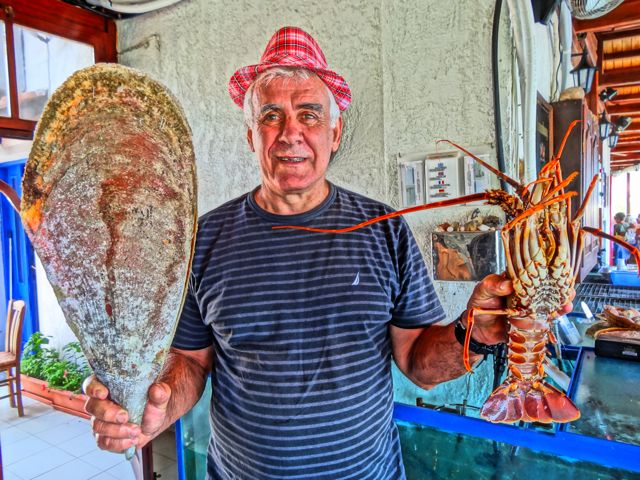 There is more to recommend Remezzos in Sigri then the fact that they have the biggest lobsters I have ever seen or eaten. So much so that I wrote a special review of it which you can get to by clicking the above link. Fantastic view. Excellent service. Great mezedes and fresh fish. Perfect for afternoon meals and they have a large selection of ouzos. Well actually what restaurant in Lesvos does not have a large selection of ouzo? Worth a trip to Sigri for some of the finest seafood on the island, in fact you could base yourself in Sigri so you can eat all your meals here, except it is just one of many good restaurants in a town that also has some of the best and most diverse beaches on the island. Anemosa, which took over the crazy Italian restaurant space, has ouzo and mezedes, in fact it advertises itself as a mezedopoulion, but it is actually a fish taverna/estiatorio as well. Also the Australian Restaurant in the main square serves good oven cooked dishes, fresh fish and grilled meats and has been open for the last 25 years. There is also a nice little souvlaki-shop-psistaria on the street that goes to the beach and once you get to the beach Veranda sits above it serving drinks and snacks. For a pre-dinner or after dinner drink or a tea or coffee the place to be is Andonis Chiotis' Kentro Kafeneion which as the name implies is the social and cultural center of the village where hipsters, fishermen and pensioners all hang out playing cards, back-gammon or surfing the net.
Restaurants In Mytilini
One of the most famous places for ouzo and mezedes is the Cafeneon O Ermis which is in the city on Ermou Street which is the main road between the old and new harbor. You can ask anyone where it is because it has been around for a hundred years or so. It has one of the largest selections of ouzo on the island and probably the best variety of mezedes and main dishes. I highly recommend this place even though it has been years since I have eaten here. I am assuming that since it was good for about a hundred years it has probably remained good since I last ate there. If it isn't then right across the street is the Kastro Mezedopoulion which has a good sized menu of ouzo snacks and main dishes, a very nice ambiance at night and the owner, Georgios, is a magician who will come to your table and amaze you with card tricks if you ask him.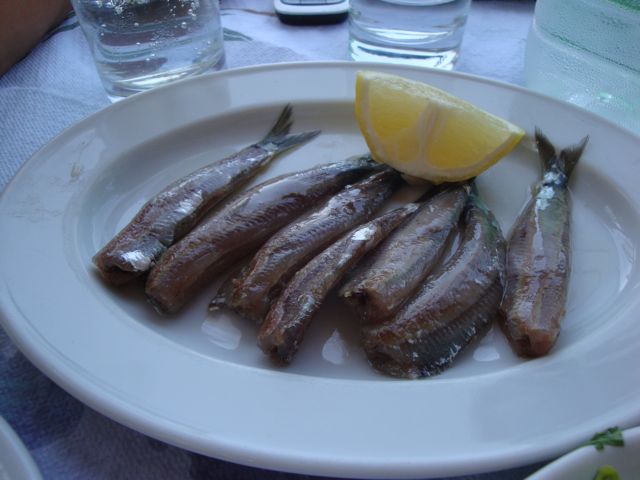 If you continue on to the old harbor there is a line of fish tavernas and psistarias and an ouzeri or two and these are where most of the locals eat. Try O Dimos, Rembetes, Refenes and order fish, whatever is fresh and inexpensive, and choose from dozens of different local ouzos. For those who prefer tsipuro there is plenty of that too. Or try Ourano, the oldest of these fish restaurants and is run by Panayotis and his family who immigrated to the island in 1922. They serve excellent fresh grilled fish and meats as well as ouzo mezedes including fried shrimp. Or if you are like me you will go to Karnayo, simply because there is a beautiful blond waitress and end up discovering something called pastourmatiki, which is a bourekaki (stuffed-deep-fried-bread) with pastourma and melted cheese and one of my new favorite dishes. Order their politiki-salata which is a pickled vegetable salad from Constantinople or their excellent grilled sardines and sardelles pastes. Actually any of these restaurants on the sea are good so don't freak out if the one you planned to go to is too busy.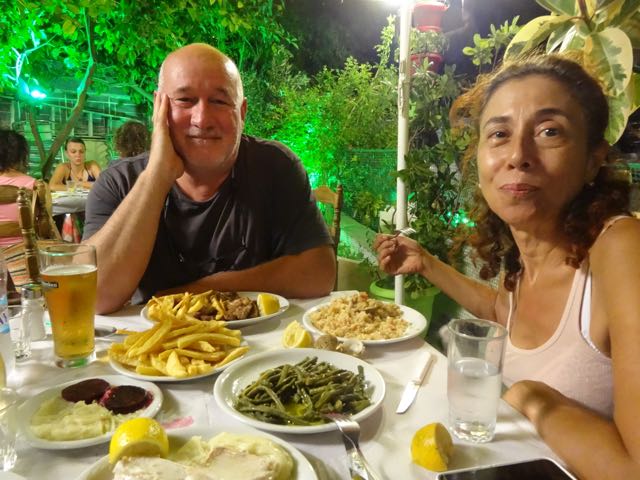 Every big town in Greece has a restaurant like the Averoff, named for the warship that was instrumental in the liberation of the Eastern Aegean. The Averoff is a working class estiatorio and has been serving patsa and oven baked dishes for about a hundred years or so. Its right on the main street that fronts the port and has another entrance in the market or Ermou. This is the kind of restaurant that long time Greece travel writers love when they are good and still eat there when they are bad because they are a reminder of another age. They have renovated the Averoff but beneath its new spic-n-span facade and clean white tablecloths and re-tiled floor it is still an old time working class estiatorio and certainly worth a meal or two. A great working class taverna is in the area of Mytilini called Apano Skala which is the hill that overlooks the old harbor of Mytilini. It is called To Ouzeri tou Koutsomiti and it is at 25 Zalogykou Street.
Right next to the airport is Kalamies, a popular taverna with locals, which has a large and varied menu. Try the fried tomato keftedes, better than the ones in Santorini. If you walk out of the terminal and take a right it is about 100 meters down the road.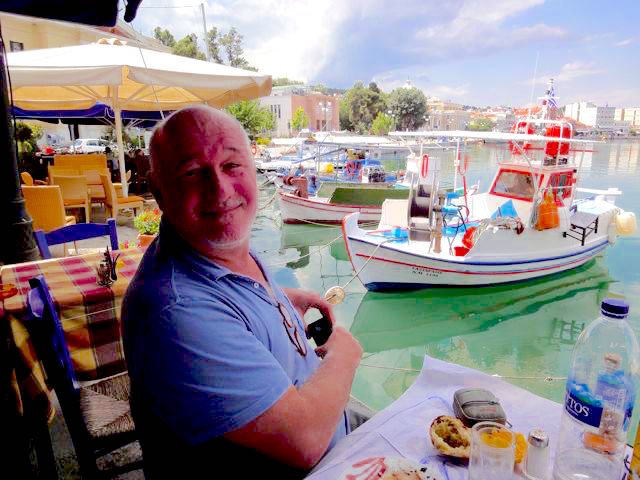 On the far side of the harbor from where you get off the ferry boat is a line of restaurants. There are a couple fish tavernas sandwiched between some psistarias and cafes, where the fish is fresh and generally pretty good though the expensive fish like barbounia may cost a bit more than the same fish from the tavernas at the old harbor since these are the closest thing Mytilini has to a 'tourist restaurant'. Still you can't beat the feeling of sitting among the fishing boats and watching the kefalo (gray mullet) fight over the leftover bread that you throw into the sea. Go to the cafeneon under the lighthouse for an ouzo and watch the sunset and then come here for dinner and to watch the lights of the harbor if you don't have the energy to walk to the old harbor. You may notice that some of the restaurants have their signs in Turkish and some even sell Yeni Raki and Efes Beer. That is because this is where the Turks who come on the daily boat from Avalik come to eat. Turkish food is very similar to the food you find in Mytilini only the food is better here (sorry to my friends in Turkey but it is true). But the Turks have the same love of good food and fresh fish that the Greeks do and that is why Lesvos is becoming so popular with them.
Restaurants In and Around Kaloni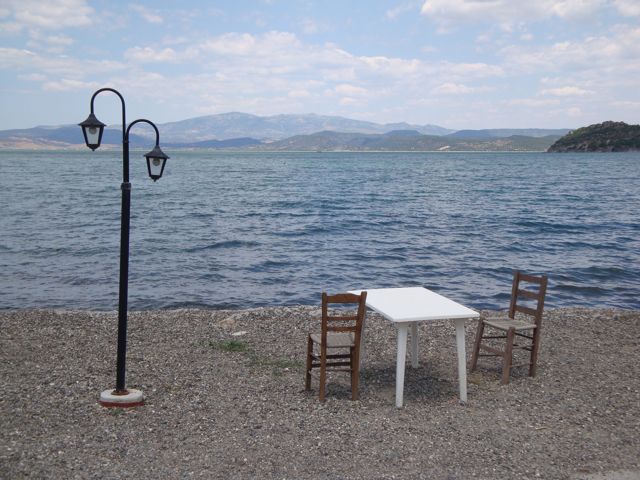 On the road from Kaloni to Vatera in the small settlement of Achladera or Ancient Phyra is the Achladeri Taverna, or better known as Nondas which overlooks the bay where from a small dock your waiter will pick clams that he serves on the half shell. Great fresh seafood and a nice place to eat a long lunch. Very popular on weekends this is one of my favorite restaurants on the island. Nondas has a reputation for waking up early and going to the markets to pick out the best fish, meat and vegetables. Try the agriogarides which are a cross between a shrimp, a lobster and I don't know, maybe a rhinocerous. When he has them, which is usually in season, his sardelles pastes are excellent as is his lakerda. They have a large selection of ouzo which you should probably go easy on since it is unlikely you are staying nearby since the closest hotel is in Vatera Beach or Skala Kaloni, both about twenty minutes away.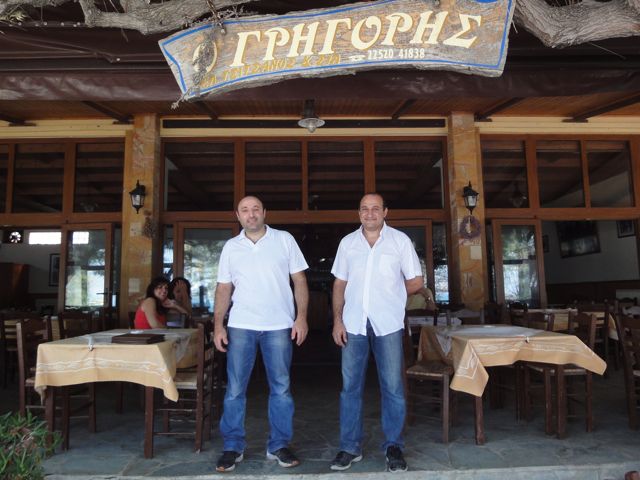 If you continue around the bay and follow the signs to Polychnitou or Skala Polychnitou and then look for the signs to Nifida you will find perhaps the two best restaurants on the island. The closer restaurant is called Grigoris run by Lefteris and Stamatis or maybe Stamatis and Lefteris, and I think it may be my favorite restaurant in Lesvos. Besides having the best sardeles pastes, fried whole fresh shrimp, lakerda pastes and fresh fish, they have a variety of vegetarean keftedes, which are deep-fried patties made from tomato (tomato-keftedes like in Santorini), cheese (tiro-keftedes), zucchini (kolokithiakeftedes), chickpeas (rivithokeftedes) and of course they must have keftedes (meatballs) which we did not order since by this time we were keftedesed out. Order the giouslemedes. Don't even worry about what they are. You will like them. Based on these and their amazing fish dishes not to mention the service which was friendly I would call Grigoris my Number 1 restaurant in Lesvos. But really between the three restaurants above you really can't miss and actually the fish taverna in the harbor right in Skala Polychnitou is really good too. For this reason I would have to say that for food lovers the best place to stay is Vatera because you are close to all these restaurants. The far one, which was nearly at the mouth of the bay, is called Giotis and specializes in fresh fish, grilled meat and the same things most restaurants in Lesvos specialize in. But the restaurant building burned down so it has moved to Skala Polichnitou which is only about a 5 minute drive from Nifida.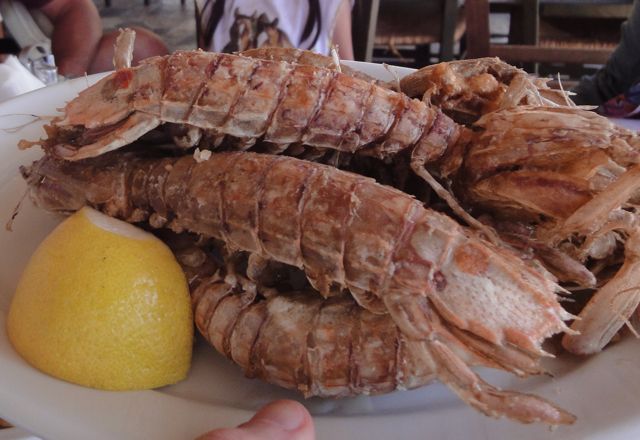 Medusa is the place that we found one day many years ago when we were looking for sardeles pastes. The restaurant was in an old stone house, almost a shack and the food was delicious, traditional and cheap. We also had agro-garides and grilled sardines and all the usual stuff and at the time it was an epiphany because we really knew very little about the food on Lesvos and how good it can be. Then they closed for 2 years while they rebuilt the restaurant. It reopened and was popular for a number of years but then when the economic crisis hit they had to close, and have yet to reopen. Because Manolis and his Dutch wife Dorien own the building I imagine one day they will. But in the meantime there are plenty of other good restaurants right on the beach and around the small square in Skala Kaloni. Just ask if they have fresh grilled sardines or sardelles pastes and if the answer is yes eat there. I liked Dionysious which is right on the beach next to the harbor.
Restaurants In Vatera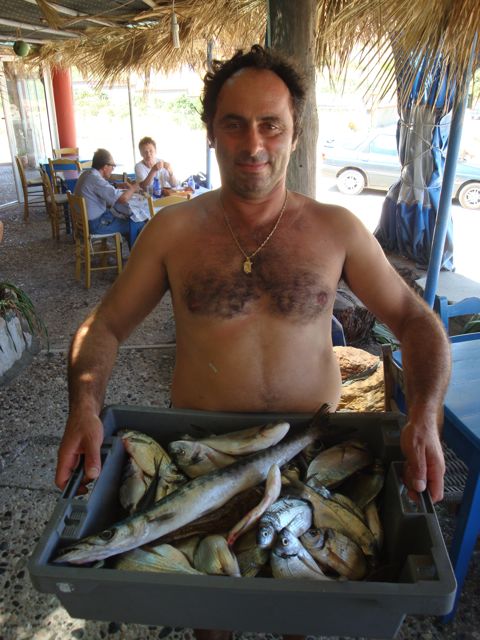 Akrotiri Fish Tavern in Agia Focas, Vatera Beach is probably the best fish restaurants on the island with a large selection of seafood mezedes, fried shrimp, excellent sardelles pastes, lakerda (marinated raw tuna), fish soup, lobster and the freshest fish from one of the best fishing areas on the island, caught by Dimitris, the owner, whose fishing boat sits in the small harbor below the temple of Dionysious,right next door. You get here by following the beach road at Vatera so the sea is on your left, turn inland, cross a bridge over a river full of turtles and keep going until you can't go any further. Great place for lunch or dinner and even if you are not staying in Vatera it is worth the trip. Combine this restaurant with the incredible beach at Vatera and that is a good enough reason to spend your whole holiday in this part of the island. You can feed the ducks but be sure to save some bread for the turtles on the way home. Their fish soup and lobster macaroni has to be ordered a day in advance so call Dimitris at 22520 61465 or 6944-176222. The lakerda here is the best on the island as is the sadziki, fresh crab salad and fresh shrimp salad. They also make a ham and cheese stuffed, batter-dipped, deep fried pepper that is like nothing I have eaten in Greece before. More like something you would find at an upscale Mexican restaurant. Try their smoked mackerel and gavros marinatos too. Honestly you could eat every meal here for your entire holiday and if you are not into fish they have all the grilled meats you would find in any grill house on the beach of Vatera. If the kids get bored you can send them to feed the flock of giant geese which guard the fishing boats. Oh yeah, and excellent homemade local wine from Kaloni. I could go on but I think you get the idea. This is one restaurant you should not miss no matter where you are staying, and if you are lucky enough to be staying in Vatera, try to eat at least one meak a day here.
The Aphrodite Hotel Restaurant serves home-made Greek food with vegetables and meat from the family farm. All-you-can-eat buffet on weekends includes roast chicken, lambchops, country sausages, souvlakis and all sorts of Greek and island specialities. They also have live music with Yannis the owner singing and playing drums and other family members joining in. The last time we were there the music had everyone up on the dance floor. Right on the beach at Vatera. Stay at their Hotel Aphrodite which is in my opinion the best place to stay in Lesvos. It is great for families with kids and honeymooners. Their trampoline keeps the children busy while you sit back and enjoy your meal and meet the couple at the next table whose children are also jumping on the tramplone. If you are lucky you will come on a night when they are roasting a whole suckling pig. Great local wine, ouzo, sardeles pastes. Yiannis spent a couple years in Canada making pizza so their pizza is pretty good too. Most people who stay at the hotel go no further than here which is fine. If you order their mixed grill and whatever fish is fresh and maybe a pizza for your kids everyone will be perfectly happy.
In the nearby town of Vrissa there is a cafeneon known for its mezedes. Park on the edge of town and walk in and you will find it in the shade of a large platanos tree. But they don't serve food until after 9pm, or in the early afternoon.
Restaurants In Antissa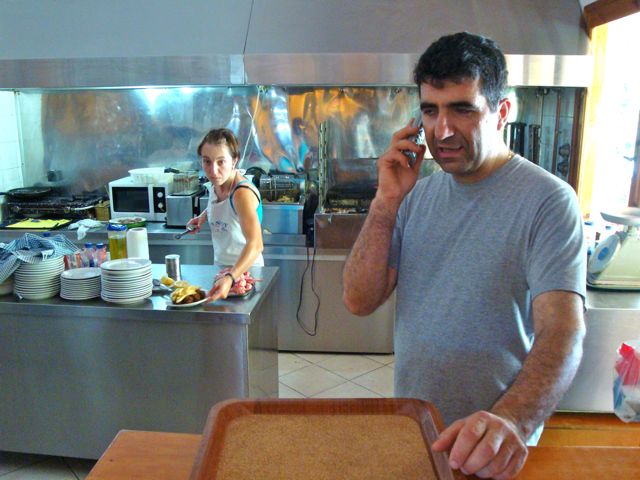 This excellent country restaurant which we simply call Kosta's, is difficult to find but worth the trip. Grilled fish and meats, great Greek Salads and vegetables from his own farm. On weekend nights the place is jumping with returning Greek-Americans, Canadians and Australians. To get here take the road to Eressos and get off on the road to Gavatha. Pass the sign for Ancient Antissa and then take a right when you see the sign to the Campo-Beach. Cross the riverbed that has been paved over and used as a road and the restaurant is up the hill on your left. If you go down the riverbed you will come to the beach of Campo Antissa and chances are you will have it to yourself. All the vegetables come from his garden. His mom, who passed away recently lived in Montreal and was one of the best cooks in the area. Kosta, who grew up in the restaurant, has now taken over many of the cooking chores and acts as host and number one waiter too. Saturday and Sunday nights are big nights here with roast lamb, roast chicken and piadakia (lamb chops).He also makes excellent lakerda (raw marinated tuna, maybe the best I have had), and fried stuffed zucchini flowers.
The hidden gem in this area is the Liota Taverna which is a former cafeneon in the small village of Liota which overlooks Gavatha and Campo Antissa on an olive tree filled hill. The restaurant which sits in the shade of a 500 year old platanos tree, next to a supposedly magical spring that cured an Anatolian princess from leprosy and across the street from a mystical Byzantine church, serves the best paidaikia (lamb chops) on the island, or so they say. I have never tasted better so I am incclined to agree. You won't find a more pleasant place on the island for lunch and dinner here is special especially on weekend nights when people come from Antissa and Vatousa for their grilled meats, large and tasty salads, vleeta (domesticated wild greens), grilled lado-tiri (cheese) and some of the best fried potatoes you will have anywhere.
Worth visiting is the Pedinon in the town of Antissa in their beautiful shaded square. Grood choice of cooked dishes and grilled meats and fish. When it is hot on the island this is a good place to come to. In Gavatha go to Akroyiali right above the small fishing port. They make very good local food though they come from Athens and it is one of the nicest spots on the island. Friendly service and good pastes and lakerda, and lots of fish, fried or grilled. Also recommended is To Kati Allo, also in the platia of Antissa which is owned by Pablo, the taxi driver, formerly of Australia who has put together a high quality menu with a large variety of grilled meat, vegetables, oven cooked dishes and mezedes that goes beyond what you normally find in a small traditional village. If you come here on a Saturday night you may find a whole lamb or pig turning on the spit along with kokoretsi, kontosouvli, chicken and other local meats. In Gavatha Alfresco serves a mix of traditional local dishes and fish as well as pastas, salads, and dishes representing a number of different international cuisines. For sure it is the first Greek-Mediterranean Fusion restaurant in Gavatha and the menu reads like somewhere you would eat in New York or Athens, not a small fishing village in NW Lesvos. Lots of vegetarian and gluten free options as well as wine, beer, cocktails and a view of the long beach of Gavatha and the port. Worth driving to.
Restaurants In Xidera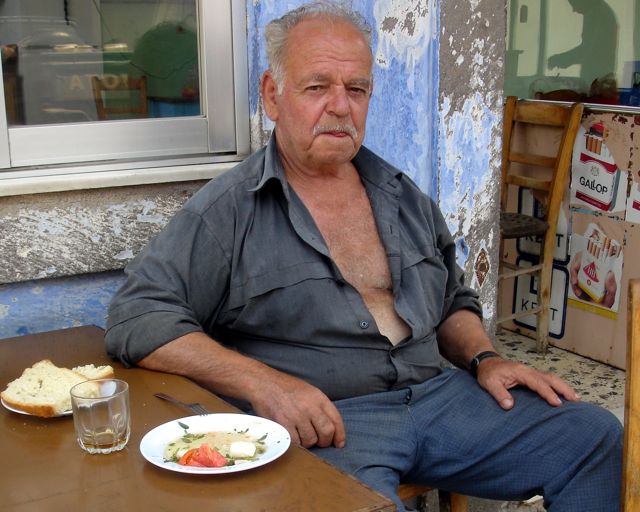 Panayotis and Aglaia's in Xidera was in a remote corner of the most remote village in Lesvos. Aglaia could do more with one gas burner then most chefs can do with an entire fully equipped kitchen. Simple and dirt cheap. Xidera is another world and if you go there people will stop you on the street and ask who you are related to. (Just tell them I sent you). They speak no English by the way. I loved her keftedes (meatballs), melitzanas me tiri (fried eggplant with cheese) and she made the best Greek salads with their own cheese. She was like the sorcerer's apprentice and would continue to bring out plates of food until we asked her to stop. Foreigners from Eressos who have gone here raved about her sikoutaria, which is the liver, kidneys, spleens and whatever is left over from the sheep and goat her son Stavros, who is the butcher, had just slaughtered that day. Sadly, Cousin Panayotis (in the photo) passed away and the cafeneion is closed, probably for good, unless Stavros opens it which he says he plans on doing. If he does it will be the place you will most likely find me.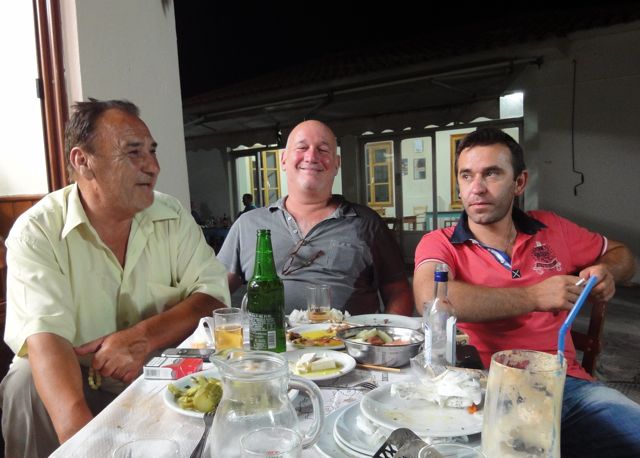 But all the cafeneons in Xidera serve good mezedes since there is nothing else to do at night but eat, drink and talk. In the Platia go to the last cafeneon on the right, beyond the platanos tree, formerly known as Vagellis. It was recently sold and is now known as Toula's for the Greek Australian woman who owns and runs it with her husband Panagiotis, the former taxi driver. This is where many of the young guys hang out including our cousin Stavros. There is also the former Nikokiris Cafeneon next to the town hall, also now run by Toula and Dimitris where you can order paidakia (lamb chops) and the best fried potatoes you will ever eat. Everything these cafeneons serve is made from local ingredients, simple, delicious and all home grown and home cooked. Keep in mind that in the traditional villages like Xidera and Vatousa if you show up after 2pm you may not find anything open.
There is the Methemnaos winery in Xidera that you can visit too that gives tours from 9 to 6 every day starting in August. Really delicious wine that you can sample and buy. They sell it by the bottle at Toula's.
Lena's in Pterounda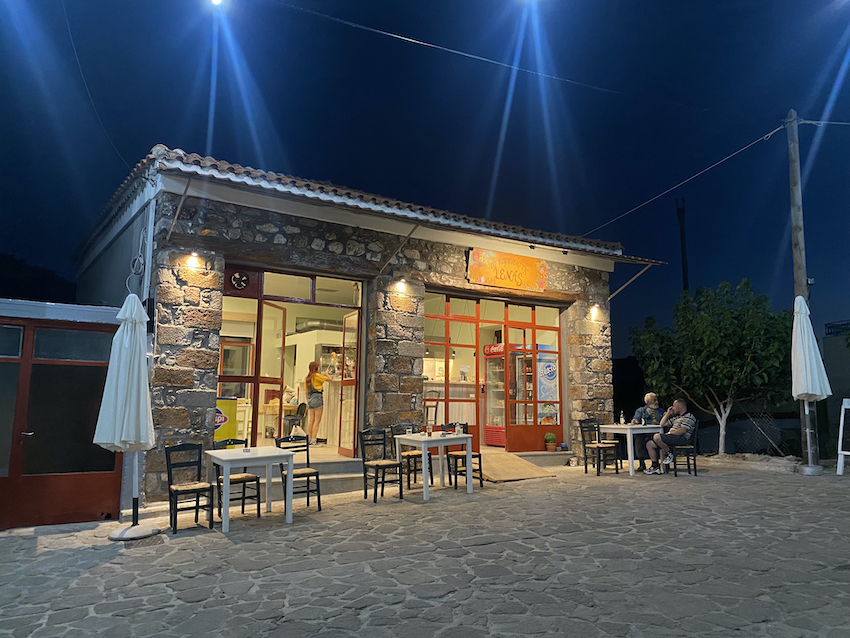 While you are in the neighborhood, on the road between Vatousa and Xidira is the turn off to the small village of Pterounda. Once a thriving metropolis of almost a thousand inhabitants the population has dwindled to less than a hundred. But in the summer like many of the villages in this area the number swells as locals who have moved to Athens or abroad return to the village. And in 2022 a woman named Lena reopened the old village kafeneion and is serving mezedes, ouzo, wine, beer, sodas and even souvlakia and other grilled dishes. Whether you stop at Lena's for a coffee or a snack or an entire meal I think you will be pleasantly surprised. Lena and her daughter speak fluent English as do some of the locals who have spent much of their lives in the USA. If you come in the day there is a small waterfall at the edge of the village. But the best time to come is at night when everyone else does. Lena has brought new life into the village and in a village of less than a hundred people she can use all the support she can get from us non-locals.
Restaurants In Vatousa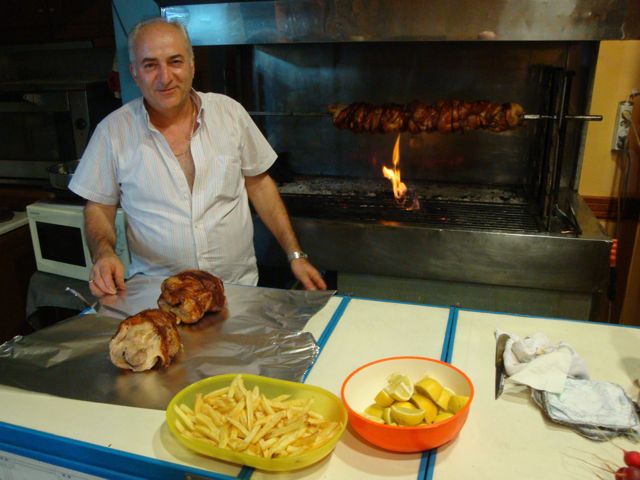 Tryphone, who owned the best cafeneon in the upper platia re-opened the cafe in the lower platia and called it Renna which is run by his son Giorgos who has been working in one restaurant or another since he was three. Renna's specializes in grilled meats and also has some oven dishes like pastitsio made by his wife Irini, stuffed zucchini flowers-be sure to order these, the best in Lesvos, stuffed grape leaves and stuffed kolokithia (zucchini). Good paidaikia (lambchops), souvlakia and pork steak or go for the chicken made on the rotisserie, maybe the best I have ever had. I also love their chicken-paidaikia which is like lambchops but made of chicken. All the meat is locally grown and fresh as are the vegetables. Ask about their chicken wrapped in bacon, or whether they have provatina, which is literally old lamb which is tougher than young lamb but a much stronger taste. Also try his koukia (mashed fava beans), and whatever fresh seafood he is serving that night. Unfortunately because Tryfone had an operation the restaurant is only open until 8pm so it is pretty much of a Kafeneion at the moment.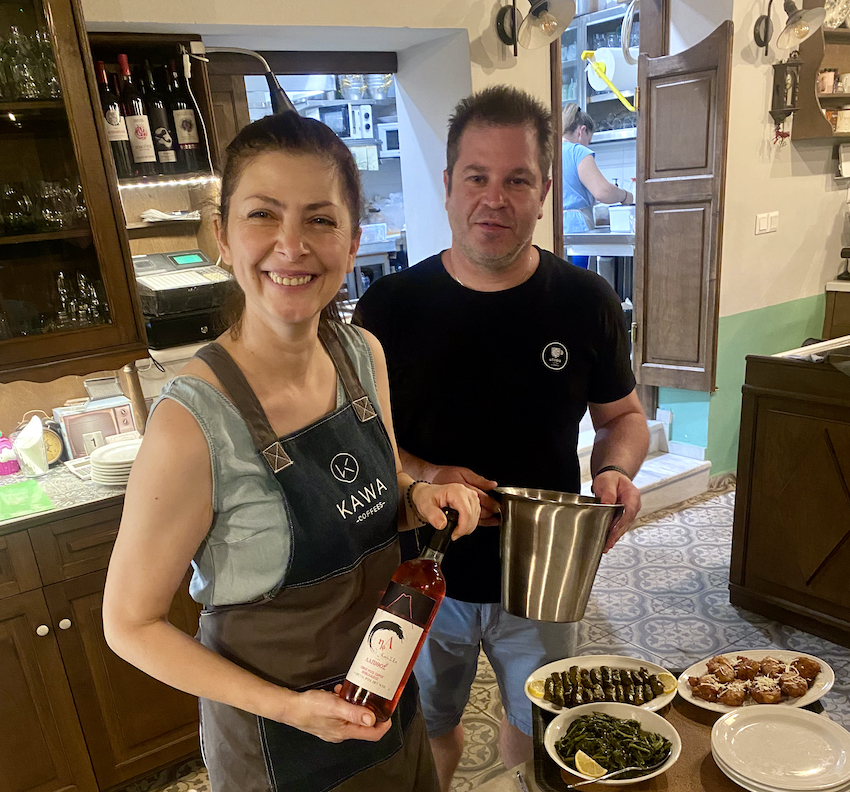 Luckily Vasso and her husband Yannis have filled the void by leaving their small zacharoplasteion-kafeneion in the upper village and restoring and reopening To Hani in the lower platia and serving some of the best food in this part of the island. With everything made from scratch using family recipes and local products this is a restaurant that people come to from as far as Sigri and Eressos. Serving all your favorite grilled meats, mezedes, pastes, smoked skoumbri, and oven cooked dishes in a beautiful tree covered classic taverna setting, it is also open in the winter where you can sit inside and look at historical photographs and antiques in a restored old building. If you are lucky you may get to hear Yannis, one of the best professional bouzouki players in Greece, who performs here on weekends and special occasions. To Hani is also a kafeneion and cafe so you can come any time of day for drinks, food or a snack. But the best time to come is in the evening when the locals and people from surrounding villages are here. It is on the old road between Kaloni and Sigri. Plenty of free parking next door.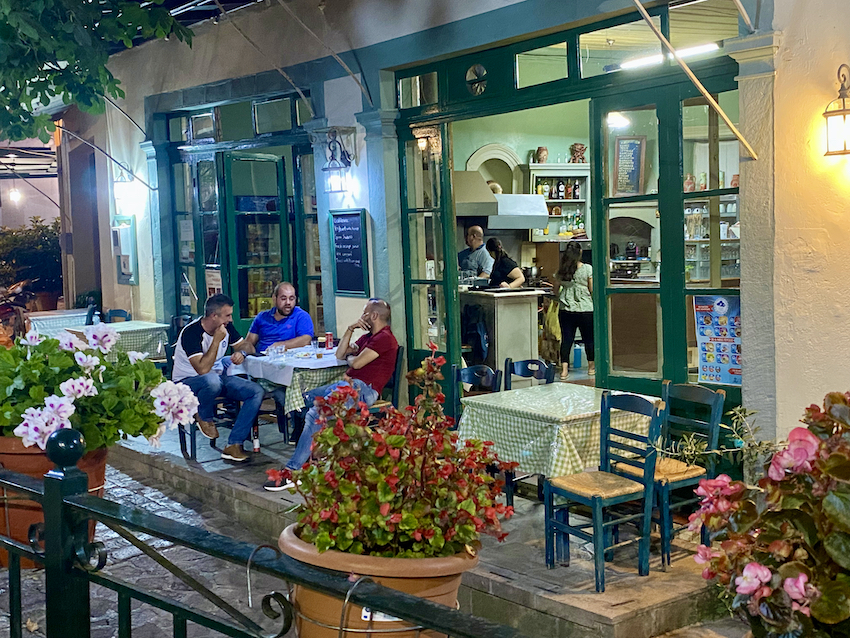 In the upper platia is Kamviselli Kafeneion, also known as Yannis, with a view of the valley and a lot of life on summer evenings when they play rembetika at a volume it was meant to be listened to. This is really one of the best examples of a local family run village kafeneion and the mezedes dishes they serve with their ouzo, or any drink if you ask, are delicious and filling. In the summer the square fills with tables during the weekend and it feels more like a taverna than a cafeneion. Order the louloudakia (stuffed zucchini flowers), dolmades (vegetarian), fried potatoes kalopsimeno,and whatever fish they have fresh and you will be quite satisfied. Staffed by Yannis and his family, his wife is an excellent cook, and Giorgos is everyone's favorite waiter.
Across the street is the cafeneon of Michalis serving mostly mezedes and in the summer you can order souvlakia, beeftekia, loukaniko and other meat dishes. The staff are Michalis, his wife, and his 3 beaufiful daughters.
If you want an authentic village experience leave your car below and walk up one evening and sit in either of these places or stay below at Rennas or To Hani where it is a lot easier to park at. (You can't park in the upper village unless you know what you are doing).
Restaurants In Skalahori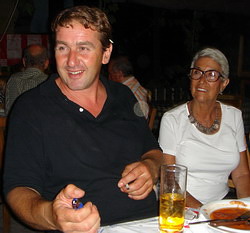 In the village of Skalahori in the little square that is covered by a giant Platanos tree is one of the most down-to-earth Greek tavernas you will find on the island. Best visited at night, they are open in the day for those traveling around the island. But the nights are when it really shines and in the summer it is full of Skalahorians and locals from other villages as well as returning Athenians. Traditonal taverna food, paidaika(lamb chops), keftedes(meatballs), brizoles(pork and beef steaks), dolmadakia (stuffed grape leaves), sadziki, loukaniko (sausage), stuffed zucchini flowers, lots of wine and ouzo make this a very special place to eat. The real thing. How down-to-earth is is? The owner Yannis, is a shepherd who opened a restaurant and not a restaurant owner who happens to own sheep. He is also my wife's cousin which I guess that makes us related. If you come to Skalohori from wherever make sure one of you is a designated driver and does not drink because if it is anything like the night I went, the rest of you won't be able to and you will be lucky to survive the drive back. Combined with chaotic service on summer nights, make me recommend you come in the day if you can when things are more relaxed and you are more likely to live to eat another meal. Be sure to visit the Skalahori Women's Cooperative down the street.
Restaurants Around Lesvos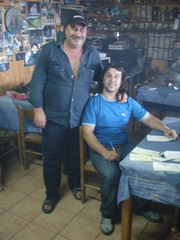 There are three restaurants on the beach at Tsonia between Skala Sykaminia and Montamados. From what I could tell the best was the one in the middle called The Psarotaverna H Folia Tou Koukou #2. The reason I think it was the best is first of all, this is the one we ate at. Second of all the other two were pretty much empty. Third, when we arrived it was like coming late to a party that has been in full swing for hours, if not days. Speakers blared old rembetika music, and ouzo carafes arrived every minute at tables full of families and fishermen, as it was the first Sunday in August and everyone had gone to the beach that day. I was unfortunately the designated driver and could not allow myself to fully dip into the fruits of joy which the wine and ouzo seemed to spread to every person in the place. But the restaurant had a large choiceof fresh fish, cooked to perfection, and lots of vegetable dishes as well. The owner is on the left and i believe his name is Christos (I lost the card). The inside of the restaurant is like a museum. The beach at Tsonia is nice too so this is a great place to come for a swim and a meal and the roads there are fun as well, especially with a 4by4. If you are going to or from Molyvos on the road that follows the west coast, stop in Mystegna which has a beautiful beach and on the end, by the small fishing boat harbor the excellent Poseidonas Fish Taverna.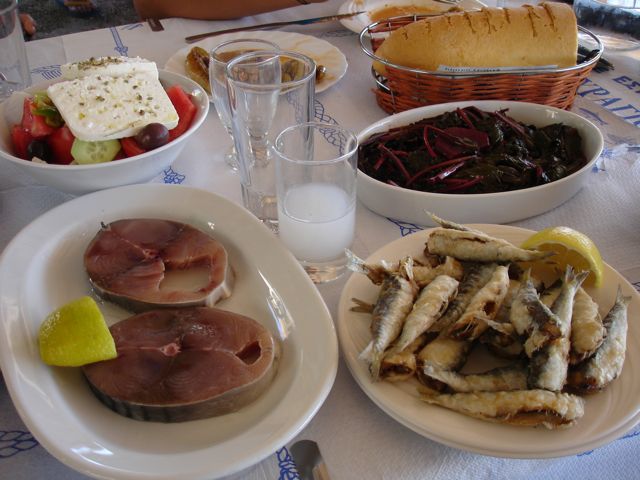 In the village of Mesotopos go to the main platia and try the Pallas which is a cafeneon-taverna with ouzo mezedes and a decent dinner menu. It is also the unofficial Stellios Kazantzides fan club for the village and like the radio stations in the USA that plan nothing but Sinatra its all Kazantzides here. Down below on Tavari Beach go to Mouragio, owned by Telemachos Kambas from Xidera, where they serve fresh fish, mezedes and a really interesting brownish colored wine that tastes like a light sherry. The best of the fish restaurants in Tavari may be Panayotis, the first one you come to on the right, where my brother who lives in the village eats and they have great food too. But Mesotopos and Tavari may be the hottest towns on the island so choose the right day when you go.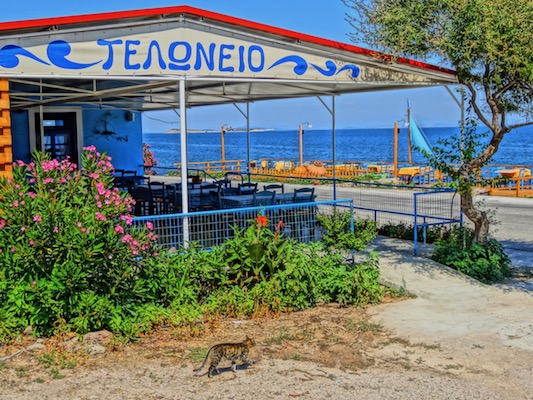 Teloneio is one restaurant you would probably overlook even if you drove right past it on your way to the beautiful beach at Chrisi Ammos or to buy pottery at Agios Stefanos. Luckily for us it was highly recommended by a potter in Montamados and seconded by another. It is located in the small beach settlement of Aspropotamo which is near the town of Mantamados. Teloneio is on the road a few hundred meters beyond the beach which is popular with locals and not known to many others. A teloneio is a customs house and indeed this is what the building used to be in the days when traders crossed regularly from Avalik Turkey. Run by a husband and wife and their two daughters, the food is simple and excellent and they serve all your favorite Lesvos dishes like sardeles pastes, grilled sardines, stuffed or fried zucchini flowers (louloudakia), fresh fish and many meat and vegetable dishes. If you have a day free come here for lunch and maybe continue on to Agios Stefanos to buy pottery or swim at Chrisi Ammos which some people say is the most beautiful beach in Lesvos.
Lesvos Ouzeri-Mezedopoulion in Athens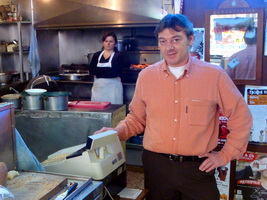 For those of us who can't make it to the island of Lesvos as often as we would like there is salvation in the form of a small ouzeri-mezedopouleon called Lesvos owned by Yiannis Karantanis, from the town of Polychnitou. This un-pretentious little place between Omonia square and on the border of Exarchia is as close as you can get to the real thing and you may feel like you are on a side street in Mytilini town after a couple ouzos and some grilled sardines and octopus. Imagine that in July and August you can get fresh sardelles pastes from Kaloni! He also has a nice selection of clams, mussels, lakerda, fried and grilled shrimp, loukanika (sausage) from Polychnitou, koutsomoures, kakkavia (fish soup), fried peppers, keftedes (meatballs), delicious salads and horta (wild greens) and lots more meat, fish and vegetable dishes to go with a couple dozen varieties of ouzo from Lesvos, or wine by the carafe. Lesvos is easy to find if you don't mind walking a bit. It is at #38 Emanual Benaki Street which you can find by walking up Panapistimiou (Venizelos) Ave and turning right a couple blocks before you reach Omonia Square (just past the Hotel Titiania). Its open daily from noon til late at night but closes at 7pm on Sundays which is a fun time to be here.