Another Hot Day in Paradise
"Another hot day in Paradise" said the British guy setting up chairs at the Olive Press Hotel pool bar. It was just after 9am and I was already sweating. I had planned to wander around taking photos of Molyvos all morning and then go back to our luxurious free rental villa to organize and edit them in air-conditioned comfort. But instead of climbing the narrow streets to the castle I felt my legs taking me down to the sea.
Andrea is on a sailboat. We ran into George Malakos, who runs Lesvos Alternative Sailing, last night in Molyvos harbor and he had invited us on a cruise, but I am not much of a sailor. I find it boring and confining and stressful in a way. People say they love to be on a sailboat gazing at the sea, lost in their thoughts. But I can be lost in my thoughts anywhere and I don't need to be on a little fiberglass blip on an endless sea to think about my relation to eternity. I can do that from the little balcony of the aptly named Balkonaki Cafe, drinking a double espresso and watching people swim on the beach below.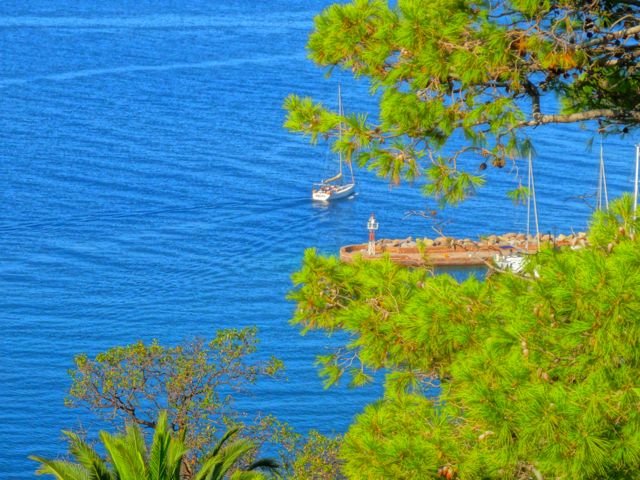 I felt a pang or two of sadness as I watched Andrea get dressed this morning after George had called to wake her as he had promised. When she agreed to go she did it with such enthusiasm that I knew she'd had too much to drink and would regret it in the morning and maybe even try to get out of it by ignoring her phone or even turning off the ringer. But when morning came she got her stuff together as she gave me some tasks to do while she was away that I will try to recall at some point. I happened to look up just as she sailed out of the harbor and around the bend leaving me to justify the fact that I had turned down a free sailing trip to walk around a very hot Molyvos until it became unbearable and then retreat to the comforts of home to pass the time til the sun goes down and I can go to Molly's Bar for a Guinness and some sixties rock videos and conversation before dinner.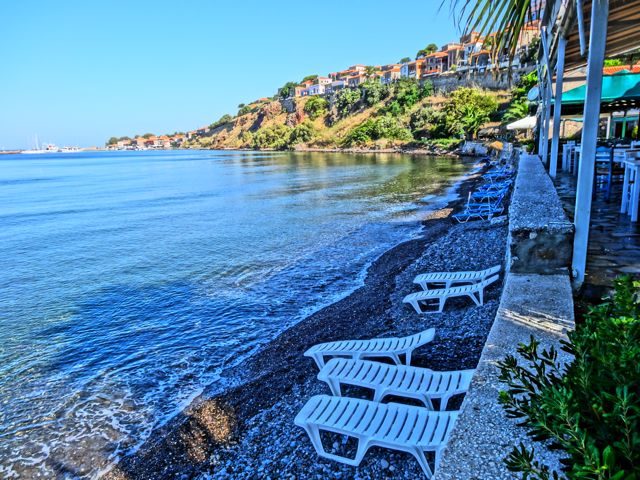 That was the plan anyway. But after walking down the rocky beach past the cafes and sun-beds of the Olive Press Hotel, the swimming pool, and the no-man's land where tourists don't dare to venture, probably fearing the hungry turtles that lounge in the muddy water of the small river that ends here, I realized that the walk to the sandy beach at the Delfinia Hotel was do-able but the walk back probably wasn't. At that point my feet decided to make a U-turn and led me to the cool balcony where I sat, writing only to avoid making a decision about what to do next. Besides the Athenian tourist on his cell phone loudly barking instructions to his partner or employee, this is a peaceful spot. Ok. There is also the TV which nobody is watching, but my feeling is that if you have to be in some kind of isolation chamber to write then writing is probably difficult for you and you should try something else that comes more naturally. People email me all the time looking for a quiet Greek island where they can write. But if writing is your purpose and you require quiet to concentrate you should just build a little writing studio in a closet or wear earplugs. Personally I think Molyvos is a perfect place for writing. It's a small town with a lot going on, a lot to see, and you can pick ideas from your surroundings like they are hanging from the Wisteria.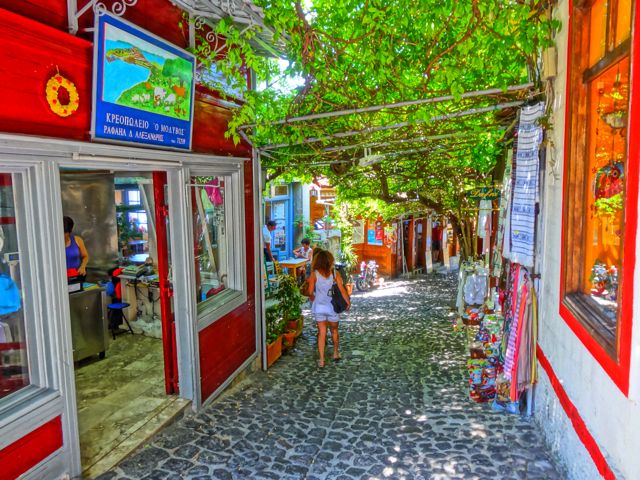 It's hot though. Even for August. But in Molyvos the wisteria have trunks the size of my waist and their leaves cover the narrow streets of the agora so you can wander around shopping without feeling the heat. After a double espresso you will barely notice you are walking uphill. There is a small square with two restaurants and two giant platanos trees shading them. A breeze comes up the hill from the sea, blocked only by a vintage Volkswagen that belongs to a neighbor but could easily be mistaken for an historic landmark or a subtle advertisement for one of the restaurants. Of the two restaurants I have eaten at Tropicana twice for no other reason except the owner is a 'friend' on Facebook, and the first time I ate there my roast lamb with plums and apricots, a dish that must have come from the Ottomans, was so good I had to come back. In the afternoon the cicadas are so loud you can barely hear the ethereal New Age music coming from the other restaurant or one of the esoteric looking gem shops or boutiques up the street. I suppose it could be coming from a house but nobody really listens to this music do they? Don't they just play it to hypnotize people into buying stuff?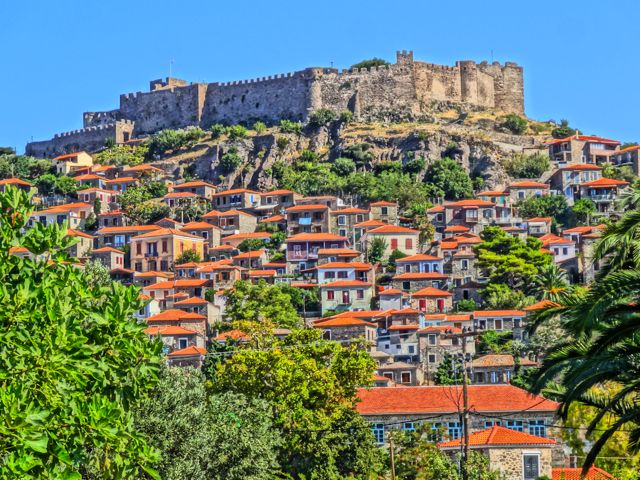 Molyvos is a very livable place. I guess that is why so many foreigners live here. It must have the highest per capita number of people who came as tourists and either bought a house if they have money, or have spent two weeks of every summer here if they don't. There are tourists who have been coming for twenty years. A couple nights ago I met an attractive British couple who came here on my recommendation 6 years ago and have been here every summer since. The yoga center has been in Molyvos since the days when people didn't know yoga from yogurt and it is responsible for a colony of spiritually minded people who mix seeking with sunshine and sea. (And probably sex too)
And who would not want to live in a town with a beach and a castle?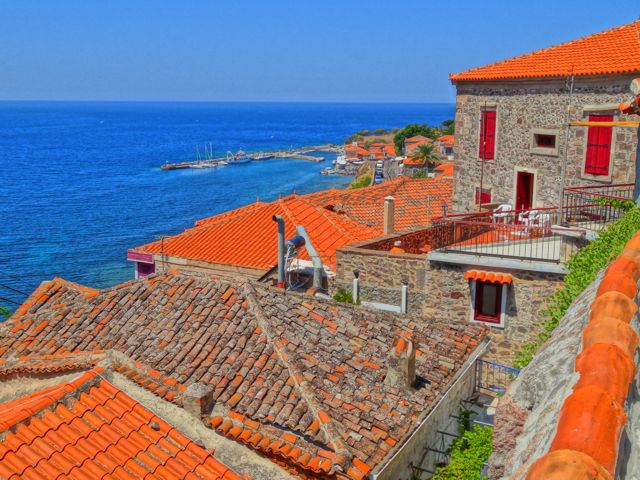 Every time I talk about buying a house in the village of Vatousa it makes Andrea anxious. Yesterday I found out why. We had to go back to her sister's house in the village to pick up some stuff we left since we only planned to come to Molyvos for a swim and to say hi to Melinda and Theo. That was 4 days ago. When we left Vatousa after picking up our stuff, Andrea admitted she found the traditional villages depressing. You go to the cafeneon and it's all old men drinking coffee. The most exciting thing is when a car or truck drives through the square. The food is all the same. The people seem lost in memories and fearful of the future. But Molyvos is alive with bars and music and great restaurants and visitors from everywhere in the world instead of the next village. She won't let me buy a Victorian mansion in Vatousa for 30k but that house down the street from us in Molyvos has been reduced to 250k from half a million and that's a bargain she would go for.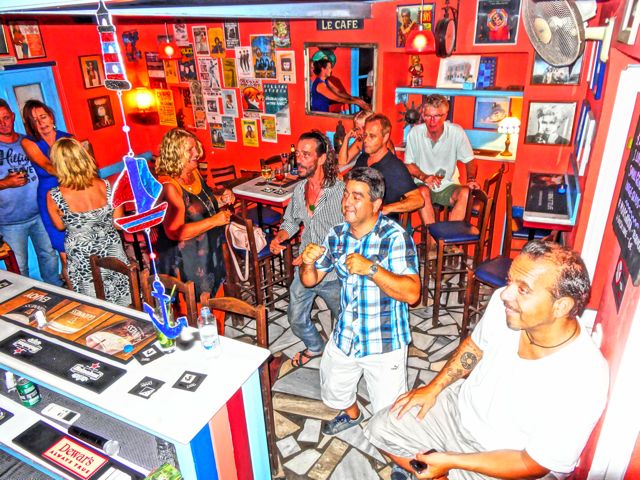 Ok. I get it. Sure I can have fun in a simple village after a couple ouzos with the farmers and shepherds. My Greek starts coming back to me enough that I can make jokes and keep them amused. But how can you compare that to a dinner at Captain's Table and the parade of artists, poets, rock stars, writers and underachievers who have found their niche here and stop for a drink and to tell their stories. (In English!) I don't want to be the most interesting person at the table. I would rather be the least! Or being able to end the night at a place like Molly's Bar, rubbing shoulders with British sports writers, Irish laborers, Canadian poets, and beautiful women from twenty to eighty who don't know much about Lesvos but could write a book about their exploits in Molyvos. And when you get tired of listening or talking you can watch videos of the Beatles, Stones, Animals, Lovin Spoonful, Free, the Byrds, and all your favorite bands while drinking Guinness until four in the morning and having so much fun that you don't care how you are going to feel when you wake up or that your walk home includes a hill that any other time you would do your best to avoid.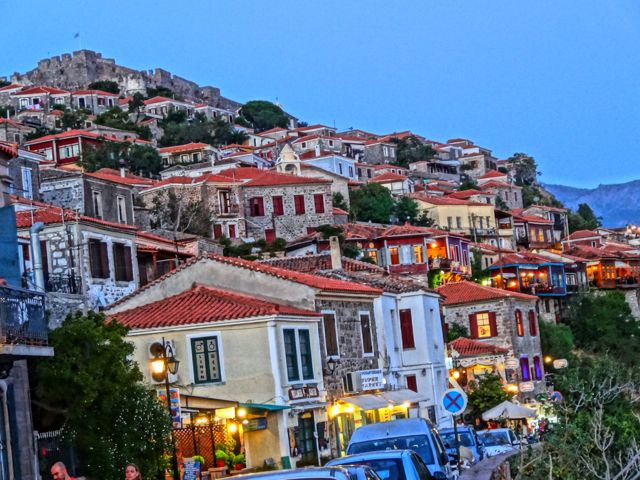 The wind is picking up. Andrea is still out there on the sea with passengers and crew who sound ominously like the cast of Gilligan's Island from the texts she had been sending me earlier. But there has been no communication in the last few hours. I suppose I should be worried. But at this moment I am back at the luxurious free rental house laying on the couch, digesting my lunch after having just taken a shower that was colder and more exhilarating than a dive in the sea. If there is a problem with the sailboat I know they will be rescued by the Maltese border patrol sent to Molyvos to stem the flow of refugees escaping conflict and poverty in Syria, Iraq and other troubled places by crossing the narrow straits between Lesvos and Turkey. So I'm not worried. In fact I am pretty comfortable. I guess like the other x-pats I have found my niche. It's an air conditioned villa on another very hot day in paradise, waiting for night to come.