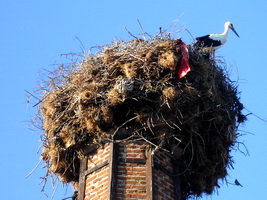 The island of Lesvos has a vast and varied landscape which offers numerous species of birds exactly what they want. Thus it is a haven not only for birds but for birdwatchers too who arrive in droves in the spring. This is also the best time to see the beautiful display of wildflowers. For people interested in birds the best place to see them is Skala Kaloni with its miles and miles of salt marshes which attract all sorts of birds including flamingos, and storks who make their nests on the chimneys of abandoned factories. On the marshlands of Kaloni there are elevated sheltered watchtowers where you can stand hidden and view the birds feeding. There are marshlands lands, streams, springs and seasonal rivers all over the island including Vatera, Skala Eressos, Campo and Archaia Antissa and Sigri and just about anywhere you go you will see interesting birds, not to mention turtles, lizards and other creatures.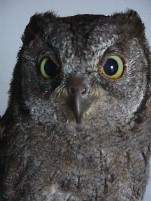 Lesvos is home to several species of owl. This Scops owl in the photo fell out of its nest and landed at my feet while I was sitting in the cafeneon in the Platia in Vatousa. We took him home and fed him until he was old enough to fly away. Despite being the symbol of wisdom in ancient Greece, many villagers see owls as bad luck and children ran away in terror when they saw me holding this one. After this everytime an owl fell from a tree he was brought by the villagers to our house to feed until they were old enough to take care of themselves. We had a big rock in the kitchen and the owls would sit on it while I worked on my laptop, occassionally flying over to the table to try to distract me. Baby owls are playful like kittens. They also seem to have a lot of different moods and expressions. You can definitely tell when an owl is pissed off. In all I think I raised 11 owls though two of them died. Now the village is full of Scopes Owls and you can hear them every night crying a distinctive kyo-kyo. People say that the summer we saved all those baby owls changed the owl population forever. In some villages like Vatousa and Xidera you can see and hear large Barn Owls, light in color with big white faces, who make a very loud breathing sound, from the top of Platanos Trees in the platias.
GEOGRAPHY, FAUNA AND BIOTYPES: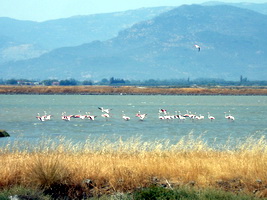 Lesvos was originally joined to the coast of Asia Minor,but was detached by powerful geological disturbances. It is 70 kms longby 45 kms wide, with an area of 1630 sq. kms. It has 2 large bays, Kalloni'sand Gera's, both with narrow entrances. These two bays are famous for theirmarine life and their beauty. Though there are no permanent large rivers with a steady flow of water, there are abundant springs, and water-courses in winter and spring at least. Some of the river mouths and pools are semi-tidal and never dry out, even in autumn. Indeed, strong winds in the right direction at this time of year can whip up the sea and send it some way up the rivermouths. Such areas include Kalloni East and West Rivers, Skala Eressos River, and the inter-tidal rivers and pools at the area known as "Derbyshire". Moreover, the island's 2 sets of salt pans, certainly those at Skala Polichnitos, usually remain wet. Although the main Kalloni Salt Pans have been known to dry up, there is always some water in the surrounding channels.

The main marshes and flatlands, then, occur around Kalloni, Skala Eressos and Sigri; and the hilliest areas are in the west around Eressos, to the north around Mythimna (Molivos), and to the east around Agiassos; and the nearby Mt. Olympus, peaking at 3500 ft, is the highestpoint on the island after Mount Lepetimnos, actually one metre higher! These uplands are usually cloaked mainly in pines and holme oak, with oliveson the lower reaches, and, around Agiassos, some stands of deciduous woodland, including sweet chestnut. Around the coast, especially, there are large areas of low-lying scrub and grassland, often with a profusion of wildflowers in the spring. Further inland, the dried-up river beds ( for example just up from Skala Eressos ) offer similar "arid" scrub with its own special birds - like Rufous Bushchat.

The basic geography of Lesbos, together with its size and location so close to the Turkish coast, mark it out as an area of variedhabitats, with some good wetlands, likely to prove extremely attractive to spring and autumn migrants; wet enough to keep a fair variety of wintering wildfowl, waders etc.; yet also playing host to a good mix of breedingbirds - some of them, like Cinereous Bunting and Kruper's Nuthatch, quite outstanding.

To make access easier, and to minimize disturbance to the birds, a car is recommended. Birds generally feel far less threatened, and in consequence are far more approachable than if viewed on foot or by bicycle.
---
WHERE TO WATCH BIRDS IN LESBOS- A BIRDER'S SITE GUIDE: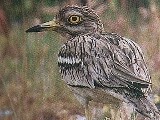 1 . Kalloni two pool
S pring: Garganey, Black-wingedStilt, Little and Temminck's Stint, Curlew and Wood Sandpiper, Little Ringedand Kentish Plover, Gray and Black-headed Wagtail, Citrine Wagtail, GlossyIbis, Whiskered, White-winged, Short-toed Lark and Olivaceous Warbler.Mute Swans, and even the occasional Whooper, have occurred here in a hardwinter.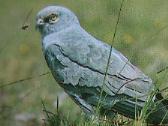 2 . Kalloni west River
Spring : White and Black Stork, Avocet, Black-winged Stilt, Great White and LittleEgret, Gray Heron, Terns, Gulls, Wood and Curlew Sandpiper, Greenshank,Curlew and Gray Plover, nesting Stone Curlew, Kentish and little Ringed Plover. In the scrubby areas, Corn and Black-headed Bunting, Wagtails and Wheatears are likely, with possible Great Crested and Black-necked Grebein the bay.
Autumn: Whiteand Black Stork, Gray Heron, Gray Plover, Curlew, Black-tailed Godwit,Yellow and White Wagtail, Black-necked Grebe, Stone Curlew, Kingfisher,and possible rarer waders like Broad-billed Sandpiper.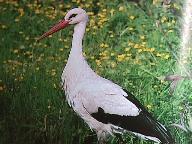 3.Potamia River
Spring: Black and White Stork, Little Grebe, Squacco, Night and Gray Heron, Little Bittern, Little Crake, Bee-eater, Stone Curlew, Cetti's Warbler, hirundines.
4.Parakila marsh:
Spring: Little Grebe, Black-White Stilt,Little Ringed and Kentish Plover, Little Stint, Wood Sandpiper, Avocet,Little Egret, Gray, Purple. Night and Squacco Heron, Little Bittern, Shoveler(early spring only), Olivaceous Warbler, hirundines and swifts, Wheatearand possible Masked Shrike.
5. South of Parakila (alsoknown as Devil's Bridge) :
Spring : Short-toed Eagle, Long-legged Buzzard, Eleonora's, Rock Nuthatch, Black-earedWheatear, Red-rumped Swallow, Cretzschmar's and Cinereous Bunting.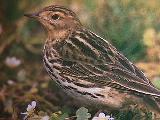 6.Potamia valley and Kalloni inland lake
Spring: LittleBittern, Night, Purple and Squacco Heron, Marsh Harrier, Little and SpottedCrake, Common Sandpiper, Kingfisher, Alpine Swift, Hirundines, Cetti'sand Olivaceous Warbler, Nightingale, Whiskered and White-winged Black Tern.
Autumn: White,Yellow and Gray Wagtail, Cetti's Warbler, Whitethroat, Whinchat, SpottedFlycatcher, Cirl Bunting, Wryneck, Greenshank, Ruff, Little Stint, Kingfisher,Red-rumped Swallow, Alpine Swift, Sand and Crag Martin.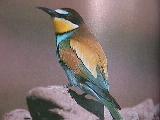 7.Kalloni east River
This section is probably the best area to viewsinging Olivaceous and Great Reed Warblers soon after they arrive frommid to late April; again before the vegetation becomes too rampant. Short-toedLarks, buntings and the odd Hoopoe are also likely along here; and thisis usually the first site one encounters returning Black-headed Buntingin late April. Possible birds likely anywhere along the East River are almost too numerous to mention.
---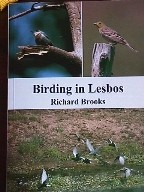 Descriptions on this page comes from the excellent Birding in Lesvos by Richard Brooks. The photos (with the exception of the owl, stork and flamingos which are mine) come from his book but I made copies using a digital camera. The actual photos in the book are far superior. Whether you have an interest in birds or not I encourage you to buy this book as a valuable natural guide to the island. But if you were not interested in birds you probably would not have gotten this far down the page. Let him know you found him on Matt's Lesvos Guide.
Contact Details
Phone: 01328 878632
Fax: 01328 878632
Address: 24 Croxton Hamlet, Fulmodeston, Fakenham, Norfolk. NR21 0NP
E-mail: email@richard-brooks.co.uk
Richard's book is not going to be reprinted so if you see a copy somewhere then buy it.
But in the meantime Steve Dudley's excellent book A BIRDWATCHING GUIDE TO LESVOS has been released to fill the void. For more information see Birdwatching in Lesvos
---

If you are interested in birdwatching check out Steve Dudley's excellent website-blog that has lots of beautiful photos and detailed information on where to go and when to see the migrating birds that flock to the island. Steve also keeps a journal of the trips he leads every year. See www.lesvosbirding.com
If you are appreciative of the work contained on this website and would like to make a donation then please send it to the Lesvos Wildlife Hospital

For pictures of the Ponds, rivers, and tidal pools of Lesvos click here.

If you are in Athens be sure to visit the New Zoolgical Park . It has the 3rd largest collection of birds in the world. It is close to the airport so if you have a layover think about making the trip there rather than hanging out in the terminal. (especially if you are traveling with your children) See www.athensguide.com/zoo