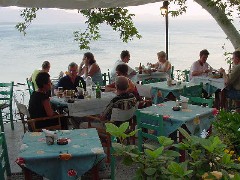 Hi Matt. Your Lesvos Guide is OK. But you do not know everything there is to know about eating out in Molivos.

My name is Mike and I have been visiting Molivos for years and I am also in the restaurant business at home and I know good food. Molyvos has lots of great restaurants and many different styles of food. In fact you could devote an entire page to just the restaurants in Molyvos. So just to let you know there are more restaurants than the ones Matt has eaten at these are my favorites.

Horizontas , down near Olive Press, they always give me good food, even if we have some communication problems, nice traditional family run Taverna, with very Greek dishes.
Sansibal is not very traditional, but one of the most popular restaurants with regular visitors in May and September when I often visit,bit expensive and the portions small, but excellent chicken curry.

The best value places are:
Tropicana , up in the village which has very varied menu, is great for breakfast and alternative atmosphere, is great place, I visit for breakfast and lunch, really good place
Pizzeria Galliano at the entrance to the harbour has great Pizza, Pastas and Stratos maybe the owner, gives the greatest service, place has the best atmosphere for an evening with some buzz, for half the price of eating in the harbour. To alot of people this is important, of course they want to eat fish, and experience the atmosphere in the harbour, but they also like to find the good value places, which the last two definitely are, and they offer a great alternative to sitting at the waters edge.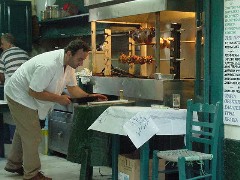 The other place that is fun is the Grill House , opposite Christines Bar , for a real Greek evening.

Those are my opinions, most of those have been good restaurants the last 2 or 3 years.

Anyway there are lots of great restaurants in Molyvos so don't just get stuck on going to the ones that you have written about again and again, or even the ones I have mentioned. Especially if you have to wait for a table. There are enough good restaurants in town so that there is no reason to wait if you are hungry. If one restaurant is full then try another. You may find something even better than I have. See you in Lesvos
Mike

---
Hi Matt,
I visited Lesvos a thousand times and I miss my favorite restaurant!!! You know... this small but traditional pita giros and souvlaki shop at the main road of Molivos called "Friends". They really have the best pita giros I ever eat in Greece .... and I tried a lot!!! I also spoke to Greeks from Athens, Thessaloniki and Crete and they all agree with me so.... update your list and it is perfect. You can put Pita Giros "Friends" at the main street of Molivos, about 200m. after the bank at your right hand sight. You can recognise it by it's big signs of "Pita" and "Giros" next of the stairs going inwards.
Thanks,
Best regards,
Evelyn

---
Hi Matt

Steven here from Manchester, England. Great site but you are missing two important words- Ignatius Tsolakis and the Mithimna Grill House (that's 4 I know)! My wife and I have been to Molyvos for the past 5 years and 8 times in total and it is the most wonderful place on earth-even better than Manchester! But please give Iggy and his Grill House a mention on your website. Underneath the Manta Bar-best souvlaki and pitta giros in all of Greece even if he is too modest to say that!
Cheers!
---
Dear Matt,
I was reading your reviews of the tavernas in Eressos & the rest of Lesvos that took up much of my time yesterday! As we can't be there this Christmas (house rebuilding not started yet) it's good to reminisce by reading your pages. For your personal interest and perhaps your site readers too, I wondered if you had been to the taverna in Liota. I don't know if it has a name, but is the only one there. You see the turning for Liota on the left before you get to Gavathas and not too far along the road you come to a clearing with an enormous plane tree shading a taverna opposite an old (interesting background) church.
It is a wonderful peaceful spot for a lunchtime stop on the way to Gavathas beach or harbour. We've tended to eat just salads, feta, tsatsiki, courgette or loulouthia fritters washed down with a beer or two, but they do have an extensive menu of mostly grilled food. We did have some delicious small fishes (indeterminate variety) when Alekos (our 'Mr Fixit' and 'koubaros' when we got married in Eressos in the summer) took us there with his and Terry's children in June.
Just a bit of an update - hope it is helpful. Perhaps we'll meet up in Eressos one day.
Dear Matt

Thank you for an almost perfect website. At your next visit to Molyvos you should try to turn away from the harbour and walk up and away from all the noisy cars. You almost can't miss getting to Restaurant Tropicana situated in a lovely, small square under a huge platan tree. The food is nice but the atmosphere is fantastic!
We stayed in Molyvos for 16 days and at least 10 times we had dinner at Tropicana (one time even breakfast). Saying goodbye to the owner Christos and the other waiters there brought tears into the eyes of our children.
On the same square you will find a small grocery store owned by Stavros who speaks a very good English and knows a lot about the different kinds of ouzo sold in the store.
When you get there, please say hello from "the big family" from Denmark and tell them we'll be back soon!

Best regards
Anne Guldager & co.
---
Hi, Mr. Barrett,
Great site that Lesvos-site of yours (and the other sites, like the Athens Survival Guide )!! We just came back from a short holliday in Petra and we discovered a very good restaurant which, -we think-, you should visit too and put on your list. We were one week in Petra and did eat there 4 times! We also tried other restaurants (cheaper ones and more expensive ones), but liked this one the best. It's a restaurant with traditional dishes and that's why it's called To Paradosiakó (The Traditional). It's in one of the back streets behind the big rock, but we don't know the name of the street (It's the same street where Alice's pottery is in). The family that runs it is called Pappou E. Likaterini and the tel.number is : 0253- 41058. You can sit outside on the terrace where they have their traditional oven to prepare the garlic bread and the dishes you get served in a clay pot, like youvétsi, kokkinistó etc. And when it's too windy, you can also sit inside. The people are very friendly and the food is very good and still very Greek. They still put a lot of garlic in the tsasíki and don't "europe-nise" it by leaving it almost out, like too many restaurants do nowadays. Before your meal you always get warm garlicbread and after, everyone gets free icecream. If you can't find the restaurant, send me an e-mail and I'll send you their card with photo and little map on it. (we have not got a scan, otherwise we would send it with this e-mail). We wish you a lot of success with your sites and will visit them again now and then. We also recommend them to other Greece-lovers in Holland.
Bye!
Marianne and Leo Oosterling, Gouda, Holland
---
Hi Matt,
just returned to the UK from Lesvos for the 2nd time this year. We covered 2700 kms on the island this year and found a great taverna in Petra after a tip off. Its frequently said if you choose a place where the Greeks eat you wont go wrong and we often follow this advice but this place is an exception. Its called The Lucky Horseshoe and the name alone would have put us off eating here. We go to Greece for the way of life and the name sounds very British. Its run by Takis and Youla and we ate here 3 times. The food and service here are really good as are the house wines. The fish are unbeatable. My favourite are Tsipoura or Giltheads in English and at 8 euros with salad and potatoes its very good value. Takis always asks you to look at the fish selection and points out the farmed from the wild fish, obviously the wild are more expensive. The menu is extensive and there are some unusual free treats like olives and peppers with ouzo before the meal. The only problem here is getting a table both lunchtimes and evenings, its not very big and its popular. Although we only found it this year its clearly no secret so I really thought hard about advertising it, we want to use it in future! I must stress its the quality of the food and service here not the price or freebies that kept us going back. Sad to find our favourite taverna in Gavathas closed when we visited at lunchtime, this was one of your previous tips. I believe its changed hands and is no longer run by the American chap. Keep up the great site Matt, I was really flattered to be asked 'are you Matt Barrett' by a couple from Connecticut who asked me a question and I was able to answer in detail, we had good laugh, regards, Bob and Maggie Venison, Bucks, England
---
Hi Matt!
I really enjoyed visiting your site but was disappointed to not find "Fournello" in the restaurant section. If you ever tire of souvlaki and typical Greek-fare, make sure you visit Fournello in Petra for amazing wood-oven baked pizza and wonderful pasta dishes! I became a devout fan and ended up dining there the majority of the time. They also have incredibly delicious appetizers, such as fresh mushrooms that are stuffed and baked with four cheeses, baked potatoes with Rocford sauce and visually impressive salads.
You won't be disappointed! Last but definitely not least, it's right in front of the beach and offers the most spectacular sunsets between 8-9pm. Shouldn't be missed...
Georgette
---
Hi,
Just been reading your reviews and note that no-one seems to have mentioned our favourite bolt-hole from city life - Skala Kaloni. Although I know this is a keen bird watchers paradise, I just wanted others to know that we have spent the last 6 years visiting this resort and have made many friends. We particularly wanted to mention the restaurant we spend 99% of our holidays in the Enigma, this is run by Teri and Nikki with assistance from their son Kosta. Although we are very biased as this family have become very good friends of our ours, please please if you're in the area pop in there for a drink, snack or meal, this family are the most welcoming of people and Nikki's cousin makes some fantastic dishes, particularly recommended is their Giovetsi and Kleftiko, no matter how often we go and how much we eat!! we still never manage to try everything on their menu, mostly because we can't bear to just have something just the once. The restaurant is the first one you come to on the beach road on the left (or last on right!) and one of most relaxing things you could wish for is to sit overlooking the Bay of Kaloni, watching the sardines leaping with a nice cold glass of Boutari.
Enjoy
Sharon & Andy Shaw
---
Dear Matt,
Thanks for helping make our trip to Lesvos a) happen and b) happen wonderfully. Armed with all that great info from your website we felt confident choosing it as a destination and then striking out with 3 kids (ages 5-11); and everyone had a great Greek experience.
In Skala Polichnitou , we had a fabulous lunch (our best in Lesvos ) at T'Asteria , on the water towards the north end of town. It's one of those typical places with 3 generations visible, and the proprietress is known throughout town and beyond for her culinary skills. We let them recommend to us what to eat, and all we had to do was enjoy. The fried squash blossoms defy description. Add to that 2 puppies, 2 birds and another kid and our kids thought it was one of the best parts of the whole trip!
Hope this is useful to other readers. Take care,
Carson Gleberman
---
Hi Matt
As mere youngsters in the ever returning Brits to Sigri (only 13 years) can I possibly give you a quick update on the food front?
The Italian restaurant has now been replaced by an excellent meze restaurant run by the lady who used to run the cantina on the village beach (however she still does sunbed hire). Well worth a visit if you've had a full meal at lunchtime and only need something snacky - she does full meals though - as is the Souvlaki bar between the harbour and beach run by a lovely widow and her mother-in-law. Gyros on Saturdays and souvlaki pittas amongst many other beautifully and quickly prepared dishes. Pristine toilets!!!!
Blue Wave, as the Brits call it, or Cava di Oro is still brilliantly run by the whacky Yianni and his lovely wife and the new retriever pup!!!
Kavalouros tends to get overlooked as it is hidden behind the other restaurants in the square but it still does very good food and is a shelter from the winds and is also open at Easter. The two brothers and their families alternate in running it annually - do not miss going in there.
Plaza, on the beach, is also a good venue when the northerlys are blowing and their gigantes are about the best I've eaten - papoutsakia and moussaka also good.
One of my favourites has to be the Golden Key. It is run by the wonderful Tsiknas Family. Yianni, the father used to be the village clerk and his wife Nikki, and Pavlos, his son (who owns the hotel Orama on the way into the village) are very hospitable and kind. A lovely view from the balcony over the bay and beyond and again, shelter from the north wind. His octapus in krasato is "to die for", excellent bourekakia which my husband has for lunch sometimes, horiatki and paithakia !!!!
On the drinks front can I mention Seguro (above the Blue Wave) for a magnificent sunset over Nissiopi Island and the kind and gentle Mikalis, as well as the Nissiopi Hotel Bar for good music, atmosphere and a night cap - just alternate!!!!
Here endeth the lesson!!!!
Keep up the good job!!
Abby & Andy Price, Farnham, Surrey, England
---
Matt,
Sad to see that you only mention two restaurants in Sigri. We (myself, wife and two offspring) have been going to Sigri since 1991 and have tried all but one of the restaurants (the owner and I had a small public disagreement about his vicious dog) and like yourself love the Cavo di Oro, or as we Brits know it, The Blue Wave. Yanni is a larger than life character who usually greets us with "Hello British Tourists". The food has always been good there but this year it has excelled. Vivi, Yanni's daughter, has been on a number of cookery courses and you can now get dishes that are best described as Nouvelle Greek, but large portions. The risotto we had there is one of the best I have eaten anywhere and the garlic mussels excellent.
Having said that, for us, Yanni's is just pipped into second place by The Golden Key (Xpeiso Kleidi) where Nicky cooks plain simple Greek dishes that are superb. Her Briam, Moussaka, Pastichio, Oven Chicken, Sousoukakia, Kokinisto and Gigandes are all superb. There is also a good selection of fresh fish. If you can get a balcony seat as the sun is setting over Nissiopi, there is no better place to be.
Just opened (where the Italian restaurant was) is The Lighthouse owned and run by Sue and Gab. This is more of an ouzeria with a great selection of small dishes, all excellent. A sort of Greek Tapas.
Finally Kavalouros on the square is a great place for vegetarians to eat. Marianthe's Imam, Dolmadakia, Fasolakia and meatless Stuffed Tomatoes are a treat.
The other good news this year from Sigri is that the Kentro cafeniou has been reopened by Andonis Hiotis. The old men of the village now have somewhere to sit, drink coffee and put the world to rights, yet it also attracts the younger generation as Andonis has installed a wireless internet connection.
Keep up the good work
Regards
Peter Wallace
Liverpool
---
Hi Matt,
I was checking out your website for about the 100th time and this time I decided to finally email you to tell you about this wonderful taverna in Molyvos that I know you'll love.
Alonia Taverna, it's located just up from the Molyvos Stars hotel and taxi station, on the left hand side of the main road to Eftalou, just before the olive oil factory. The food is authentic Greek cuisine, very fresh local ingredients in everything. Very well priced. The owners are brothers, Antonis and Lefteris, who were both born in Molyvos. Lefteris is a phenomenal cook but he also has a little help from their mother Olympia who makes the best stuffed zucchini flowers and dolmathes I've ever had. On Wednesday and Saturday nights they host live Greek music which is an absolute blast. Antonis is incredibly fun and friendly and is a wicked dancer, it's always a treat to visit with him and share a bottle of ouzo. Overall, it's an experience that's more then just great food. Locals love it, tourists love it and there's a number of tourists that come back to Molyvos often (as you know) and they spend every night at Alonia...myself included.
Keep writing,
Tara