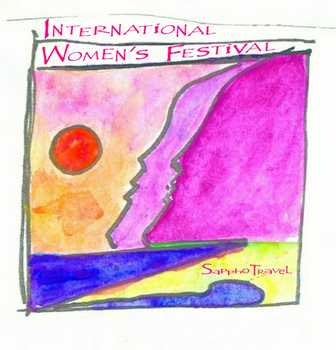 Anual International Eressos Women's Festival
September
Skala Eressos, Lesvos, Greece
We are proud to announce the launch of this year's International Eressos Women's Festival. This year we will be hosting a full two weeks of events, performances and activities, with live bands, dancers, cabaret artists, comedians, visual artists, DJs and holidaymakers from all over the world. Join us and celebrate a unique women's event in the beautiful, unspoiled, gay-friendly setting of Skala Eressos, Lesvos, Greece.
Festival highlights include: Pop, rock & soul party classics from the Electric Landladies • spoken word, rock & world vibes with Lund • burlesque rock'n'roll with Bertie Page • the best of live Greek, Turkish & Mediterranean folk • comedy with the Laughing Cows • alternative fashion show • international film festival • parties & DJs • art exhibitions • tattooing demonstrations • creative photography • a girl's guide to Lesvos • women's wellbeing • local produce from the Women's Co-operatives of Lesvos • Greek dancing lessons • local walks • jeep safaris • swim to the rock!
Many events are completely free, although there is an entry charge for some performances.
We are still looking for performers and artists so if you want to participate so please contact us with details of your offering at: Sappho Travel
We look forward to seeing you in Skala Eressos in September!
For booking information, hotels and transportation see Sappho Travel