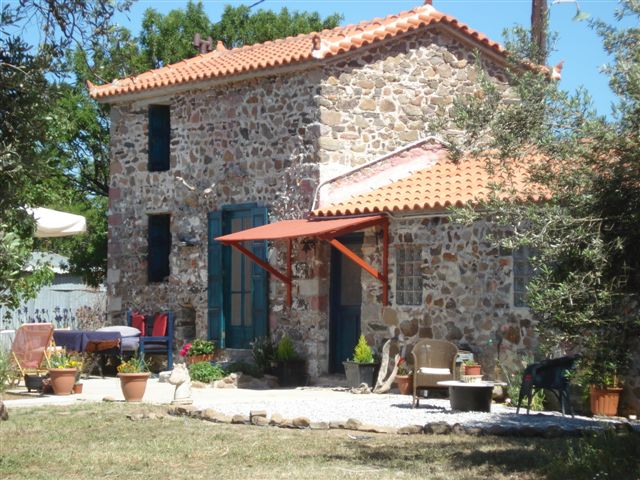 The Haining
Domestic Property/Business Opportunity. This peaceful retreat is located in the Psinia area of Eressos with spectacular 360 degree views of sea and mountains.
The property consists of four buildings; a main house, a cottage, plus two self-contained studio apartment and a tool shack located in an olive grove of 5,500 m2 covered with a wide variety of flowers, herbs, native shrubs, and olive, fig, and almond trees. The fertile soil is perfect for growing vegetables and fruit and there is an established kitchen garden. The property is accessible by car and would easily accommodate a self sufficient lifestyle.
The main house (100m2) is traditionally built of local stone and is an open plan 'loft style' home. It has a high ceiling with visible timber rafters, French doors and large windows giving the space a light, airy feel.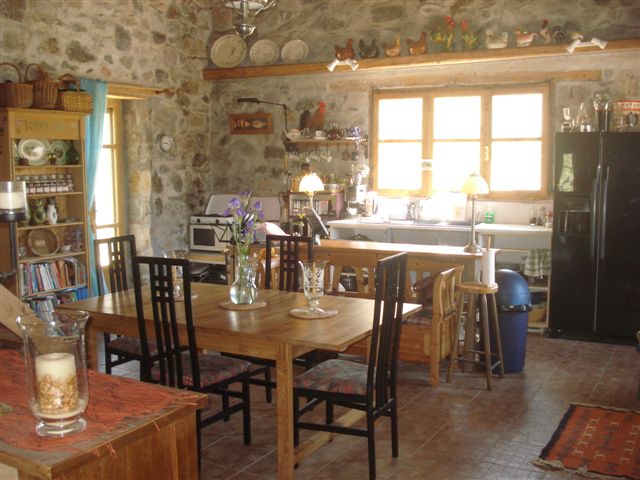 On the main floor is the spacious kitchen, living and dining area, cloak room and bathroom while two bedrooms are located upstairs on the mezzanine. There is a semi circular patio accessed through the main door on the ground floor. Because of its open plan design it is possible to subdivide the house into any configuration best suiting the occupants. The house is heated by wood burning stove and hot water for both the main house and the cottage is generated by a newly installed efficient solar panel. There is an isolation switch to heat water electrically on the rare occasions when this might be required.
The cottage (70m2), also built from local stone, is ideal as a guest house for friends or family; as an annexe to the main house or it may be rented out separately. On the ground floor there is a large bathroom, kitchenette and dining space from which there is access to a split level living area with French doors leading outside to a patio, barbeque area and small herb garden. The bedroom is located on the mezzanine above the living area. The cottage is solar / electric powered, with a fireplace offering the options of either electric or wood burning stove.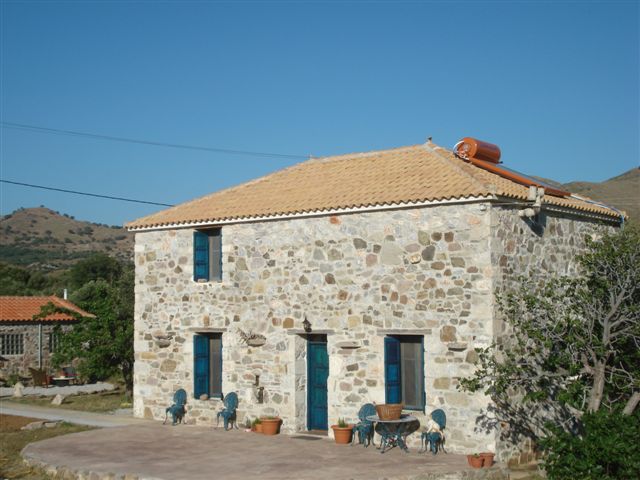 This rarely available type of property is truly unique in character, reflecting the artistic talent of the original owner. The accommodation has recently been sympathetically upgraded and restored by the current owners who manage a therapeutic retreat for writers,romantics and a holiday lettings business from the property, earning approximately 10 K GBP per year with potential for growth. The studio has been divided into two self contained apartments each with its own bathroom.kitchen,dining and sitting area.The larger unit has two bedrooms.
The property as a whole would make an ideal meditation centre and is currently run as a therapeutic retreat.
The overall impression of this unique property is one of bohemian charm and serenity: a stunning blend of wood, stone, art and nature within easy walking distance of the beach and local amenities (1.5k) and nestled against a backdrop of spectacular scenery.