The Georgios Iakovidis Digital Art Museum
The Georgios Iakovidis Digital Art Museum is the first of its kind in Greece and one of the few in Europe. This Digital Museum uses new technologies to present the work and life of one of Greece's greatest painters, who was born in Lesvos, in the village of Xidera, where the museum is located.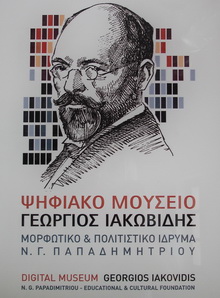 The first floor is devoted to his paintings, starting from his early years of study under his teacher Nikiforos Lytras and his mature work in Munich to the portraits of his grandchildren painted at the end of his life. As anyone who has visted the Louvre in Paris will tell you, the original paintings seem darker than expected. The digital images, as viewers of Iakovidis work will discover, bring out the colors that have been lost by the passage of time in the originals, so you are seeing them as they were meant to be seen by the artist when he actually painted them. The museum also has an illustrated chronological history of the artist's life on the first floor.
Georgios Iakovidis after leaving Xidera was educated mostly in Smyrna, Asia Minor and later received a scholarship to study in the Munich Academy of Art where he was taught by Karl von Piloty. He remained in Munich after he graduated and won numerous awards in international exhibits. He organized the National Gallery in Athens and was a professor of the Athens School of Fine Arts where he influenced generations of Greek artists. He never returned to Xidera.
The village of Xidera is not one you will find in many guidebooks, but it is a quiet agricultural town with a beautiful square and several traditional cafeneons, shaded by a large platanos tree. Also in Xidera is the Methymneos Winery which makes an excellent white, red and a rose from the ancient chidiriotiko grapes of the area. The winery is open to visitors too.