Day Trips to Turkey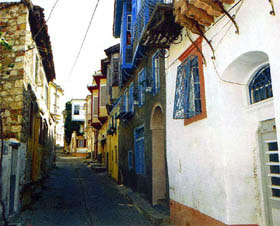 Many people visiting Lesvos take advantage of the island's proximity to Turkey and take a day trip from Mytilini to Ayvalik or Dikili. Every Thursday in Ayvalik they have a big bazaar and every Tuesday there is one in Dikili. Ayvalik has some of the best examples of 19th-century Greek architecture found in the Aegean. Ayvalik has not been developed as other areas in Turkey and still has close links to their Greek neighbors. Many people from Lesvos go back and forth for business and pleasure. There are 22 small islands near Ayvalik known to the Greeks as Hecatonnisi (100 islands) and were sacred to Apollo. Alibey Adasi (Cunda Island), has some abandoned Greek churches, and small seaside restaurants as well as old stone houses.
Dikili is a once unspoiled town that now gets its share of domestic and foreign travelers and still has that undiscovered feeling to it when you compare it to other areas that have been over run with package tourists.

In Ayvalik and Dikili there are no archaeological sites though the village of Çandarli, 10 km south of Dikili, has a small medieval fortress. From Ayvalik or from Dikili you can take a tour to Pergamos and visit the archaeological sites. Pergamos was a major city in the Hellenistic period and contains many ancient Greek, Roman and Byzantine ruins.
Ayvalik-Pergamos is about an hour drive - 60 kms aprox.
Dikili-Pergamos ia sbout an hour drive-55 kms aprox.
In the summer there are boats every day from Mytilini town at 8:30 am and the trip is approximately one hour and 15 minutes. In the winter there are boats 3 times a week but they can be cancelled due to weather. The cost is about 30 euros round trip per person.
There is also a daily summer boat to Dikili and this goes 2 times a week in the winter. The cost is about 10 euros per person.