Join us in celebrating the traditional Greek Easter at Aphrodite Hotel on Lesvos – Island.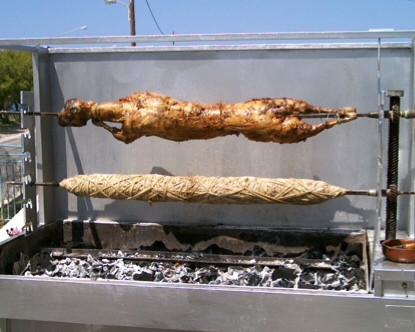 WEDNESDAY
Arrival on Wednesday on Lesvos.
Welcome at the airport or port with a brand new Aphrodite Car Rental. Then drive to the south side of the island, through beautiful olive groves and pine trees, to the magnificent beach of Vatera. Check in at Aphrodite Hotel. Free day for relaxing or a hot bath in Polichnitos Hot springs. Dinner at Aphrodite Restaurant
THURSDAY
Breakfast at Aphrodite Hotel. After breakfast we do the dyeing of traditional, Lesvos, Easter Eggs with Mrs Maritsa. Thursday afternoon – Take a visit to the church and after to the traditional village square of Vrissa. Free time and Evening – Dinner at Aphrodite Restaurant
FRIDAY
Breakfast at Aphrodite Hotel. After Breakfast a visit to the church in Vrisa Village where the bier of Christ is decorated with fresh flowers.
Relax during the day and explore the natural beauty of Vatera. Lunch and early Dinner at Aphrodite Restaurant. Good Friday is usually a fasting day (no meat). Dinner will be based on traditional, meatless entrees (this is not mandatory, other options will also be available).
In the evening – a ride to town to see the " Epitaphio" procession. This happens around 9:00 p.m. A band or choir precedes the procession playing solemn music.
SATURDAY
Breakfast at Aphrodite Hotel.
During the day, tour the area of Vatera, or explore the beautiful island of Lesvos with your car rental and we recommend a hot bath at the hot springs water of Polihnitos .
Dinner at Aphrodite Restaurant with the traditional, Easter Soup of "Magiritsa" and much more.
Before Midnight – A visit to the church in town to witness the resurrection celebration and fireworks!
EASTER SUNDAY
Easter Breakfast at Aphrodite Hotel with the cracking of red-dyed eggs, delicious Easter sweet bread, homemade Easter cookies ( koulourakia) and much more.
Sunday Lunch- Traditional outdoor feast of Roast Lamb, Kokoretsi and lots of good house wine.
Sunday Afternoon- A visit to Vrissa Village to see the "Second Resurrection"
MONDAY
Breakfast at Aphrodite Hotel , then departure from the hotel.
PACKAGE PRICE : 400 Euros per person for Everything!
COST INCLUDES: 5 nights accommodation with breakfast, 4 dinners, Easter traditional lanch, 6 days car rental and all taxes.
Drinks & tips are not included
Children up to 6 years old are free. Children 6 – 12 years old 280 euro totally for all the package
REMARKS:All are welcome for an extended stay. Special prices for those wishing to extend their stay before or after the Easter package is 22 Euro per day per person, with breakfast in double room.
FOR MORE INFORMATION OR TO MAKE A BOOKING PLEASE USE THIS FORM
YIANNIS AND MARIA HAHATHAKIS and Family
See our Hotel Aphrodite Beach
For information about Greek Easter see www.greecetravel.com/easter