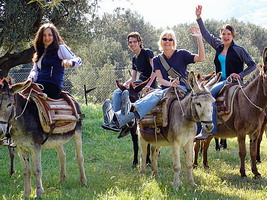 Are you coming to Lesvos? Then plan at least one day out with Annabel, Poppy or any one of the much- loved donkeys at Michaelis' farm.
It's peaceful. It's beautiful. And it's fun.
Michaelis, your experienced, English-speaking guide will lead you safely through some of the island's most stunning scenery along the hidden trekking trails he knows so well.
And you will discover for yourself the true nature of Greece.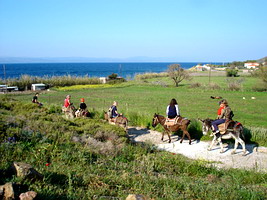 If you are coming to Lesbos alone, as a couple, a family or in a group, you can join one of their Day Treks into the mountains or an Evening Trek along the coast and enjoy chilled wine and a barbeque as the sun sets over the sea.
You don't need to know how to ride and their treks are suitable for all ages.
Since 1990, hundreds of visitors to this unspoilt North Aegean island have taken home unforgettable memories of their donkey treks.
Why not join them?
They also have horses so riders can pre-book a horse to join a donkey trek or book a private horse-riding trip with Michaelis as your guide. Forget noisy cars and coaches. Relax and enjoy the traditional transportation of Greece.
For more info Telephone: 6972073416 or 6973669589